February 7, 1963.
Northern Advocate photographer Warren Spiers had been in Waitangi the day before, photographing the Queen's visit.
Back in Whangarei the next day, he was developing film.
Read more:
• Brynderwyn tragedy: The nightmare never fades
After his brush with royalty on February 6, it was just another day.
And then the call came in - a bus had crashed on Pilbrow Hill, on the Brynderwyn range south of Whangarei.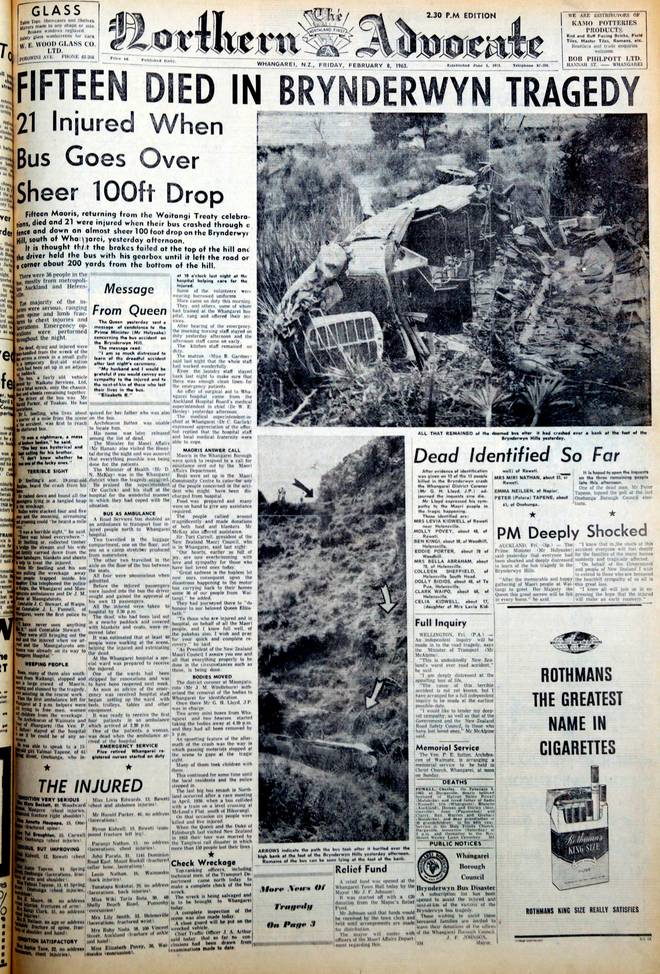 As he drove to the site, Mr Spiers had no idea he would witness the aftermath of the worst vehicle crash in New Zealand history.
Fifteen people were killed and 20 more injured.
Fifty-two years on, the Brynderwyn bus crash, as it became known as, is the subject of a episode in the TVNZ series Descent from Disaster which will air tonight.
"It was just an ordinary sort of day and then someone said a bus had gone off the Brynderwyns and that's all we knew," Mr Spiers said.
He grabbed his boss's car and then Advocate cub reporter Kevin Ball and rushed to the scene.
The bus was carrying mainly Aucklanders, many of whom were related. They were travelling home from Waitangi Day celebrations.
On the south side of the hill the bus's brakes had failed causing it to crash over the side of a cliff. Fourteen people died on impact while another died later that day.
The first thing Mr Spiers saw when arriving at the scene was a row of covered bodies.
It was the only time in his career where he felt uncomfortable photographing something. "I really felt like I was intruding on the scene," he said.
Journalist Mark Sainsbury, who presents tonight's episode, said many of the families involved in the crash had yet to move on.
"No one ever got any closure. They never felt justice was done."
While recommendations were made to improve safety, no one was charged for the deaths - therefore many felt no one took responsibility, he said.
Mr Spiers declined to be interviewed for the documentary but Mr Ball, two survivors, two siblings of those killed and the son of the bus driver were interviewed.
Mr Sainsbury said he hoped the documentary had helped them get closure.
Producer Ross Peebles said outside of Northland many people still did not know about the crash.
"We want people to remember history because it's important and to learn from it. People will see it's a very emotionally charged story."
-The Descent from Disaster episode featuring the Brynderwyn Bus Crash will screen tonight, at 8.30pm on TV One.