Police to focus efforts on holiday black spots such as Northland.
Police are putting their traffic enforcement focus on holiday black spots to keep the annual road toll from surging above 300 deaths.
That follows a report showing increases in injury crashes during the Christmas-New Year period in regions popular with holiday-makers such as Northland, the Bay of Plenty and Hawkes Bay.
Roads around Auckland and Wellington tend to be safer over the holidays.
The report follows an annual pre-Christmas assessment by police, who are battling a road toll running yesterday at 280 deaths compared with 246 at this time last year.
Although the average national number of injury crashes each day of the holiday period has traditionally fallen slightly compared with other times of year, the opposite was so for smashes which killed or seriously hurt people.
But in Northland, average injury crashes over the past two Christmas-New Year breaks increased 44 per cent and those involving death or serious harm soared by 66 per cent.
Serious crashes rose 33 per cent in Hawkes Bay and Tasman in the South Island, and by 20 per cent in the Bay of Plenty.
In central Auckland, overall injury crashes more than halved and those causing death or serious harm fell 33 per cent. The reduction was even greater in Counties-Manukau, where serious crashes halved over Christmas-New Year, but from a higher starting point to the same average daily level - of 0.2 - as for central Auckland.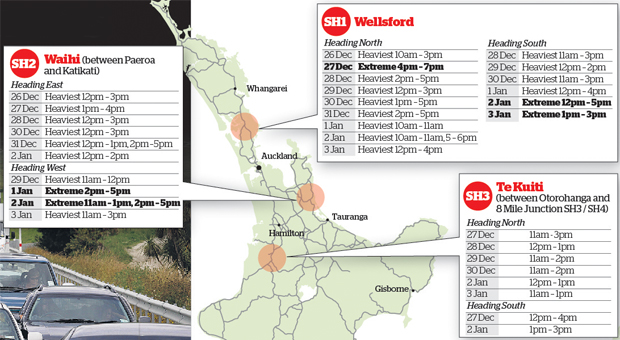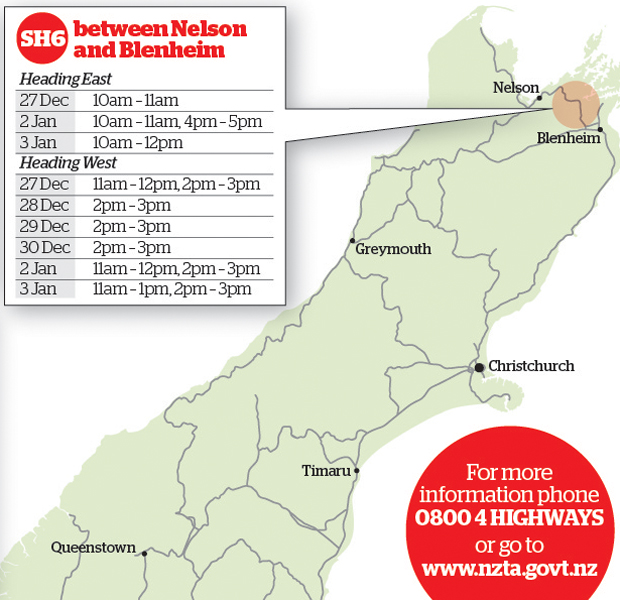 That compared with 0.5 in Northland and the Waikato, 0.6 in the Bay of Plenty, and 0.7 in the lower North Island, Canterbury and Southland.
Most holiday injury smashes occur in daylight hours, with the police noting little or no increase in late-night crashes compared with other times of year, except for on Christmas Day, Boxing Day and New Year's Eve.
Assistant Commissioner Dave Cliff says the risk assessment is an important tool for allocating enforcement resources to areas of greatest need.
"There are a lot of changes in patterns of our enforcement to deal with the crash rates, so, for example, in the Waikato where you've got Whangamata and the beaches up there, the district puts additional staff into those holiday hot spots," he said yesterday.
"The booze buses will spend more time in those places, speed cameras are deployed on the routes leading in there, highway patrols will get deployed into those high crash rate areas."
He hoped the lower drink drive limit and police discretion to issue tickets to anyone exceeding speed limits regardless of any traditional "tolerance" allowances would help to keep roads safe.
That follows two Christmas-New Year breaks in which their combined toll of 13 deaths compared with 19 in 2011-12.
Mr Cliff said just 142 infringement notices had been issued since December 1 to drivers caught between the old and new alcohol limits "so it's very positive - it seems to indicate the majority of people have taken that lower level on board".
He acknowledged the annual toll of 280 deaths already exceeded 2013's year-end post-1950 record low of 253.
But he said this month's tally of 12 to yesterday compared with 16 at this time last December and 31 in 2012.
"So the headline measure is looking positive, but the results are fickle and it relies on everyone doing their bit," he said. "We can almost guarantee there will be ... between 15 and 20 people alive and having dinner tonight who will be dead by New Year's Eve."
Automobile Association spokesman Mike Noon said 2014 had been an odd year of six good and six bad months on the roads "but we seem to be having a good December".
"Let's hope the lower breath-alcohol and tolerance levels are working. This is a terrible time to lose anyone, when families should be celebrating together - let's hope we have a really good run."
Crash victim pleads: If you want to call or text, pull over
A few days before Christmas, Jade Beale was heading home from a day of shopping when an oncoming vehicle crossed the centre line and smashed into the car she and two others were travelling in.

Jade Beale.
The trio - Jade, her sister Renee and their friend Arianna - were heading home to Tokoroa after a day of Christmas shopping in Hamilton.
Jade was asleep in the back seat when the collision occurred. She had to be cut from the wreckage, and had broken her sternum, collarbone and some ribs.
Surgery was required to reconstruct her stomach, which included removing part of her intestines.
Renee and Arianna also suffered serious injuries. The woman driving the other car died at the scene. She had been texting when the crash occurred.
Jade, who was due to move to London a few days after the accident, said the injuries the trio received would affect them for the rest of their lives.
"It took a good year and a half until I started to feel back to normal and able to work part time," she said from China, where she works as an art teacher.
"My sister Renee still has issues with her bones and will for the rest of her life. Our friend Arianna has scars on her face. We all look at life so differently now."
After the accident in 2011, Jade set up the "text can wait" campaign to raise awareness of the risks surrounding cellphone use at the wheel.
"Life is very precious and we make sure people around us know this. This is why we push our campaign so hard. We want to make sure all New Zealanders understand how dangerous the roads can be and that life isn't a game."
She warned people using the roads this summer not to be in a hurry.
"Concentrate on the task of driving. Pull over safely if you need to use your phone. If it is too hard to keep your mind off texting or calling, put your phone in the glovebox or boot."
She said it was important to think about other road users.
"[They could be] families with young children on their way to the beach, an elderly couple heading off in their camper van ... It only takes a couple of seconds of inattention to cause a serious crash."