Maori Party co-leader won't rule out detente with Mana as he mourns loss of seats to Labour.
Maori Party co-leader Te Ururoa Flavell says he is not ruling out extending an olive branch to Mana leader Hone Harawira - but won't say if he could work with him again.
While Mr Flavell retained the Waiariki electorate with a 3000-vote majority, the Maori Party surrendered Tamaki Makaurau and Te Tai Hauauru that had long been in the stewardship of Dr Pita Sharples and Tariana Turia, both of whom stood down at the election.
And while the rest of the nation shunned Labour, six of the seven Maori electorates returned to it, including the shock result in Te Tai Tokerau that saw the aspirations of the Internet-Mana Party and Hone Harawira crumble.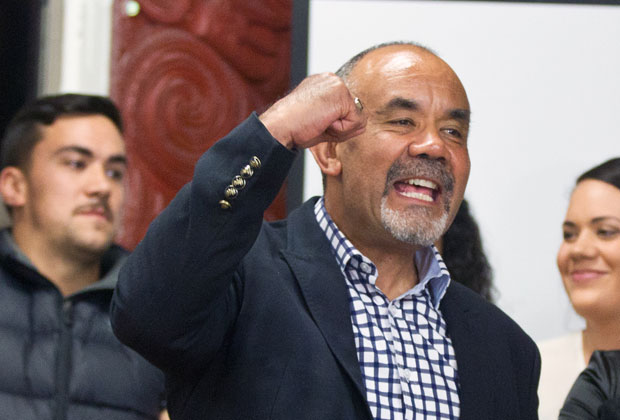 Te Ururoa Flavell. Photo / APN
Mr Flavell said it was a "tragedy" the electorates became marginalised after the dramas around Internet-Mana. "Clearly people didn't like it and the result is Mana lost and the tragedy is we lost too from that.
"The absolute irony of the election is that the nation rejected Labour and Maori went back to Labour. With that comes the fact that they will sit again three years in Opposition unable to achieve any of the things they had put out to their electorates."
Asked whether he would extend an olive branch to Mr Harawira as the Maori Party rebuilt itself, Mr Flavell said: "Let's see what happens. We have always said we are prepared to work with other parties.
"The big issue here is the loss of opportunity that we had in our hands to retain the Maori seats."
Mr Flavell said it was time to rebuild and give "some serious education" to how Maori see politics "because for six Maori members to be sitting in Opposition is really a disservice to our people". Mr Flavell would appear the favourite to take the Maori Affairs portfolio.
The Maori Party is awaiting the special votes count as it clings to 1.29 per cent of the party vote that sees Ikaroa-Rawhiti candidate and mother of nine Marama Fox enter on the list.
Mr Harawira declined Herald requests for comment yesterday but his press secretary, Skye Kimura-Paul, said senior Mana members would meet with Internet Party members to discuss their future shortly.
The man who ousted Mr Harawira, Labour MP Kelvin Davis, believed his party had got in on the back of a Maori Party message that was "getting a bit worn" and people recoiling at the Internet-Mana relationship.
He said the Labour caucus would meet in Wellington tomorrow when the party's rebuilding focus would be discussed.
"We need hard, robust discussions and brutal honesty in debates about how we got to this stage and how we get out of it," Mr Davis said.
Political commentator Willie Jackson said the Maori Party's refusal to negotiate with Mana saw four winnable seats lost to Labour, who he said were "undeserving" of getting the Maori vote.
Mr Harawira's defeat drew a jibe from National MP Todd McClay, who said on Facebook that he hoped "it would have been by more."
Mr McClay signed his posting "the guy you called a blue-eyed blonde-haired redneck."
The MP's jibe harked back to a row when Mr McClay tried to ban gang-patches, and was called a "foolish dickhead" by Mr Harawira.
Freshmen win Maori electorates
Labour Party political newcomer Peeni Henare says he's facing numerous challenges to win the confidence of his electorate after his party's poll thrashing.
The quietly spoken and unassuming father of five won the Tamaki Makaurau seat with a 1235 majority over the Maori Party's Rangi McLean.
Mr Henare's win returned the seat to Labour for the first time since former MP John Tamihere won it in 2002.
Labour's wins in six Maori electorates are a reversal of the nationwide feeling.
Mr Henare has a background in public and community service and is the son of Maori Language Commissioner Erima Henare.
The 34-year-old lives in Moerewa but will likely move his whanau to be with him in Auckland.
Among his first priorities is listening to the youth voice in local communities and addressing housing and work issues in the area.
New Te Tai Hauauru MP Adrian Rurawhe says he's got big shoes to fill - even if they belong to an opposition MP, who happens to be a relative and his former boss.
Mr Rurawhe is a former work colleague of Tariana Turia, who is retiring from politics.
The Labour MP won the electorate with 7092 votes - more than 1400 ahead of his Maori Party rival Chris McKenzie.
Mrs Turia had a stranglehold on the seat since 2002 and had left a huge legacy for him and other MPs, he said.
Mr Rurawhe, a former chairman of Te Runanga o Ngati Apa with a long involvement in health and education, rejected criticism that the party vote was a waste as its MPs were all in opposition.
"There is honour in battling on the opposition benches and that is exactly what we are going to be doing in raising the issues that people have raised with me." He was looking forward to setting up infrastructure that would allow him to best represent the interests in Te Tai Hauauru, where unemployment remained the region's most pressing issue.