Almost 60 years after Albert 'Paddy' Black was hanged, his friend Claude 'Pooch' Quintal wants one last adventure with his old mate. Standing at Black's decrepit gravesite, Quintal can't erase the memories and tells why he wants to take Black's remains back to Ireland to finally lay his ghost to rest.
The years have washed away the markings on Paddy Black's grave at Waikumete Cemetery.
But they can't wash away the memory from Pooch Quintal's mind of the man labelled "the Jukebox Killer", as he steps through the long, wet, long grass to where the plot should be.
"I think about it all the time. I really liked Paddy," Quintal says.
"It was just a waste of a life, a waste of two lives, really."
There's still a glimmer of the free-living 19-year-old in Quintal as he recalls days of illegal beer houses, bodgies, widgies and teddy boys.
The 78-year-old now lives alone in a small apartment in the shadow of Auckland's Spaghetti Junction, not far from his old haunts. But today he is visiting his old mate's grave and, despite the advancing years, he's determined the pair should have one last adventure.
He wants Black's remains exhumed and taken to Ireland to be buried next to his mother. "I think it would [bring me some peace], to take him back to his mum, because she couldn't get out here. They wouldn't let her," he says.
The pair met in 1955. It was a time of moral panic. New Zealand was reeling from the Parker-Hulme murder and a series of other violent incidents involving teenagers had fuelled the belief there was an underlying moral delinquency among the country's youth.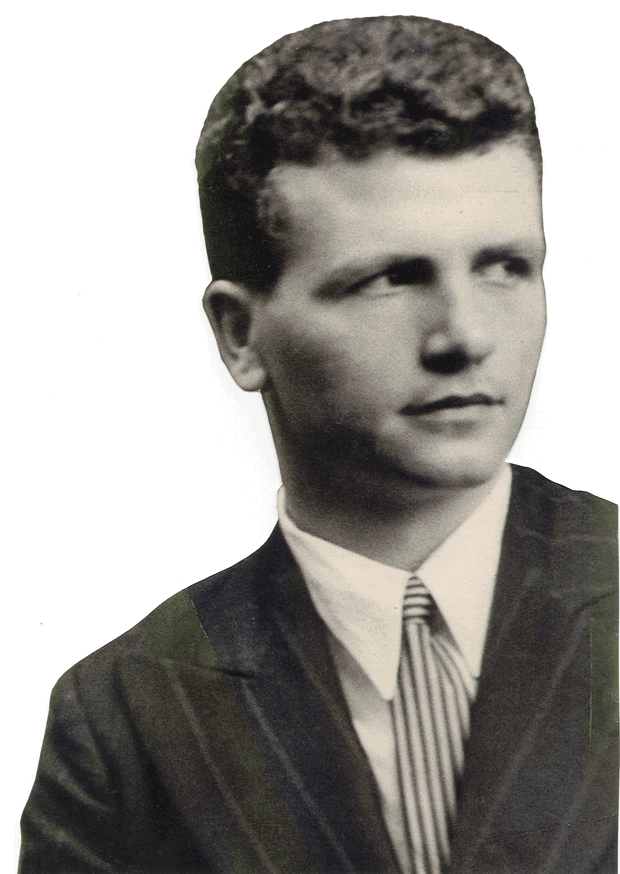 Albert "Paddy" Black.
With his teddy boy suits, DA ("duck's tail") haircut and rebel-without-a-cause attitude, Black came to symbolise what was wrong with the young generation. His execution sent a strong message that it would not be tolerated.
It is still painful for Quintal to recall what happened to his friend,who he'd known for only a short time when Black was locked up for the murder of Alan Jacques.
In 1953, 18-year-old Black moved to New Zealand from Belfast, seeking a better life in the colonies after the end of World War II. He had numerous unskilled jobs around the country before ending up in Auckland, where he worked as caretaker at a Wellesley St boarding house. In July 1955 at a party there, he got into a skirmish with 19-year-old Londoner Jacques, who arrived in New Zealand in 1952.
Jacques was an avid admirer of American crime author Mickey Spillane and had adopted the name of the violent hero Johnny McBride, from The Long Wait. Most people knew him by this name.
The party was one of many held at the boarding house, which were attended by notable underworld figures including soon-to-be strip club boss Rainton Hastie.
Quintal said Jacques had been "bludging" free accommodation from Black. When Black told him he had to leave because the landlady was returning from holiday, Jacques didn't oblige.
It reached boiling point when Black caught Jacques kissing a 16-year-old girl he was seeing - "a good New Zealand girl", Quintal says.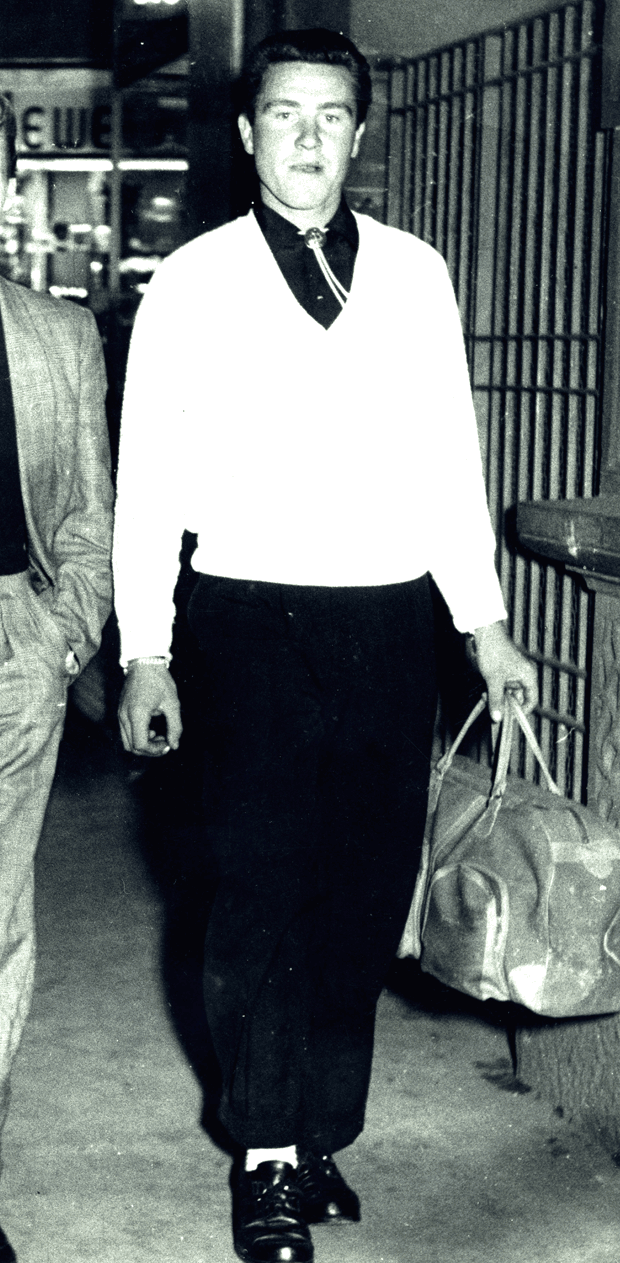 Alan Keith Jacques.
The two came to blows and Jacques, the larger of the two, gave the Irishman a nasty black eye.
"Paddy wasn't a fighter. I remember he was looking at himself in the mirror with a bloody big eye on him. The knife - the one that was used to kill Jacques - was sitting on top of the dressing table.
"I picked it up and said, 'We don't need that' and chucked it in the drawer and shut it.
"They were good blokes, but Jacques didn't like Paddy and he just thought he could stand over him."
The next day it appeared the situation had blown over and Quintal met Black and a group of friends in Ye Old Barn Cafe at 366 Queen St.
"Everybody used to congregate there. It wasn't a gang thing or anything like that. A lot of young girls used to get there," he says.

Ye Old Barn cafe, where Alan Keith Jacques, aka Johnny McBride, was stabbed in 1955 by Paddy Black, who was hanged for murder.
But when Jacques arrived he and Black exchanged heated words, the latter telling his mates, "I've had a guts full of this".
As Jacques leaned over the jukebox to select Earth Angel by the Penguins, Black lunged at him.
"Jacques went down against the side of the servery. We thought we'd better leave and, as we were going out, one of the boys grabbed his hand and pulled him forward and said, 'Come on, get up'. He didn't realise he'd been stabbed.
"But as he pulled him forward he slid around and the bloke went, 'Oh shit' and let him go. Then the knife went straight in and all the blood just pissed out."
The crime became widely known as "the jukebox killing". Quintal
believes the injury inflicted by Black wasn't enough to kill Jacques and it was the fall backwards that lodged the 5-inch blade in his neck.
"I reckon he could have got away with manslaughter. He wouldn't have had enough force to push it in all the way."
The day after the killing, Quintal was arrested for "borrowing a vehicle and going for a joy ride" and sent to the notorious Invercargill Borstal.
He served 18 months "to the day" and by the time he was released Black had been executed.
Quintal has felt deep resentment all these years that he was not allowed to testify at Black's trial.
"I told the superintendent at Borstal how it happened and that I should give evidence for Paddy's defence but he just said, 'Get back to work, you can't help him'."
In his book, All Shook Up:The Flash Bodgie and the Rise of the New Zealand Teenager in the 1950s, Redmer Yska says the trial started badly, as Justice Finlay spoke of Black's membership of a "peculiar sect".
"In this case, the offender is not of ours except by adoption and apparently comes from the type which we could have spared our country. It is a case of an apparently deliberate stabbing in a restaurant in Upper Queen St, and there seems to be no opening of either provocation or self defence, or any of the defences usually presented in a case of this kind."
Black told the jury he was drunk and disoriented at the time of the killing and afraid of Jacques, who boasted he had never lost a fight.
"He was the kind of chap who'd kick you till your guts dropped out or your shoes caved in," Black reportedly said during the trial.
"I'd taken the knife out of my pocket just as I rose from my seat. I took it out of my pocket to defend myself when I got outside ... I thought I'd need the knife because I didn't have much show - I'd heard he carried a knife and I'd seen one. I didn't stand a show against him. I got the knife out; I was just overcome or something. Maybe it was fright, or funk. I don't know what it was ... All I remember is making a lunge at him."
Black was found guilty and a subsequent appeal was dismissed. He was hanged on December 5, 1955.
According to a report in the Truth newspaper, Black wished everybody a happy Christmas and prosperous New Year before the white hood was drawn down over his head and the noose over his neck.
He was the second-to-last person to be executed in New Zealand, and one of four hanged in 1955.
Author Scott Bainbridge, who has extensively researched the crimes of 1950s New Zealand, said Black's execution was used by the National Government of the day to set an example to other teenagers.
"It was a reaction to the teenage culture that was happening at the time where you had a disaffected youth being exposed to the likes of Marlon Brando, James Dean, Elvis and Mickey Spillane. I think the hanging sent out a stern warning to the young that this sort of behaviour wouldn't be tolerated," Bainbridge says.
"It was a very, very conservative time - politicians were conservative, the police were respected, the Minster of Justice was this very autocratic figure who later became Prime Minster, John Marshall. The Mazengarb Report frightened a lot of people."
Bainbridge believes that had Black committed his crime today he would have got a lesser manslaughter conviction.
"Pooch's opinion all this time has been that the blow wasn't fatal and therefore would have been a contender for manslaughter.
"And with Paddy's last words before the stabbing being: 'I'm sick of getting a hiding all the time', there was that bully factor which could have been used in his defence."
Quintal doesn't know whether it's possible to exhume Black's remains but it's his firm desire to do so.
"If I get the Lotto it would happen, I can promise you that. I'd be rapt to do it. He's still got a brother over there and he didn't have anybody over here, nobody."
He shakes his head as he leaves the cemetery, recalling Black's trial taking place in Auckland while he was locked up in a Southland penitentiary, unable to testify.
"All because of a stupid bloody superintendent at the Borstal who thought he knew better than anyone else," he says.
"Paddy was a really good guy, a nice guy. It was just a waste."
'Shocking degree of immoral conduct'
The Milk Bar Cowboys with their motorbikes in Queen St, Auckland, in the 1950s.
On June 20, 1954, a 15-yearold girl entered Petone Police station. She stated that, being unhappy at home with her stepfather, she had joined a "Milk Bar" gang which met "mostly for sex purposes".
The girl gave the names of other members of the gang to police,who obtained admissions and evidence of sexual misconduct by 65 teenagers.
The prosecuting officer said: "The police investigation revealed a shocking degree of immoral conduct which spread into sexual orgies perpetrated in several private homes during the absence of parents and, in several second-rate Hutt Valley theatres, where familiarity between youths and girls was rife and commonplace."
The so-called Petone incident was the major catalyst for the Report of the Special Committee on Moral Delinquency in Children and Adolescents, chaired by Queen's Counsel Dr Oswald Chettle Mazengarb.
The Mazengarb Report, as it became known, exemplified the moral panic sweeping New Zealand over perceived moral delinquency among youth.
"Perhaps the most startling feature is the changed mental attitude of many young people towards this evil," the report said.
"Some offend because they crave popularity or want to do what their friends are doing. Some assert a right to do what is regarded by religion, law and convention as wrongful.
"It was reported that some of the girls were either unconcerned or unashamed, and even proud, of what they had done...The situation is a serious one, and something must be done."
The report was also sparked by the 1954 murder of Honorah Parker by her 16-year-old daughter Pauline and her close friend Juliet Hulme.
It described the girls' "abnormal homosexual behaviour" and warned "girls have become more precocious; immorality has been organised; the mental attitude of some boys and girls towards misconduct has altered and there is evidence that homosexuality may be increasing".
The report made 27 conclusions and about 20 recommendations, including that the legal system should be able to charge boys and girls with indecent conduct.
It also called for tighter censorship laws, referring to the ills of new media such as modern-style comics, which it described as "basically designed for low-mentality adults".
Beyond the grave
Between six and 15 disinterments take place in the Auckland region each year.
Auckland Regional Public Health Service medical officer of health David Sinclair says the main reasons for disinterment are reuniting dead family members and cultural reasons.
It is not unheard of for remains to be sent overseas for reburial.
Disinterments for criminal investigations are generally handled by the courts. In Paddy Black's case, unanimous consent would need to be obtained from his family for any application to be approved.
An application requires thorough consultation with next of kin and a sign-off from the Ministry of Health's Director of Health, on behalf of the Minister of Health. The cost of the application is only about $100, but the main cost is in digging up the grave and reburial. Any cost incurred falls on the applicant, Sinclair says.