World motorsport chief wants rugby and sailing heroes to add heft to NZ road-safety campaigns
Visiting world motoring chief Jean Todt has praised New Zealand's road safety effort, but says there must be no let-up, and is challenging sports stars to join the cause.
The ex-rally car driver and former Ferrari chief executive, now in charge of motorsports up to Formula One level, has his sights set on champions of rugby and sailing, given the high regard for their efforts among young New Zealanders and the marks they have made internationally.
"Rugby is very important in your country, sailing is very important, so I would encourage those big names to claim road safety," he told the Weekend Herald. "Because unfortunately when you go sailing or go to practise rugby or to watch an event, you have accidents occurring.
"What we want is for all those high-skilled people to help us to claim better behaving on the roads to decrease the number of accidents, injuries and fatalities around the world."
Although New Zealand's toll of 254 road deaths last year was its lowest since 1950 - and a small drop in an ocean of 1.3 million killed in crashes worldwide annually - he said that still left too many "broken" families and almost 12,000 people injured in NZ.
Mr Todt, 68, has since 2009 overseen the Federation de l'Automobile (FIA) which, as well as governing all levels of motorsports from go-karts and drifting to F1 racing, speaks for about 80 million motorists through affiliated "mobility" organisations such as NZ's Automobile Association.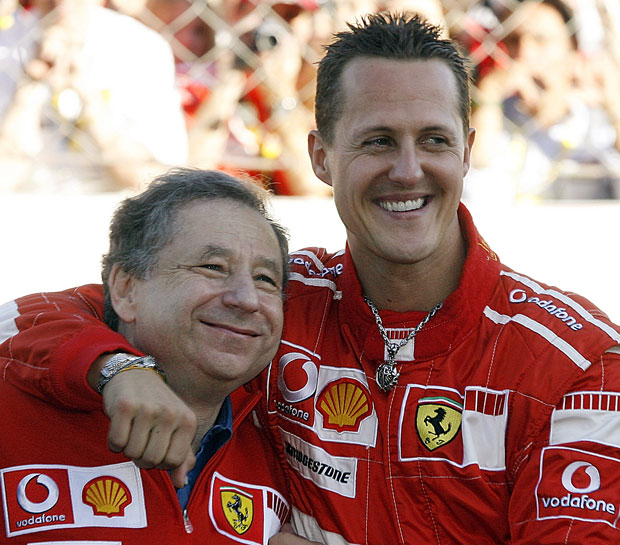 Jean Todt (left) is close to Michael Schumacher but did not want to talk about the F1 ace's "terrible" skiing accident. Photo / AP

He is proud to note that Formula One racing has not suffered a single fatal crash since 1993, but says its stars have a hefty responsibility to promote safety off the track as well.
Although his visit to New Zealand is unofficial - mainly to catch up with his Malaysian film-star partner Michelle Yeoh on the Auckland set of a sequel to the martial arts movie hit Crouching Tiger, Hidden Dragon - he took time out this week to talk road safety with AA chief executive Brian Gibbons, who as well being an FIA vice-president in charge of its mobility division has become a good friend over the past five years.
"He's my buddy," Mr Todt said.
Among others close to him is seven-time Formula One world champion Michael Schumacher, whom he recruited to Ferrari in 1996 and who supported his safety mission before suffering a serious head injury while skiing in December.
"Unfortunately Michael had a terrible accident, but he was very much involved in road safety," said Mr Todt, who apart from indicating Schumacher had yet to return home from treatment, preferred not to elaborate.
But he still has an active collaborator in Yeoh. As a United Nations global ambassador, she is involved in programmes to make it safer for children to walk to school in developing countries with high road tolls.
In such countries, Mr Todt says, few people wear seatbelts or bike helmets, cars are often 30 to 60 years old, and pedestrian crossings are almost unheard of. "She went to South Africa to make a movie, Make Roads Safe, because in South Africa or Africa, when children go to school, it's a fight against the death."
Mr Todt likens road deaths and injuries to disease pandemics. But unlike with the Ebola virus striking fear from the heart of Africa, he says there is no great mystery about how to prevent crashes.
The UN is campaigning to halve the 1.3 million annual death rate by 2020 despite a projected doubling of the world's traffic fleet to 2 billion vehicles by then.
"Road accidents are among the worst pandemics in society - like HIV Aids, malaria, tuberculosis, and all those diseases that have not yet been cured," he said.
"But road accidents, you know how to cure them: education, information, law enforcement, better road infrastructure and vehicles.
"You had 254 people who died on the roads, which was progress because you have more cars on the road than in 1950," he said. "If you make all those [measures] work, you will be close to zero fatalities. In a country like New Zealand, that's the aim."
And with this year's toll edging back up, after multi-fatality crashes including some involving tourists unfamiliar with our roads, he warned of a need for constant effort.
"Road safety control is an ongoing process where you must never give up and slow down [or] immediately the numbers will go up."
The All Blacks management, heads down for tonight's Bledisloe Cup match at Eden Park, did not respond to requests for comment.
AUT professor of public health Grant Schofield said the rugby side's members already did "enough role model work" in inspiring young Kiwis to be physically active.
"They should concentrate on being All Blacks," he said, adding that it should be incumbent on all adults to set good examples on the roads.
But Mr Gibbons of the AA said it would be great if messages put out by the All Blacks were not just "about running around the rugby field, but when you get into a car respect the drivers beside you".
Emirates Team New Zealand yachting chiefs Grant Dalton and Dean Barker are overseas and could not be reached but a team official said a sports-led road safety campaign sounded like "a great idea".
National road policing manager Superintendent Carey Griffiths said road safety was everyone's responsibility and the more conversations families and friends could have about "our unacceptably high rate of trauma" on the roads, the better.
Transport Agency spokesman Andy Knackstedt said it would welcome the voices of more high-profile figures, including sporting personalities, in road safety conversations but would be cautious about featuring celebrities in any long-term advertising campaign.
"Generally speaking, celebrity endorsements are most effective in shorter-term PR campaigns or 'moment of truth' situations such as a taped message from a team member on a big screen at a game asking fans not to drive home drunk."