What does it take to save a baby's life? Suzanne McFadden traces the incredible story of a baby's will to live, and the parents and doctors who helped her
Amber-Rose Gailer was born rosy-pink and loud, which truly astonished her parents, Elizabeth and Patrick. They had expected a tiny, blue baby, struggling to cry, labouring to breathe.
They knew exactly, though, what would happen in the minutes after Amber-Rose was delivered by caesarean section at Auckland Hospital at 3.30pm on October 1, 2008.
A little pink cheek was briefly placed against her mother's face; her father was allowed a 10-second hold in the crook of one arm. And then she was whisked away by a team of nurses to NICU, the hospital's newborn intensive care unit.
In life, it is said, every moment counts. For Amber-Rose, the next moments would count more than any other - they would determine whether she was strong enough to be saved.
"She will need to be a fighter," Patrick wrote in a blog to family and friends, as they waited for the doctors' decision.
But just deciding they could do something brought no guarantees. If she lived beyond the first few days, if her flawed heart - no bigger than her tiny, balled fist - could cope, there would be a succession of invasive operations spanned over three years.
Eventually, their daughter could need a heart transplant. So they held their breath, willing Amber-Rose to keep breathing.
And Amber-Rose Gailer would continue to surprise them.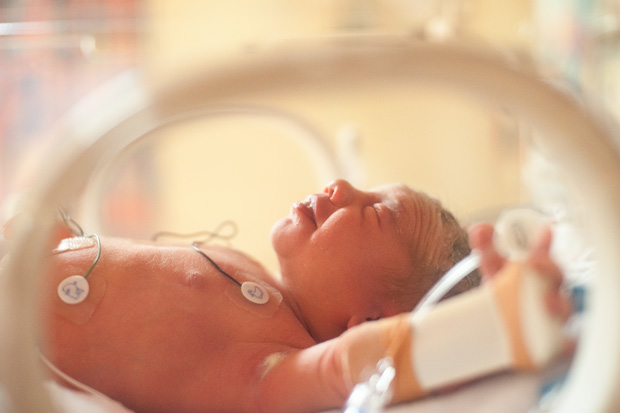 Amber-Rose at 2 days old in Auckland Hospital's NICU. She was born with seven defects in her heart. Photo / Finesse Photography

Twenty week scan
Twenty weeks into her pregnancy, Elizabeth Gailer had a routine scan. Her husband held her hand.
This pregnancy wasn't planned. After careers as teachers, the Gailers were just starting a photography business together. They already had two sons - Zane, who was then 9, and Callum, 4 - who both had developmental difficulties.
But the family grew more excited about the prospect, making plans to rearrange the bedrooms in their mudbrick home on a ridge looking over Auckland's Rothesay Bay and out to Rangitoto Island.
At the scan, they asked the sonographer the sex of their baby. "I'd always wanted a daughter," Elizabeth says.
But they sensed something wasn't right as the scan picture lingered over the baby's heart. After what they describe as 15 minutes of silence, the sonographer told them she couldn't see a healthy heart's four chambers.
Before leaving to consult with a specialist, she told the Gailers that their baby was a girl. "We were happy, but we were also terrified that there was something wrong," Elizabeth says. "When they came back into the room, they told us her heart hadn't developed properly. We were devastated." An echocardiogram a week later revealed that parts of the right side of the baby's heart, which pumps blood to the lungs to collect oxygen, were missing.
Elizabeth was offered a termination, as parents of babies with serious congenital heart disease are, but it was not an option the couple would consider. "I would rather hold my baby and say goodbye," she says.
By now, the little girl had been named Amber-Rose. "Zane chose her name. He found me crying on the bed and started suggesting girls' names to cheer me up. He came up with Amber," Elizabeth says. "And then Rose, after his teacher who left pink roses at our front door."
Fortnightly check-ups showed the baby girl was growing well. Nine weeks before the birth - a planned caesarean at 38 weeks - doctors warned the Gailers that the baby's arteries may be narrowing. It wasn't good news, Patrick wrote: "and may mean they cannot do much to save her once she's born". Fragile and on edge, the couple knew they may have only hours with their daughter.
They were also suffering unfounded guilt.
"We have had 18 weeks to contemplate all this, feel guilty that we hadn't wanted another baby and this made us feel it was our fault she had this problem. But we knew deep down God does not work like that," the couple's blog read.
So they waited for the birth, and an angiogram at 4 days old, which would determine whether she was strong enough for the operations to go ahead.
Amber-Rose arrived "healthy-looking and very vocal", weighing a respectable 3kg. In her heated open cot in NICU, "she looked so sweet, and so well", her mother says. "She had no idea what was to come."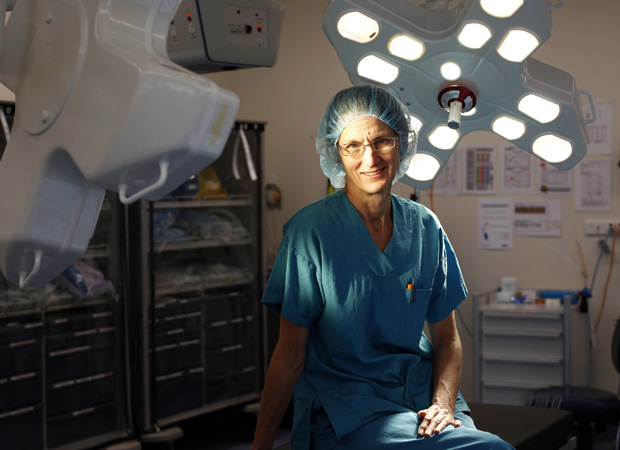 Paediatric surgeon Kirsten Finucane in Starship's operating theatre. Photo / Chris Gorman

Ward 23B
Every monday morning in Ward 23B of Starship, the hospital's paediatric surgeons and cardiologists meet for three hours, to discuss the future of around 25 little hearts.
It's an intense meeting, poring over CT scans and MRI data, taking in the advice of specialists, for each child in their care. Although treatment for some is straightforward, others need a series of complex, intricate surgeries.
Dr Kirsten Finucane, the hospital's chief of paediatric cardiac surgery, sits in at these meetings. She is gently spoken but extremely knowledgeable; in 2010 she was made an Officer of the New Zealand Order of Merit for her services to medicine, in particular surgery on newborn and children's hearts.
She likes to deflect the acclaim on to her heart team, which performs 450 operations a year on children from around the country and the Pacific Islands.
"New Zealanders may not realise it, but we're so lucky," she says. "We have a heart unit that is cohesive, where there are no issues about where the money is coming from, or competition from another service across the bridge. We can concentrate on doing the best for each child and their families."
Finucane can't be expected to remember all of the children she's operated on in almost three decades in medicine, "because there have been so many". But she remembers Amber-Rose Gailer, who has had four surgeries in Finucane's capable hands, and has a photo of her on her office wall.
Amber-Rose was 6 days old when the heart team - eight cardiologists and three surgeons - discussed her case at their Monday meeting. Within hours, she was on the operating table.
The little girl had seven defects in her tiny heart - among them, tricuspid atresia and severe right ventricular hypoplasia. In layman's terms, the right ventricle and the valve between the heart's right-side chambers hadn't formed properly; the body's blue blood wasn't being pumped back to the lungs for oxygen.
Finucane sees around 20 children a year with "single ventricle" problems. Around three-quarters of them are picked up in utero, which helps prepare parents and medical teams before the baby's birth.
Twelve New Zealand babies are born each week with heart defects, and with congenital heart disease each individual heart is slightly different from the next.
"One group will have all the pieces there, but there might be a hole to close, a leaky valve to fix, or a connection the wrong way round. Once you've fixed it, the heart is back to working like yours and mine - red blood through one side, blue blood the other," Finucane says.
"Amber-Rose was in the other group, the tricky one, where there are parts missing. It's a different ballpark - you have to strategise a lot to optimise what you've got. There are still a lot of things you can do, but the heart is never quite the same.
"With tricuspid artresia, she definitely fell into a group which is uncommon, but we've seen it before. But hers was difficult to treat because she didn't have normal pulmonary arteries." Fortunately for Amber-Rose, treatment of her condition has had increasing success since French surgeon Francois Fontan first performed the special bypass procedure in 1971. It involves re-routing oxygen-poor blood to the lungs, to skip the damaged right side of the heart altogether.
"You set it up so the blood is attached to flow passively into the lungs, connecting the big veins to carry the blue blood straight into the pulmonary arteries. The blood is drawn into the lungs through respiration. It's very clever," Finucane says.
But it's not a cure. "It's unlikely they will have a normal life expectancy," she says. "But if you set them up with a good Fontan, they can do very, very well."
It's also a procedure that cannot be done at birth. Babies need to grow stronger arteries and lungs before it can be attempted, in two stages - around 6 months and again at 3 years.
In the meantime, Amber-Rose needed surgery to solve her circulation problem. A shunt - a 4mm tube of Gore-Tex plastic - would create a passage between her arteries, allowing enough blood to get to the lungs.
The surgeon scheduled to operate on Amber-Rose fell ill, which brought Finucane to the operating table. The family were reassured they were in safe hands: "She's regarded to be the very best surgeon of her type in the world," Patrick wrote.
The operation to re-route Amber-Rose's blood supply went like clockwork. Now it was critical her heart grew before the next scheduled operation.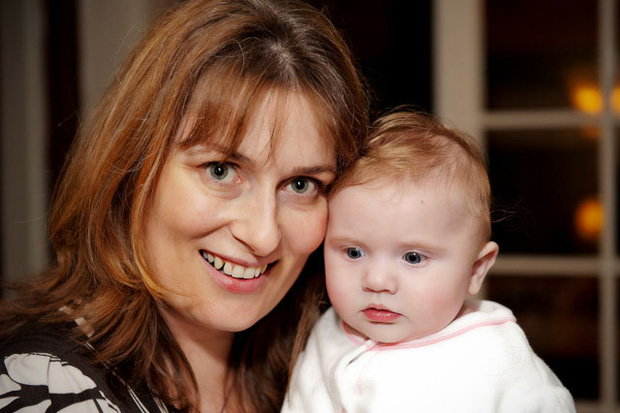 Amber-Rose aged 6 months with Elizabeth. Photo / Finesse Photography

Post-op
In the days and weeks after Amber-Rose's first surgery, the Gailers were holding together - just. Patrick and Elizabeth were forced to put their new photography business on hold. Their respective mothers were helping to look after the two young boys, who were "fascinated" by their tiny sister; meals were delivered by family and friends from their Sunnynook Baptist Church parish.
Elizabeth's sister Susan, who had trained as a doctor, sat in on their medical meetings. "We were in a fog, we were so scared, so it was reassuring to have her there to take it in and explain it to us," Elizabeth says.
There was no shortage of support at Starship - from the nursing staff, through to the volunteer Heart Kids support workers, whom the Gailers would come to know well over the course of Amber-Rose's surgeries. "People like 'Nana Marie' [Jujnovich] are angels - they sit and listen, and get you advice; they'll bring you a cup of coffee, or watch the baby while you have a shower. They're little things that make a world of difference."
The Gailers struck up friendships with other families going through similar ordeals. A little boy who received the donor heart of a 55-year-old would play peek-a-boo with Amber-Rose; Patrick took keepsake photos of a baby boy, who later died from a blood clot. "It was important for his family, but it also meant a lot for us to be able to do that for them. It kept us going," Elizabeth says.
It's always an emotional and exhausting experience in Ward 23B, admits Elizabeth. "You hear a beeper go and all the nurses descend; it's terrifying. There are a lot of tears. You're sleep-deprived. It's a little like being imprisoned; in a nice prison, but still..."
A fortnight after her first surgery, Amber-Rose went home, but it would be a short visit. She returned to Starship two weeks later, when her lips turned blue and her oxygen levels dropped to around 40 per cent - they should have been above 80 per cent.
Rushed to the hospital's emergency department, doctors found the baby's narrowed left pulmonary artery was blocked and feeding very little blood to her left lung. A second surgery inserted another shunt to keep the artery open.
On top of everything, Amber-Rose was having trouble feeding. "She had been breastfeeding beautifully, but then she had reflux and colic, and blood in her poo," Elizabeth recalls.
She was put on a special amino acid-based formula but refused to drink from a bottle, and would be fed through a nasal gastric tube for the next 14 months. The continuous night feed was managed by a pump, but the baby soon began ripping the tube from her nose.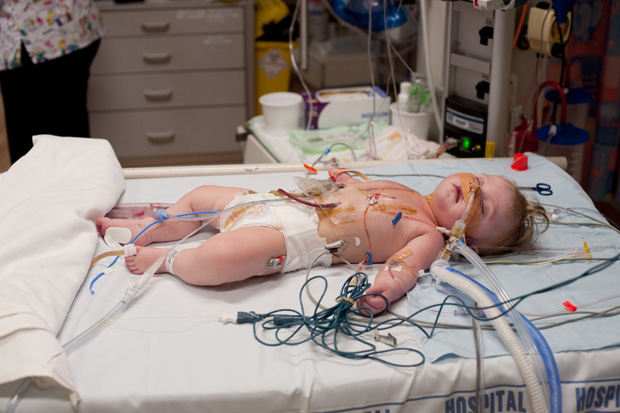 Amber-Rose after her operation aged 9 months. Photo / Finesse Photography
"It became really horrible. Pat would have to hold her down while I'd thread it back in. It was a nightmare," says Elizabeth.
It was no wonder that Amber-Rose's medical upheavals were testing the whole family. A psychologist told the Gailers that Patrick shouldn't work for that shattering first year of their daughter's life, so he returned to university to study speech therapy. It was tough on the boys: Callum had just started school but wasn't coping with the changes. Elizabeth worried about the toll it might take on her mother, Bev, who lived directly across the street.
But the grandmother could not resist being hands-on with Amber-Rose. "To have gone through all of those operations when she was so young - such a brave little thing - and feisty! She reminds me of myself as a little girl," she says.
In July 2009, 9-month-old Amber-Rose was well enough for her next surgery - the first of two operations to finally bypass the faulty side of the heart. The first would divert blood from her brain and upper body straight to the lungs; the second would re-route the blood from the rest of the body.
On the day of hearts - Valentine's Day, 2012 - the Fontan procedure was completed. Amber-Rose spent 17 days in Starship after collecting fluid in her lungs. In her typically spirited style, she tore up and down the corridors of Ward 23B on her plastic pink motorbike to help drain them.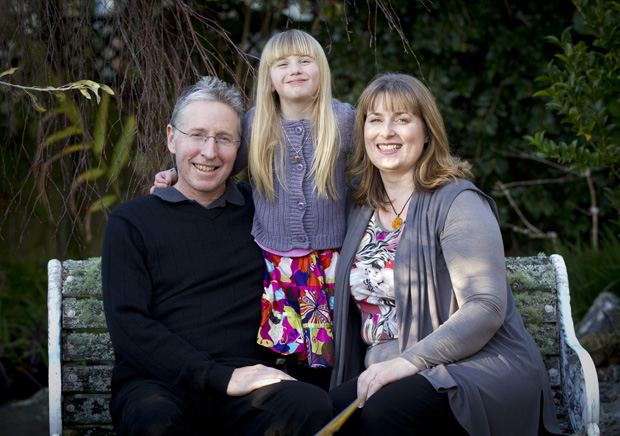 Amber-Rose age 5 at home with Patrick and Elizabeth. Photo / Sarah Ivey

Amber-Rose turns 6
Two months shy of her 6th birthday, Amber-Rose Gailer wants to play, jump, cartwheel and hug. It's the winter school holidays and she bounds across the lounge floor on her hands and knees like a little white rabbit. Then she shows off her cartwheels, her long, blond hair flicking in an arc, before racing her cars back and forth without tiring. And suddenly she will jump into your arms and hold on like a limpet.
"She loves her trampoline and she does forward rolls off the couch, even though she shouldn't. She'll even punch her 14-year-old brother," Elizabeth says. "She never gets short of breath. She's very feisty, but very loving. And brave."
Amber-Rose is still small, about the size of a 4-year-old. When she started kindergarten at 3, her growth and speech development were delayed - she spoke only a few words - and her weight was in the bottom one percentile for her age.
The only other physical signs of having an improvised heart are the scars - the "zipper" running down her chest from open-heart surgeries, and two welts that curve around her shoulder blades from the shunt operations.
"I have a special heart," she says, without shifting her gaze from steering her remote-control car in dizzying circles. She's a tomboy, who loves the movies Cars and Wall-E, and playing with Transformers and boys. She still takes her pink motorbike to her Starship check-ups.
"My blood is nice and red," she chips in, as her mother describes how they regularly test Amber-Rose's blood viscosity on a $1500 anti-coagulant machine the Heart Kids NZ charity gave to the Gailers. Every day, she takes warfarin to thin her blood.
A common cold can still send her to hospital in the middle of the night, so her parents try to keep her away from people who are sick.
Amber-Rose has settled in well at Westminster Christian School. She passed her latest check-up at Starship with flying colours, and later in the year will have an MRI to see how her heart is squeezing.
Elizabeth and Patrick are aware their daughter may one day need a heart transplant. But Finucane says her team have done "only a few" on teenage recipients. The reality is there just aren't enough hearts available or suitable.
"Who knows what will have happened in medicine by then?" Elizabeth says. "They're printing 3D hearts now. Who knows what they will be able to do with stem cells in 10 years' time.
"Kirsten has told us to be grateful for every five years we have with her."
And they are: the pink-cheeked, cartwheeling Amber-Rose has given them plenty to be thankful
for.
Heart Kids NZ Awareness Week begins tomorrow; a National Street Appeal is on Friday. To donate, go to givingatheart.org.nz or text "heart" to 2427 for a $3 donation.