A young man who helped his friend spray-paint swastikas and other graffiti on Jewish graves at a central Auckland cemetery has lost an appeal against his conviction.
Englishman Christian Landmark, 21, was last year found guilty of an intentional damage charge over the desecration of the Symonds St cemetery graves in October 2012.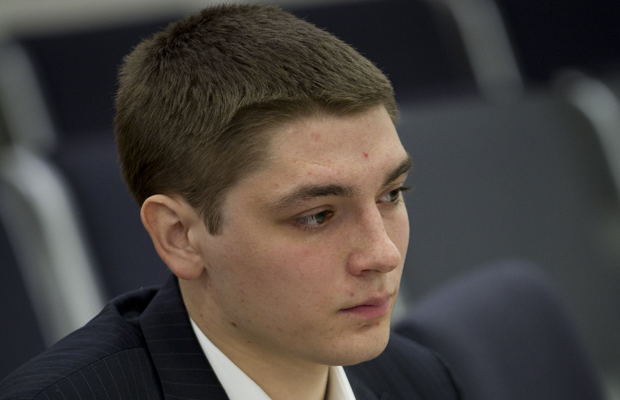 Christian Landmark. Photo / Sarah Ivey
In an appeal heard at the High Court in Auckland earlier this year, Landmark contended that while he was present and took photos of his former friend Robert Moulden carrying out the damage, he did not paint any of the graves himself.
Landmark tried to sell his photos to the news media.
During Landmark's district court hearing last year, Moulden said he did most of the defacing but Landmark had undertaken some also. Landmark's appeal lawyer Tudor Clee argued Moulden's evidence was unreliable.
Mr Clee said Moulden was out for revenge after Landmark sent his photos to the media, showing Moulden defacing the graves.
But in his appeal ruling, released to APNZ, Justice Patrick Keane ruled that Landmark was guilty of the charge whether he spray painted or not.
"He documented the desecration of the cemetery. He shared with Mr Moulden in the fullest sense responsibility for its desecration. Whether he himself also defaced some headstones is incidental," Justice Keane said.
Landmark did not appeal against his sentence of having to pay $3000 reparation, which the judge said was less than Moulden, who was ordered to pay reparation and undertake community work and supervision.
"It was a fraction of the cost to the Jewish community in their attempt to restore to something like their former state historic headstones, which had stood in the cemetery for in excess of 100 years and were already fragile," Justice Keane said.
He also agreed with the district court judge that text messages sent to and from Landmark pointed toward his guilt.
One friend, "Digity", texted: "Saw your handiwork (sic) on the filthy jew cemetery it made the news."
Landmark replied: "Lmfao [laughing my f***ing ass off] which news lol [laugh out loud]."
Police have said the total cost of the damage was more than $27,000.