Part of the train line north of Wellington has been closed down while an investigation takes place into why a passenger train derailed at Lower Hutt's Melling Station this morning.
One person suffered minor injuries and another was treated for shock after the incident just after 8am.
KiwiRail chief executive Peter Reidy said when such an incident occurred the company's top priority was passenger and staff welfare.
"An investigation has been launched to determine exactly what happened."
Witnesses said about 70 people were waiting for the train when it failed to stop and crashed into the concrete platform, eventually hitting a pole.
Ten passengers and two train crew were on board, and two passengers were treated in hospital, Mr Reidy said.
KiwiRail had been in contact with them, and both had been discharged from hospital.
"Six passengers left the site immediately after the accident, and we ask those passengers and anyone on the platform at the time of the incident to call KiwiRail on 027 706 9008 so we can check their welfare."
It was too early to speculate on the cause of the accident but the company reassured its customers that safety was paramount at all times, he said.
"The investigations would look at the full range of possible causes for the incident."
All services on the Melling line were suspended until further notice, and bus replacements between Melling and Petone were being provided.
The company's trains were regularly checked as part of their maintenance programme, Mr Reidy said.
"We conduct regular safety briefings for our staff and have ongoing staff monitoring and training in place."
Earlier today Mr Reidy did not want to comment on reports that the train driver had told passengers that the brakes had failed, and to brace themselves for an impact. Nor would he comment on a report that there was grease on the rails this morning.
"Sun strike, the status of the driver, the speed, the state of the rails -- was there any ice on there? It was quite cold this morning -- that will all be part of the investigation.
"All that will come out in due course, in terms of the root cause of the incident."
The train's black box and video camera footage would be examined, he said.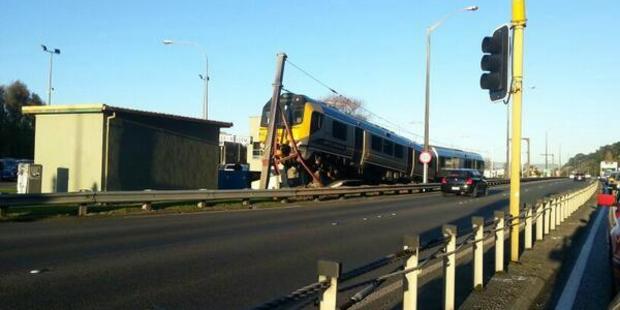 TransMetro described this as an 'operational incident'. Photo / Eliza S
There had been no indication of any problems with the train, he said. It had been serviced 14 days ago and all trains were inspected every morning before shifts begin.
He said he was confident the trains running tomorrow would operate well.
"We have very rigorous inspection and maintenance procedures. We carry 11 million passengers a year in the city, and we have very very few incidents. So this is rare."
He said a train crash on April 15 last year was still being investigated.
"At this stage, it's not related to this incident."
He said today was not a day to discuss whether KiwiRail had enough funding to run a safe operation.
Transport Minister Gerry Brownlee said it was "very disconcerting" that a second incident had occurred involving a Matangi train in a 12-month period.
"We are encouraging people to use commuter rail -- not only do we want it to be reliable, but we also want it to be safe."
The Rail and Maritime Transport Union said it sympathised with commuters who were injured in the incident.
"This was a very unpleasant shock for commuters on board the train. Our thoughts are with those travellers who had to endure this incident earlier today," general secretary Wayne Butson said.
"We will be supporting the crew who have been shaken by the incident, and clearly will want to work with KiwiRail to identify the root cause of the crash.
"Rail remains very safe as a transport option, and incidents like these are rare. But this in no way minimises the shock to those people on board this morning," he said.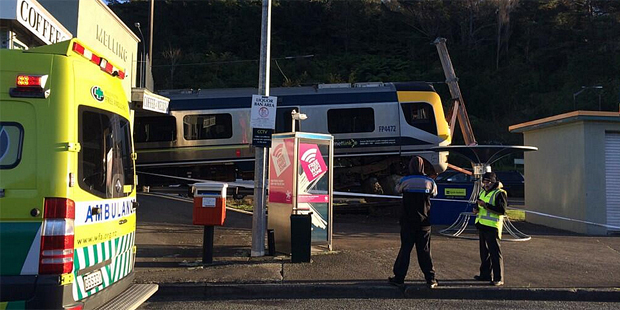 The crashed train. Photo / Mary Margaret