Festive mood turns sombre as royal couple arrive at CTV memorial garden and speak to victims' relatives.
Surrounded by empty lots and raw new buildings in Christchurch's partly rebuilt city centre, the Duchess of Cambridge's eyes welled with tears as she spoke to relatives of the 2011 earthquake victims.
The official motorcade was greeted with the cheering and shouting typical of this royal tour - but the mood on the corner of Madras St and Cashel St soon turned sombre as William and Catherine stepped on to the site where the CTV building once stood.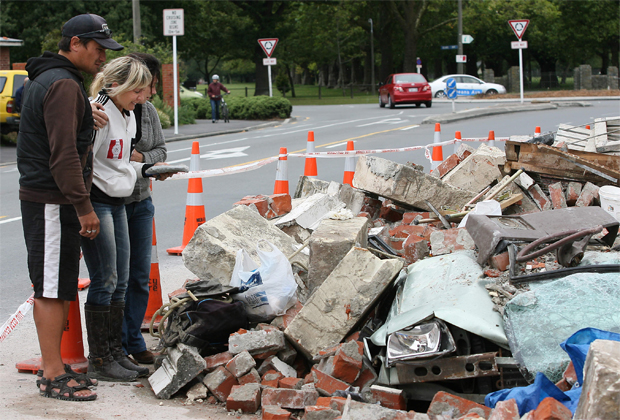 Liana Bush is comforted in 2011 at the scene where her father Ross was crushed in his car. Photo / APN
Destroyed by the Canterbury earthquake in 2011, the site is now a grass area with a memorial garden, and was yesterday filled with more than 100 relatives of earthquake victims and people injured in the tragedy.
Watch: Royals delight ChCh fans
Vanessa McGregor spoke at length to Catherine about the loss of her grandfather, Barry Craig, who perished in the PGC building.
"It's like our grief is their grief," Ms McGregor said. "She cared when she spoke to me, she really cared. Her eyes were welling up.

Liana Bush and her son Curtis Loose pose for a selfie. Photo / Greg Bowker
"He was my second dad," she said about her grandfather. "No one expects to lose someone you love like that, in such horror.
"They go to work and never come home; it's like they just disappear."
Karen Andrews' nephew, Jayden, was killed a day before his 15th birthday as he rode home on a bus.
"It was nice to see that they are really, really nice people and make the time to speak to people.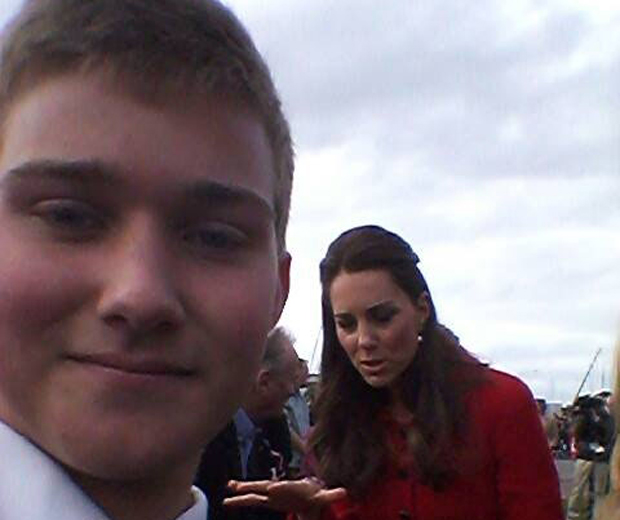 The selfie.
"They spent more time than they said they would, you could tell they didn't want to leave."
A crowd, eight-deep in places, lined Latimer Square to meet the royals.
Kate was inundated with gifts for baby George, including a book that Tilly-Belle Robinson, 13, had written herself entitled George meets the Kiwi.
"She said she would read it to George tonight," Tilly-Belle said after meeting Kate. "She's beautiful."
Watch: Royals play cricket in Christchurch
The Duke and Duchess play cricket in Latimer Square, and former New Zealand stars Sir Richard Hadlee and Debbie Hockley spoke to the couple before the royals took up a bat and ball.
As the crowd cheered and surged against the barrier fence, the royal couple stopped to speak with the mothers of five sets of twins, all born within about a month of each other, nearly two years ago.
The Prince opened his arms as the prams were pushed towards them.
"Oh, that was amazing, eh? I'm just like shaking inside. They were just such lovely people and so genuine," mum Jodie Gould told TVNZ.
Gallery: Royal visit: Christchurch calling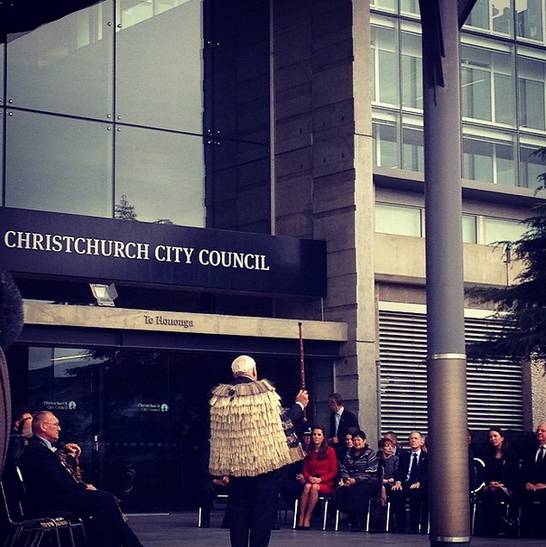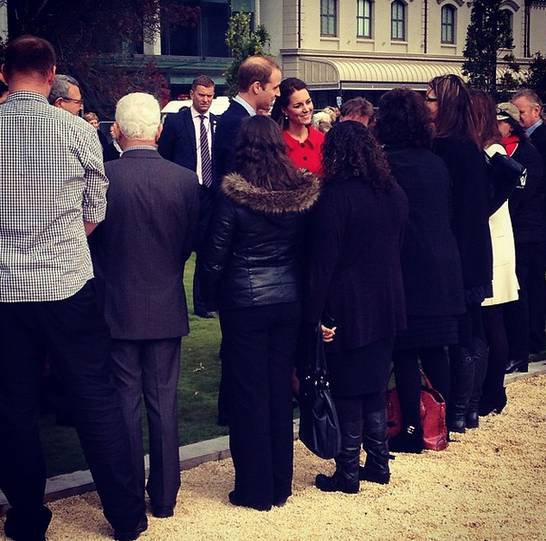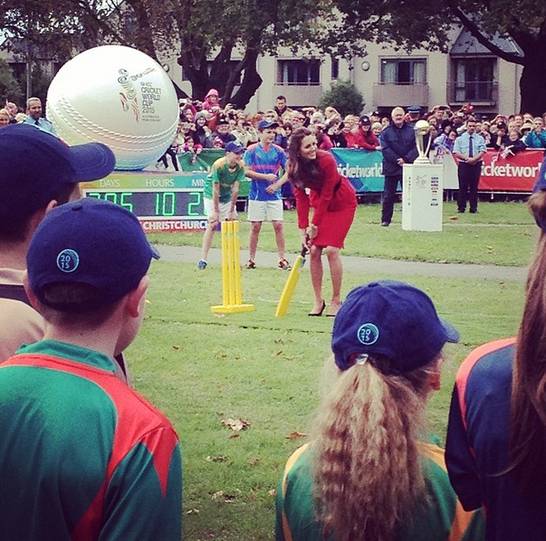 Later, the couple visited the Air Force Museum at Wigram, where about 500 Christchurch business people had gathered inside for Future Focus: Christchurch's Redevelopment lunch. Prince William gave a four-minute speech in which he paid tribute to the city's resilience and said he looked forward to seeing the city rise again.
He and his wife had "found ourselves moved at just how awful" the February 22, 2011 earthquake was.
Since he last visited, just after the deadly February quake, he had been struck by the "resilience and adaptability" of the local people.
Despite the daunting job of rebuilding, Cantabrians had kept their "classic Kiwi humour", he said.
"Christchurch is a city which has chosen not only to survive but to thrive," William said. "Catherine and I look forward to coming back to see how the city takes shape."
Moment to remember for family
A Monday morning off school ended with a royal selfie for Curtis Loose.
The 16-year-old Christchurch Boys' High School student attended a special audience with the Duke and Duchess of Cambridge at the Canterbury Television Memorial Park. Families of the 185 people killed in the February 22, 2011, earthquake, the badly injured and survivors of building collapses were invited to the event at Prince William's request.
Curtis' grandfather, Ross Bush, died when the 6.3 quake shook a Riccarton Rd bakery facade on to the parked car he was sitting in. The 75-year-old semi-retired bricklayer had stopped between jobs and was about to head inside to buy his lunch.
Curtis told the Herald it meant a lot that William made time to meet with the families most affected by that day.
Curtis' mother Liana Bush said the Prince approached their family and spent some time talking. They then gave him a gift of a merino cape for baby George, which he accepted.
Mrs Bush said the event had been upbeat, but emotional.
"[Prince William] asked us who we lost in the earthquake and how we're coping as a family, and in Christchurch. I just said we've come a long way but we've still got a long way to go - we're all a pretty strong bunch of people here in Christchurch."
Herald photographer Greg Bowker, who photographed the family yesterday, also captured Mrs Bush outside the collapsed bakery which she visited to retrieve her father's belongings. She said at the time her father had been a bricklayer since he was 15 and it was "bloody bricks" that killed him. "He would have found that funny. That's the sort of sense of humour he had."