Improving weather conditions should help the search for missing Malaysia Airlines flight MH370 on Friday, forecasters said, as Australian Prime Minister Tony Abbott vowed everything "humanly possible" was being done to find the aircraft.
Grainy satellite imagery taken on Sunday detected a pair of floating objects in the southern Indian Ocean which Malaysia and Australia called a credible lead in the drawn-out hunt for the jet that vanished on March 8 with 239 passengers and crew on board.
Watch: Special weather report for the search for Flight 370
Head Weather analyst Philip Duncan gives a special weather update on the location where potential Debris have been spotted by satellite 2500 kilometres southwest of Perth.
But four planes from Australia, New Zealand and the United States that flew over a 23,000-square kilometre (8,800 square mile) area of the vast ocean some 2,500 kilometres southwest of Perth on Thursday saw nothing of significance, hampered by low cloud.
"The weather conditions were such that we were unable to see for very much of the flight," Royal Australian Air Force Flight Lieutenant Chris Birrer told reporters of his crew's sortie.
However, conditions are improving, Australia's Bureau of Meteorology told AFP.
"Showers associated with the passage of a cold front on Thursday, which saw low cloud and drizzle affect visibility, are easing," the bureau said.
"Winds are currently 15-20 knots, with swell 2 to 2.5 metres, and also easing. Overall conditions are expected to slowly improve today for the search operations in the area."
NZ sends help
The NZ Air Force is ready to send extra aircraft and staff to aid in the search for the missing Malaysia Airlines passenger plane, it says.
Four search aircraft, including one New Zealand P3 Orion, were dispatched from Australia to a search area about 2500 kilometres southwest of Perth.
Surveillance aircraft late yesterday scoured a remote and stormy section of the Indian Ocean for a pair of floating objects that Australia and Malaysia guardedly called a "credible" lead in the 12-day-old hunt for a missing passenger jet.

The satellite images of the mystery objects. Photo / AMSA
The planes covered an area of 23,000 sq/km without any sighting before the search was suspended for the day, said the Australian Maritime Safety Authority (AMSA).
It earlier reported cloudy, rainy conditions and limited visibility.
The search is due to continue today.
Australia said yesterday the objects - one estimated at 24 metres across - were captured in grainy satellite imagery, raising hopes of a breakthrough in the plane's mysterious disappearance, as relatives of the 239 people aboard - which include two New Zealanders - braced for another emotional roller-coaster.
News of the images were welcomed in Malaysia.
"We now have a credible lead," Transport Minister Hishammuddin Hussein said during Malaysia's daily briefing on the crisis.
Read more of the Herald's Flight 370 coverage today:
• Missing plane: Families face their worst nightmare
• Missing aircrafts 'pings' point to path towards Pole
• Suspect's father at pains to exude hope in vacuum of hopelessness
"There remains much work to be done to deploy the assets. This work will continue overnight."
A Norwegian merchant ship reached the site as daylight waned and another merchant ship was en route.
The Australian navy's HMAS Success was also headed for the area, while Britain sent a naval survey ship, HMS Echo.
China, whose citizens made up about two-thirds of the passengers on the flight, said it was also sending ships to the area, but it was not clear how long it would take for the vessels to reach the scene.
Watch more:
• Malaysia: Files deleted from flight simulator
• Australia, US launch search for jet
• Search area for jet 'big as Australia'

NZ could send additional resources: Air Force
Air Commodore Mike Yardley told TV3 this morning the images had been great news for the New Zealand crew.
"For the first time, it has given us that optimism that we might be in the right area.
"But, of course it's a huge ocean, a huge search area and we've still got a task ahead of us.
"It's a large ocean and it's very difficult and certainly in this area, it's well known as the Roaring 40s.
"There's a lot of debris out there in the ocean and last night our crews picked up debris out there that was not part of the aircraft,'' he said.
Watch: Possble jet parts found
The water depth in the search area was also "extremely deep''.
"Our radar will pick up containers that have fallen off container vessels as well, and last night our radar system was picking up marine whales and dolphins.
"We do have additional P3 Orion aircraft sitting here in New Zealand and crews available, but that would be up to the Australians to ask New Zealand for further assistance,'' Mr Yardley told TV3.
Air Vice-Marshal Kevin Short, Commander Joint Forces New Zealand, told Newstalk ZB the search from the New Zealand Orion was primarily visual.
"They're flying at 1000 ft above the water to do that visual search. They are also using sophisticated radar and electro-optic,'' he said.
John Key: Don't judge Malaysia's response
Meanwhile speaking from Shanghai, Prime Minister John Key said the Orion had been deployed to the search area and could play a key role.
"It's hard to believe the plane, if it is the plane, is actually there given it's so far off course and in a completely different direction.''

An interfaith event for the missing jet in Kuala Lumpur. Photo / AP
New Zealand would also be ready to offer more help if required, such as planes, naval equipment and personnel for any recovery effort.
"There are other assets we can deploy. If this really is the wreckage then it is relatively close to New Zealand.''
"This whole thing has been extremely unusual. There is so much we don't know. One good bit of news is that if they do locate the wreckage I guess there's a chance they will get much better information about what actually happened. The search will then be for the black box. How hard that will be to find in that kind of water, who knows.''
Mr Key said he had discussed Malaysia's response with China's President Xi Jinping.
Mr Key said it was hard to judge Malaysia for its response. New Zealand had stayed in contact and be believed Malaysia had given the best information they could, but had been very uncertain about what was happening.
He expected questions of Malaysia's handling would be addressed after the plane was found and it was better known what had happened.
Families continue to wait
Kiwis Paul Weeks and Ximin Wang are among the missing passengers.
Mr Weeks' wife, Danica, is waiting for news at her home in Perth. His Christchurch-based sister, Sarah Weeks, told the Herald last night she wasn't prepared to comment about the latest development until more was known about the possible debris.
Frustrated family members who have been waiting in Kuala Lumpur since the airline flew them to Malaysia to wait for news heard of the development through the media.
The airline had previously said it would text relatives with regular updates, but a support worker told the Herald it had not done so.

Photo / AP
A statement from the airline said: "The families have always been briefed first, followed by the media and then the public whenever new information surfaces."
It said unless the objects were confirmed to be the wreckage, the airline would not be sending any family members to Australia.
A different public response from Australia
A press-conference in Canberra yesterday afternoon detailing the sighting was at odds with how the airline has handled public relations in Kuala Lumpur during the search.
Australian authorities rushed to hold the conference soon after receiving the new information.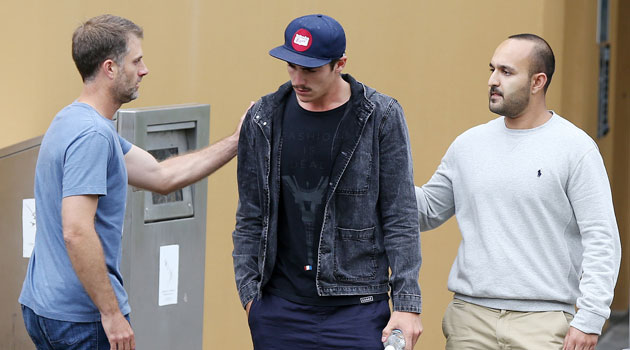 Australian Prime Minister Tony Abbott. Photo / AAP
Australian Maritime Safety Authority emergency response division general manager John Young said the authority was co-ordinating the search with help from the Australian Defence Force, the Royal New Zealand Air Force and the United States Navy.
But he warned: "It could be containers from ships, for example, falling overboard, and other objects of that type. On this particular occasion, the size and the fact that there are a number located in the same area really make it worth looking at.
"But I don't want to speculate about what they are until we get there and we see them."
As for whether the objects had markings or windows that would identify them as coming from an aircraft, he said: "The imagery is not that precise."
'It's very deep down there - about 5km'
The bulk of the missing Malaysia Airlines aircraft would be at the bottom of the ocean if it had crashed into the sea, says an oceanographer.
Chari Pattiaratchi, from the University of Western Australia, said the search area was known for its high winds, which create huge swells and waves.

Day three search area. Image / AMSA
"You may have debris at the surface but the bulk of the aircraft would be at the bottom of the ocean," Professor Pattiaratchi told the Sydney Morning Herald.
"It's very deep down there - about 5km. Trying to get something out from 5km in the roughest part of the world is going to be extreme."
The currents in the area move from west to east, he said.
"So if it has been in the water for about 10 days it would have drifted about 300km to 400km to the east towards Perth."
The debris would likely have been travelling about one nautical mile per hour, or one knot. "If it keeps going it'll go to the south of Perth or south of Australia," he said.
Oceanographer David Gallo, who co-led the search for Air France Flight 447, which crashed in the Atlantic Ocean in 2009, speculated that if the debris really was 24m long, as reported, it could be the tail section.
But he told CNN the size gave him a degree of concern. "It's a big piece of aircraft to have survived something like this," he said.
Wreckage from the Air France flight, which killed 216 people, was spotted five days after it crashed. However, it took almost two years to recover the black box.