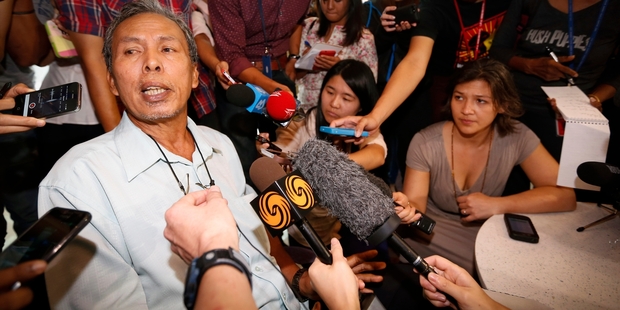 He looked as if he had never slept in his life. His eyes were red, his face haggard. Yet somehow Selamat Omar was trying to exude a sense of hope, if only for his own sanity.
Thirteen days ago, the 60-year-old received a frantic, sobbing call from his daughter-in-law. His son Khairul, the third of his four children, had been aboard a Malaysian Airlines flight to China that morning which failed to arrive.
In the days since, Mr Selamat and his family have ensconced themselves in a hotel with other relatives of the 239 passengers and crew from Flight MH370, trying to lend support to one another. Yet what has made Mr Selamat's pain all the more intense has been the announcement that police believe his son may have had something to do with the plane's disappearance.
"I will stay here until they find the plane," he said, saying he believed his son was still alive.
"I'm confident that once they find the plane, everything will be back to normal."
Mr Selamat's son has come under scrutiny from investigators because of his job as an aviation mechanic. Officials have been prising open the backgrounds of all who boarded the Boeing 777, trying to unlock the riddle over its disappearance.
They have reportedly found nobody with flying experience but looked hard at Mr Selamat's son because of his experience with aircraft. "The focus is on anyone else who might have had aviation skills on that plane," a senior police official said.
At the Everly Hotel in Putrajaya, near Kuala Lumpur, Mr Selamat said police had not questioned him about his son, but the family was happy to help if needed.
As a boy, his son had enjoyed sport, especially football, and he supported both Liverpool and Manchester United, he said. But his son had always wanted to be an an engineer and Mr Selamat had taken out a loan for his education. He said his son was married and had a 15-month-old son, Hizat.
For the past three years his son had been working for the Malaysian branch of the Swiss-based ExecuJet Aviation Group, which sells and charters aircraft.
"The other family members are not willing to face the media," he said. "For me, if I'm not talking to the media, nobody will know how I am feeling."