Frustration compounded as many learn about latest developments through media.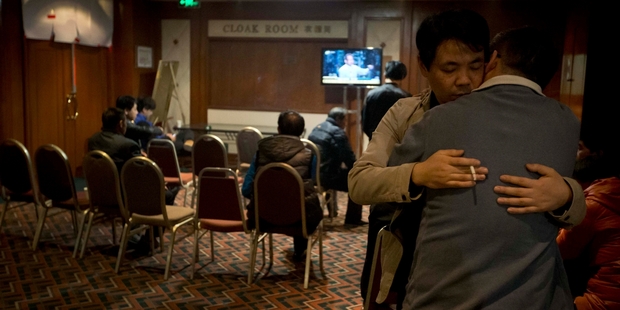 Families who have been clinging to hope and waiting so desperately for news since flight MH370 went missing looked crushed last night.
While some refused to believe that items seen floating in the southern Indian Ocean could be from the plane, there were signs from others that the discovery might confirm their worst fears - their loved ones might not be coming home.
Among the missing passengers are New Zealanders Paul Weeks and Ximin Wang.
Read more of the Herald's Flight 370 coverage today:
Missing plane: Five countries scouring southern waters for plane
Missing aircrafts 'pings' point to path towards Pole
Suspect's father at pains to exude hope in vacuum of hopelessness
Many of the families based in Kuala Lumpur have expressed frustration this week at the lack of, and conflicting, information they are receiving. That frustration was compounded further yesterday when many learned about the latest developments through the media, not via text messages or phone calls as promised by officials.
For some it was too much to take in. The relatives of some Chinese families who are staying at a hotel in Cyberjaya looked crushed and declined to speak to the media last night.
Since the news broke the group of 12 or so have sat silently at a cafe in their hotel, many often checking cellphones for any developments.
They have also removed a banner with words that translated to "pray for their safe return".
"This is not the kind of end they were expecting," a support worker told the Herald.
One woman said she didn't want to talk as the information wasn't "100 per cent correct" while another could be heard mumbling "pu ker neng" - "how can this be?".
A taxi driver, who has spent 12 days praying for the aircraft to be found, last night changed his mind saying he was going to a Hindu temple to pray the debris was not from Flight 370.
"The Chinese have been wrong before, and hopefully so will the Australians," he said. "All of Malaysia are still praying for a safe return."
China Real Time said relatives at a Beijing hotel watched an Australian briefing about the developments in a conference room
"The mood shifted to sombre disbelief at the Australian announcement that satellite images detected objects in the Indian Ocean near one of the areas being searched for the missing plane. People left the room, with heads hanging."
The news site said some family members didn't believe the information. "I don't want to hear any more," said Zhang Zhiliang, who has a 26-year-old cousin on the flight. He walked out mid-briefing. "There's nothing I want to watch, nothing I want to hear."
In Malaysia a flight crew member said the news came as a shock. He did, however, hope if the objects were found to be wreckage that it would support the theory that Captain Ahmad Zaharie Shah took the plane off course to find the closest airport to land, rather than hijacking the plane.
"I think my feelings are mixed, I cannot accept that this is how it ends, but at the same time this shows our captain is no terrorist," he said.
He said many of his colleagues believe the theory of fire on the plane, and the pilot and crew were fighting to save the passengers.
"We'd rather see them as heroes, unless investigations can convince us otherwise."
Malaysian police had said earlier in the day they had not uncovered anything to indicate co-pilot Fariq Abdul Hamid was involved in deliberately steering the aircraft off course. Home Minister Ahmad Zahid Hamidi also denied the police were out to prosecute Captain Zaharie, despite having found data on the flight simulator seized from his home had been deleted. "All actions are aimed at producing a complete investigation," Dr Ahmad said.
Meanwhile Acting Transport Minister Hishammudin Hussein has ordered a probe into the ruckus after angry families stormed into a press conference demanding answers on Wednesday night. Upset relatives had to be dragged away, screaming and crying, demanding information on where their loved ones were.
"The Government considers this a huge embarrassment to Malaysia," a source told the Herald.
"We don't know who brought them here, how they escaped their minders, but heads will be rolled."
The incident prompted Malaysia Airlines to change the way they dealt with family members. They said the airline would send text updates to families and set up an email address.
That system clearly hadn't kicked in in time to warn families about the latest developments - which could finally bring some answers to those waiting so desperately for news.