It is the stadium that has hosted some of New Zealand's great sporting moments - Yvette Williams' long-jump gold, our first cricket test victory, two Rugby World Cup triumphs, this year's NRL Nines. Now Eden Park's owners are considering apartments and rock concerts for the venerable ground. By Joanna Mathers.
It was a collapse of epic proportions. Four players went out for a duck and only one reached double figures (a pitiful 11). It was the summer of 1955 and New Zealand had just recorded the lowest test score in the history of international cricket - a dismal 26 runs. Eden Park had just borne witness to the darkest moment in New Zealand cricket history. And so had Bryan Haggitt.
Haggitt hadn't chosen the best day to throw a sickie. The Auckland schoolboy had missed a catch when playing cricket the day before (Sunday) and hurt his finger. Seeing a good opportunity to go and watch the international test match, he convinced his mother to let him take the day off school. She agreed, so he headed to Eden Park to watch the second innings against England. The dramatic failure of the New Zealand team just added insult to injury.
When he returned a year later, he was treated to a far more pleasing spectacle. "I was at the park in 1956 when New Zealand won our first ever test match - it was against the West Indies. It was a great game."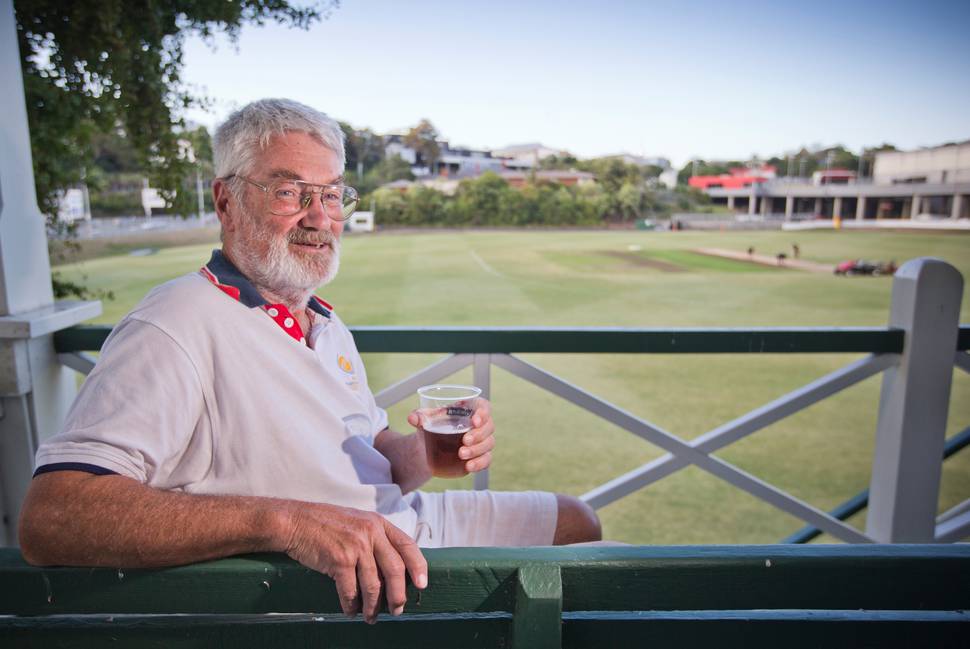 The ups and downs of New Zealand's cricketing history have been played out on Eden Park's emerald carpet since the early 1900s. And for the past 60 or so of those years, Haggitt has been there to watch. A lifelong cricket fan and former Parnell Cricket Club player, he's been in the stands for many of our most memorable cricketing moments.
And he was in the stands at Eden Park's No2 field this week to watch the Auckland team rolled by Central Districts in a 113-run defeat.
Haggitt's life has been entwined with the park for decades. He's been a member of the Auckland Cricket Society for more than 25 years and earlier in his life he belonged to the supporters' club. But there's a possibility that he, and others like him, may not be able to enjoy the summer spectacle of cricket at the ground for much longer. Cricket might be leaving Eden Park.
It has not been widely reported, but under the Regional Facilities Auckland's (RFA) Stadiums Strategy, cricket will move from its historical home of Eden Park across town to Western Springs. And it's not just cricket that's earmarked for relocation - its move is part of a domino effect of sporting shifts: rugby league from Mt Smart to Eden Park and speedway from Western Springs to Mt Smart. Cricket will fill the hole left by speedway's southern drift.
It has all come about because Eden Park and Auckland's other stadiums (North Harbour, Western Springs and Mt Smart) are under-used and unprofitable. And the RFA has been charged with changing this. The first step was this week, the Herald on Sunday can reveal, when the trust owning North Harbour Stadium agreed to transfer management and ownership of the $60 million turf to the RFA.
If cricket agrees to move from Eden Park to Western Springs, the prime real estate of the No2 field may be ripe for redevelopment. A submission by the Eden Park Trust to the Unitary Plan indicates it could be used for commercial use with hotels, retail and offices developed on the valuable land.
Moreover, there are whispers that Eden Park may be used as a concert venue in the foreseeable future. The trust's Unitary Plan submission seeks exemptions from noise and light restrictions, allowing up to 10 late-night events such as rock concerts and State of Origin rugby league games in the 48,500-capacity stadium.
Big Day Out organiser Paul McKessar says the rock festival worked well at Western Springs this year, and is committed to returning next year. "After Big Day Out and Eminem, there's a lot of love for Western Springs at the moment."
But other international touring acts such as Bruce Springsteen and the Rolling Stones could be a perfect fit for Eden Park - especially acts that appeal to an, ahem, older and predominantly seated audience.
So is the peaceful green expanse of Eden Park No2 set to become a concrete jungle?
Eden Park chief executive David Kennedy says the trust deed, amended for the Rugby World Cup, specifies that Eden Park should be made available to Auckland rugby and cricket - but also opened up to a wider range of recreational, musical and cultural events.
To that end, the park has not just hosted sports games but also the Dalai Lama, the Prince and Princess of Wales and, in the past couple of years, celebrations of the Muslim Eid Festival.
But Auckland Cricket cannot be unilaterally booted out of the park to progress the trust's plans for a multi-use stadium and commercial development - the cricketers must agree to the move to Western Springs.
Thereafter, the trust could lease out the 14,500sq m No2 ground to developers to build apartments, shops or even a hotel - no decision has been made.
The trust has asked the council to rezone Eden Park No2 ground for mixed-use development, including a substantial public open space, for the day when cricket eventually agrees to move out.
"We would want to have some say in what was developed there," Kennedy says. "I don't think something like The Warehouse would be a good fit."
He adds: "Eden Park is 100 years old. People talk about the hallowed turf of Eden Park and the fortress mentality of the teams that play here, particularly the All Blacks. So that's something very special, and we need to recognise and respect that in the way we manage the park and the events we put on here.
"We see ourselves continuing having events here that create memories - hopefully good memories, not stressful ones when your team's not doing so well."
The proposed changes at Eden Park and the other three stadiums are long overdue, says Robert Domm, chief executive of the RFA.
"The four main stadiums have long been fragmented and under-utilised. After the council amalgamation, the RFA was set up and one of our tasks was to look for ways to improve how stadiums are run."
The RFA has spent about three years drafting a strategy for Auckland's pre-eminent sporting stadiums.
As well as the relocation of major sporting codes, its Stadiums Strategy also proposes integrating the operations of the four stadiums with a single provider charged with ticketing and maintenance, and developing high-performance training facilities at Mt Smart and North Harbour stadiums.
The Auckland Council owns Western Springs and Mt Smart, and Domm reveals that North Harbour Stadium (which was run by a trust but located on council-owned land) is being taken over by the RFA.
Eden Park is not council-owned but the council underwrote $40 million of the loan for the park's Rugby World Cup upgrade, so is a key stakeholder. The trust still carries about $50m debt, somewhat undermining its negotiating position with the council.
Submissions on the Stadiums Strategy closed last month. More than 1000 were received and the council is analysing them. The results of the submission process will be made public in a couple of months. Until this happens, those affected are left wondering what the future holds.
Auckland Cricket is clearly one such interested party. Chief executive Mark Cameron says they have been happy to be involved in the consultation process but it would take a lot for them to agree to move to another location.
"We are happy at Eden Park," he says. "We have a long history here and were the original purchasers of the land. Both the 1955 Trust Act and the 2009 amendment protect our right to be here, and to use the No2 ground."
Auckland Cricket holds 40 to 50 days of matches at the No2 ground each year, and it's the home of their provincial cricket side. There would have to be compelling reasons to move. "We would need to be really convinced that we would be better off elsewhere," says Cameron.
Some fans aren't convinced by either stadium. Cricket fan Michael Onslow-Osborne loves the atmosphere at Eden Park when it's full, but doesn't like the ground's size.
"Eden Park is a terrible place to play cricket. The playing surface is too small. Western Springs would repeat those problems and introduce others, unless work was done to turn it into a specialist cricket stadium."
He's even more concerned about what would happen if speedway were forced to move to Mt Smart.
"Speedway has been at Western Springs forever, and is not really compatible with cricket," he says.
"Cricket would need the area covered by the track for the outfield, or it would repeat the problems at Eden Park. Why should speedway have to move?"
Speedway has been at Western Springs for 86 years, so any relocation will be a big deal. Speedway has a guaranteed spot at Western Springs until 2017, and promoter Greg Mosen says they are glad they have security in the medium-term.
"But after that, the balls are in the air a little bit," he says. "Three years is a long time so we will see what happens in the future."
Turning Mt Smart into a speedway track would mean that rugby league would move to Eden Park. This shift has already started - the NRL Auckland Nines were a huge hit at Eden Park in February, with bumper crowds and a great atmosphere, and the Warriors played there last night.
Dean Lonergan is one half of the team that makes up Duco Promotions, organisers of the NRL Auckland Nines. The former Kiwis league star says Eden Park was fantastic for the Nines, and other events with crowds over the 25,000 mark, but he's ambivalent about its potential as the home of league.
"It's not an ideal stadium. And when there are crowds of about 15,000 (as there are for most Warriors games) it's a pretty barren place."
He feels the best option would be for speedway to move to Waikaraka Park in Onehunga, and for the facilities at Mt Smart to be upgraded so league can stay there. "But for really big league events like the Nines, Eden Park is ideal."
Changes to the use of Eden Park are unlikely to be lauded by locals. Eden Park's residential neighbours are apprehensive about anything that has the potential to compromise their quality of life.
"We already have to stay at home every evening when there is a night game on," says local Mark Donnelly, president of the Eden Park Neighbours' Association who lives on Walters Rd, just across from the park. He says there are many older people in the area, some of whom have lived there for decades, and the increase in events has a deleterious effect on many of them.
He is also concerned that the development of Eden Park's No2 ground would remove much-needed green space from an already highly developed area.
Donnelly says locals only found out about the planned changes in the past year or so. "The details of the strategy emerged through the annual plan consultation process," he explains. "But we didn't realise until a recent summary that all cricket would move to Western Springs; we thought Twenty20 and One Day Internationals would stay."
Donnelly's group is involved in negotiations around use at Eden Park, though they haven't been given details of a recent submission by Eden Park to the Unitary Plan. His group, along with many others in the community, has sent in a submission strongly supporting the status quo.
"No one I have spoken to wants cricket to move," he says.
But if cricket does move, there are bound to be many people unhappy to see it go. Bryan Haggitt will be one of them.
"Parts of the Stadiums Strategy do make sense," he says philosophically. "But cricket would need a fair few dollars' compensation and the best facilities possible provided if they were to move from Eden Park.
"I'd also want to know if they could move the Old Stand: it has a lot of history involved. But yes, I would be very sad to see cricket move from these grounds."