T-shirts and concert tickets on sale in weekend bid to raise $175,000 for Environment Court challenge
Opponents of a 160-berth marina plan for Waiheke Island's most visited bay are trying to raise $175,000 for a battle in the Environment Court by taking $20 donations and selling T-shirts and tickets to a variety concert.
"It's a David and Goliath battle - we are not intimidated by wealthy individuals who may be backing this," said John Hawkesby, an island winery owner and wine reviewer, who is leading the fund-raising effort for Direction Waiheke.
He said the island's residents were divided over the marina proposal for Matiatia Bay, which has the main ferry wharf from Auckland.
"I'm involved because I think a marina at Matiatia is an abomination and ludicrous on a number of grounds, primarily aesthetic," said the former broadcaster.
"It's our shop front, a beautiful little bay and to take up a good third of a public bay so Matiatia looks like everywhere else in the world is crazy."
Mr Hawkesby said the island was turning out to be a major jewel in the tourism crown of Auckland because it was laid-back and slightly 1950s retro.
It had won the endorsement of pop superstar Taylor Swift, who made a day trip to the island last month and tweeted "Waiheke Island. Sigh."
However, Mr Hawkesby, who has lived on the island since 2001, said heart-felt reasons for not having a marina would not be enough to win the court case.
That would be decided on legal issues rather than emotion.
Many residents were giving voluntary expertise, but fund-raising was needed to "wheel in the big guns and professionals".
He and another island resident, veteran concert promoter Alan Smythe, are organising a mini festival, or concert, on Saturday at the Pie Melon Bay farm of Mainfreight founder Bruce Plested.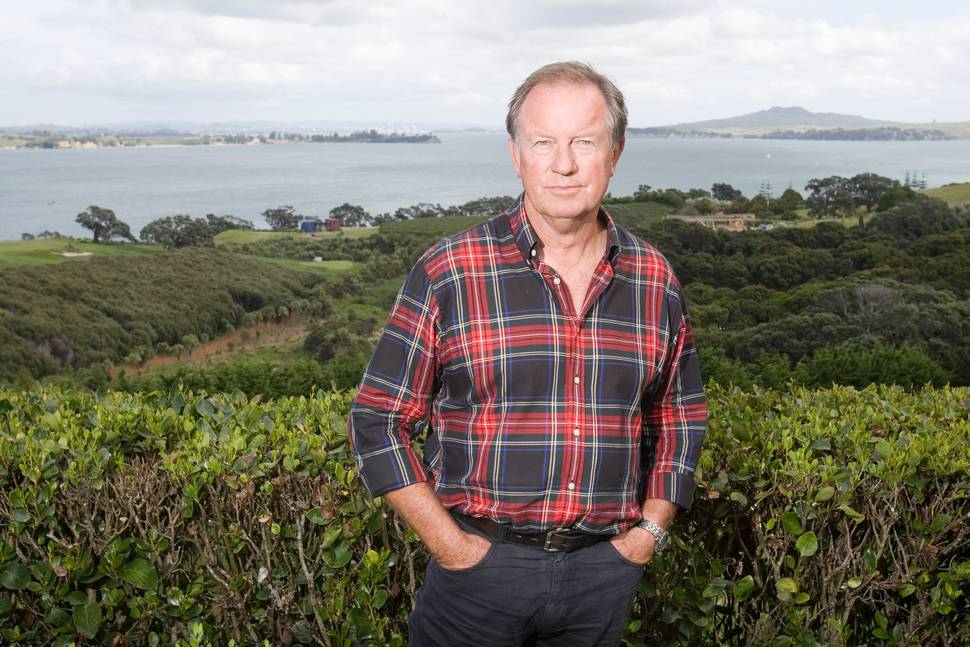 "We have invited marina supporters - there will be no ranting and raving against the marina because it's a celebration of music and island life."
However, there would be a mass display of T-shirts with a "Matiatia - let it be" design by Waiheke artist Denis O'Connor.
Christine Gisby, of Direction Waiheke, said the opposition was not against a marina but was against a marina at Matiatia.
"It's the wrong place - for many reasons - and it's set the community on fire.
"It's forcing the community to raise $175,000."
She said 1.9 million people came to the island by ferry to Matiatia last year and congestion would get worse.
Waiheke Marina Ltd director Graham Guthrie said he had spoken to a large number of people who agreed there should be a marina there.
"I have 250 people champing at the bit waiting to go and there is only 160 berths. It's not huge like Half Moon Bay or Gulf Harbour.
"All we want is a place to park our boats."
Mr Guthrie, who says he has been a Waiheke ratepayer for 30 years, said the marina was not taking over public space and many people liked to look at boats in a marina.
The site was already a defined mooring management area and once a marina was built people could still paddle kayaks within waters sheltered by its rock breakwaters.
Waiheke marina bid
2011 July: Waiheke Marina Ltd bid launched by an island resident, retired businessman Graham Guthrie.
2013 Revised resource consent application for 160-berth marina at Matiatia draws 800 submissions - 253 for and 563 against.
August: Auckland Council hearings committee grants WML request for a direct referral to Environment Court to decide, by passing a council-held hearing. Court appoints two experts to help previous submitters register with the court as interested parties.
2014: Submissions to the court due January 22.