In honour of Matariki, Danielle Wright rounds up activities that everyone can enjoy, from twilight bush walks to narrated waka sailings.
Here's our round-up of ways to experience our Maori heritage on land and sea.
In a Waka
Hone Mihaka, owner of Taiamai Tours Heritage Journeys, was struggling to find employment and most of his family had sadly had to leave their Bay of Islands marae. When Hone's grandchildren were born, he had a dream to get into the tourism industry and create a legacy for these children so his family would never have to leave its Northland home again.
He admits he knew nothing about business and had no support at the start, but, as he sat on the beach with his wife watching the dolphin cruise boats in the water, he wondered whether he could entice the cruise ship market on to his waka to listen to his people's stories. Not mucking around, he found a canoe, cleaned and painted it, and put up a home-made sign. It was the day the largest cruise ship in the world had moored in the bay.
That was in 2005, and he's now flown around the world to talk about tourism at international marketing events, having created a thriving business. One of the tours is a three-hour waka excursion on a 12m Maori war canoe, with a chance to learn paddling - which also keeps the timing and beat for the chanting and waiata visitors learn along the way.
"We're introducing the world to another aspect of their journey in life and we're catching visitors - they are like fish but with different caviar," says Mihaka, a direct ancestor of those who signed the Treaty of Waitangi.
"I never expected that one day I'd be paid just to be me. The future's looking very bright."
Voyager NZ Maritime Museum also has waka sailings aboard a double-hulled ocean voyaging canoe, which includes a traditional welcome and hands-on sailing around the Waitemata Harbour.
During Matariki there are sailings on Saturdays and Sundays 12-12.30pm and special Matariki Narrated Sailings with with storytellers Haare Williams, Nick Hawke and others.
"Visitors have a chance to hoist the waka sail and will learn how to guide the journey with traditional navigation methods and how to use the wind," says Williams, Voyager's cultural liaison - Pae Arahi.
"Waka sails are inverted so quite different to Team NZ yachts. Waka can sail forward and backward and are built not to sink - Maori believe a log won't sink, but a boat will."
Regular sailings cost from $10, narrated sailings from $55.
On foot
Take a twilight guided walk through Waipoua Forest in Hokianga with Footprints Waipoua. Owner Shane Lloyd says every New Zealander should do this tour to connect back to their land and learn about the kauri in relation to our culture.
As well as visiting "the father of the forest", the mighty Te Matua Ngahere kauri tree with a 16m diameter, there are also "the four sisters" - a collection of kauri trees that have grown close together - and "the Lord of the forest", Tane Mahuta at 45m tall. You'll also encounter wildlife and sing waiata as the guides bring the forest to life.
"It all depends on Mother Nature on what we experience - we normally hear kiwi, but have only seen them a couple of times," says Shane.
"There are also morepork and tui, as well as the living entities of our kauri trees."
Children will enjoy being in the forest in the dark, but take snacks and plenty of warm clothing because it's around a four-hour tour. For Matariki, you can buy one, get two tickets for the Twilight Encounter Tour (bookings made until July 28, travel by September 30; email maria@footprintswaipoua.co.nz with the subject "Weekend Life Matariki").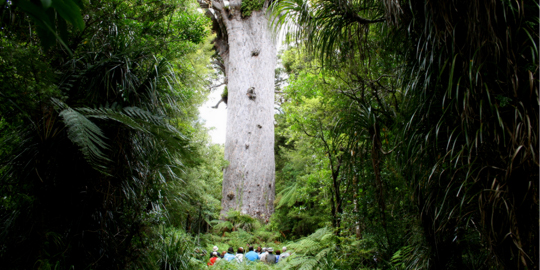 Waipoua Forest's Tane Mahuta.
Down South, experience a Bush Hikoi with Wikitoria Maori Healing along the edges of Lake Rotoiti and pick up native kawakawa to be used for tea and cooking a Maori-inspired lunch. You'll also hear about the origins of traditional Maori healing and learn about the native trees and plants used for traditional medicine.
Owner Wiki Oman is descended from a people who still wear three white feathers to symbolise peace on Earth and has Maori massage therapy and healing sessions available if you're in need of some restoration, as well as a walk in the bush.
Also in Rotorua, Te Puia in the Whakarewarewa geothermal valley offers the Steambox experience. Start the morning putting your pre-packed lunch down into the steambox, set off on a guided tour to the cultural centre, kiwi enclosure and the geothermal valley. Your steambox lunch will be ready for you at the end of the tour.
New Zealand residents get a 30 per cent discount to encourage people to try this traditional kai. Or for Matariki, join the Nga Mata Ariki buffet including rewana and hangi-cooked meats with hot chocolate on the warm geothermal steps of the geyser terrace and night-time views of Pohutu Geyser (daily through winter).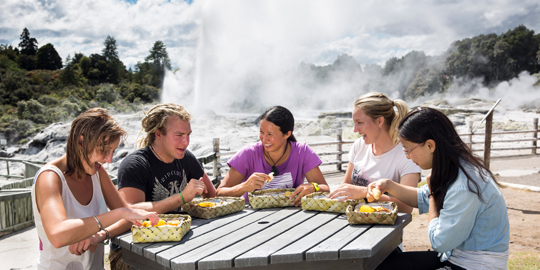 A steambox lunch at Te Puia.
On horseback
After a long and winding road, it's a relief to see the white ponies grazing under flame trees in the autumn sunshine at the pretty Pakiri Beach Horse Rides headquarters.
Owner Sharley Haddon asks if I'm a screamer, before deciding to put me on a lovely horse named Gerry. My eight-year-old son is given an "old farty horse" named Georgina. He loves her and we have a beautiful ride along the pristine white sand of Pakiri.
What makes it special, though, is hearing the Maori history along the way. We hear about Little Barrier Island (Hauturu), which was known as "the place where the wind rests" because there's always a white cloud above it. We're told about Rahui, the daughter of a prominent chief who was taken off the island by the Red Coats at the age of 67. She swam back to Little Barrier from Leigh under musket fire, twice.
We're also shown an island that looks like a sleeping crocodile on the horizon and another, which is said to be Rahui resting after her first swim, long hair flowing out to sea behind the curves of the mountain, creating the shape of her sleeping face.
Later, we're taken to see the Omaha Marae at Leigh, where riders on the five-day warrior trail horse-treks get an overnight stay on mattresses in the meeting house overlooking the sea. There are other accommodation options as well, such as family cabins and river or beach cabins.
Further north, visit Lake Omapere Horses in Kaikohe, to experience Maori culture and history on horseback, including a meal of Maori bread (takakau) by the lakeside.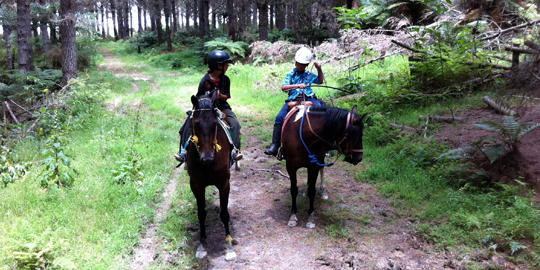 Horseriding at Lake Omapere.
Through performance
The Auckland War Memorial Museum offers a great introduction to the beautiful Maori performance of song and dance.
In a tiny back room with the lights out, we watch three "maidens" and three "warriors" sing, dance and perform stick games and poi dances with a good dose of humour. We learn that kia ora means "well done" as well as "hello" and that the long sticks used in the dances are also good for improving Maori golf swings.
We hear that chanting was a way for ancient Maori to remember important things and if a haka was very strong, there sometimes would be no need for a battle.
The show finishes with the haka, which is led by the women. Moments before, we'd seen them dance with such grace and now their faces are full of powerful and raw emotions to scare the living daylights out of anyone who dares oppose them. It's great to see the women being given strong roles, alongside the men of the group, and their moving haka made the All Blacks' version look like a nursery rhyme.
Taken aback by all the aggressive actions, my son gives the performers the peace sign instead of a clap as the lights come up. We loved it, but it left us wanting to experience something out in a more natural setting, which lasted much longer.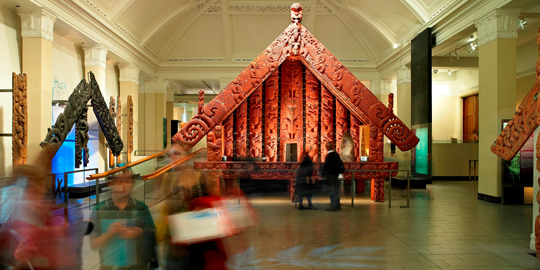 'Pataka' at Auckland Museum.
The Waitangi Treaty Grounds have many cultural performance tours and experiences, as well as workshops. Inside the beautifully carved meeting house, you can watch a full performance including waiata, poi and haka.
The grounds are free to New Zealand residents and they aim to have every child visit Waitangi before they leave school.
Through exhibitions
For a more reflective Maori cultural experience, head to any of our regional museums and art galleries. Right now, Waikato Museum is running an exhibition of the most significant collection of traditional Maori korowai (cloaks) and weaving ever shown in New Zealand.
E Ngaa Uri Whakatapu is a tribute to the life achievements of Dame Rangimarie Hetet and her daughter Diggeress Te Kanawa, traditional Maori weaving experts. The Hetet and Te Kanawa collections comprise more than 75 individual pieces and represent the unbroken weaving traditions of one whanau (family), spaning six consecutive generations, or 150 years.
Louise Belay, communications manager for Waikato Museum is enthusiastic about the exhibition, saying: "Those two women revived the art of weaving, but they were also incredibly humble and also founded the Maori Women's Welfare League. It's an amazing exhibition."
Children will have a special kids' dress-up area as part of the exhibition so they can put on piupiu (flax skirts) and take part in weaving workshops.
I tried to speak to Kahu Te Kanawa about this important work from her relatives and she said simply: "My nana and mum always said: 'Let your mahi (work) speak for you.'"
So, you should pop by and see what these special women had to say.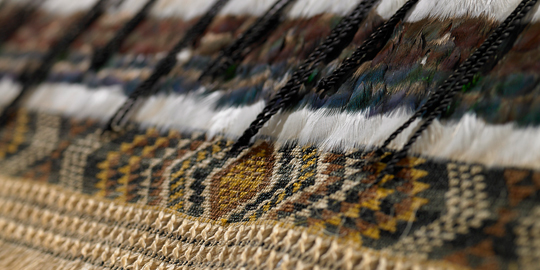 Detail of a Kakahu cloak by Dame Rangimarie Hetet.
Next time you're in the city, drop into the Auckland Art Gallery to view stunning pou (posts) by late sculptor and painter Arnold Manaaki Wilson, who wanted to draw attention to the issues of sustainability and conservation of our natural resources.