Justine Tyerman has to break some bad news to her old mates.
Now that our Indian summer has come to a dramatic end, I find myself impatient to leapfrog autumn and get stuck straight into winter. I look longingly at my ski gear and can't wait to pile on layers of merino wool and head south to Central Otago. I'm a southerner marooned in the North Island, far away from the lakes and mountains of my turangawaewae, so regular pilgrimages to the land of my birth are vital to my well-being.
My ski boots, also South Islanders, have sensed the change of seasons too. They've woken up from their long summer hibernation and are creating a hell of a ruckus in their box at the top of the wardrobe. They can smell snow in the air.
Their arch rivals, my tramping boots who happen to be North Islanders, have taken cover under a pile of socks fearing an attack from above. There's no love lost between the TBs, my favourite summer foot-mates and the SBs, my favourite winter foot-mates.
Soon after, the SBs break free from their confines and leap from the top of the wardrobe, ready to stake their claim as preferred footwear.
There's an ugly altercation between the heavy-weights and the welter-weights so I lock the SBs away in the spare room with their best mates, my skis, placating them with promises of a trip south in August . . . if they behave nicely.
The SBs started rattling their clips way back in February, the same day I got my first ridiculously-early snow alert of the season from Jen at Cardrona Alpine Resort. She was up the mountain and sent me photos of outside tables and rooftops piled high with fluffy white powder and Cardrona summer staff cavorting around in the snow in their shorts. It made my heart skip a beat and my pulse race.
I long for the sights and sounds of winter, that spine-tingling moment when the drumming of heavy rain on the roof stops and turns to silent snowflakes. I love a good blizzard and oblivious to the cold, I often stand outside in wonder until my hair and eyelashes turn white and freeze solid. Blinking with frozen lashes creates a clacking sound and sometimes they stick together. When that happens, I know it's time to go inside to thaw out.
Winter floods my senses in a way that summer never does - the squeak of the SBs on fresh powder snow, the shudder of skis across the corduroy of a newly-groomed slope, silver filaments dancing in the air after a hoar frost, gluhwein by the fire with rosy-cheeked friends at the end of a hard day's skiing, breath hanging like cartoon speech bubbles in the sub-zero air, the taste of snowflakes on my tongue, mana straight from heaven.
In the winter, we fly south like homing pigeons, my North Island husband and I, to a mountain so familiar we can find our way around in a white-out. This will be our 38th season at Cardrona, apart from a couple of years off when I was pregnant. Our little girls, who learned to ski at Cardrona, have long since flown the coop but they too have a strong affinity to the place.
Cardrona has certainly changed over the years we've skied there but it's still the friendliest, safest of resorts where the philosophy seems to be to streamline everything for skiers, snowboarders and tourists and remove all obstacles to the full enjoyment of the resort.
There's a high degree of sophistication these days. Now you can ride the $10 million McDougall's Express Chondola, a lift combining gondola cabins and chairs, to the top of the mountain. Installed last year, it's the first cabin-style lift on a ski area in New Zealand and replaced the McDougall's Quad chairlift which dates back to 1985.
At the top of the 'chondy', you can drink Mumm champagne at the Vista Bar with breath-taking views of the Southern Alps and the Wakatipu Basin. Lounging in bean bags in the snow, it looks and feels like somewhere in the European Alps, so much so, the SBs like to affect a French accent when chatting to other SBs up there.
There's also a cool new bar called The Lounge by the clock tower where you can sit outside and have drinks on a deck or ski in for coffee at the slope-side window.
The Base Café and Mezz Café have had major refits in time for the 2018 season to improve their looks and the flow of the hungry masses as they grab lunch in the middle of a thigh-burning powder day.
Cardrona's snow-making has taken a quantum leap as well to ensure a consistent season every year. They're also trialling some fancy new snowmaking technologies this season, to see what will work best in the upcoming winters.
This year, the resort is introducing an RFID locker system so avid skiers and snowboarders can rent a full-size locker for a week, the whole season, or just have a secure spot for their shoes and valuables for a day.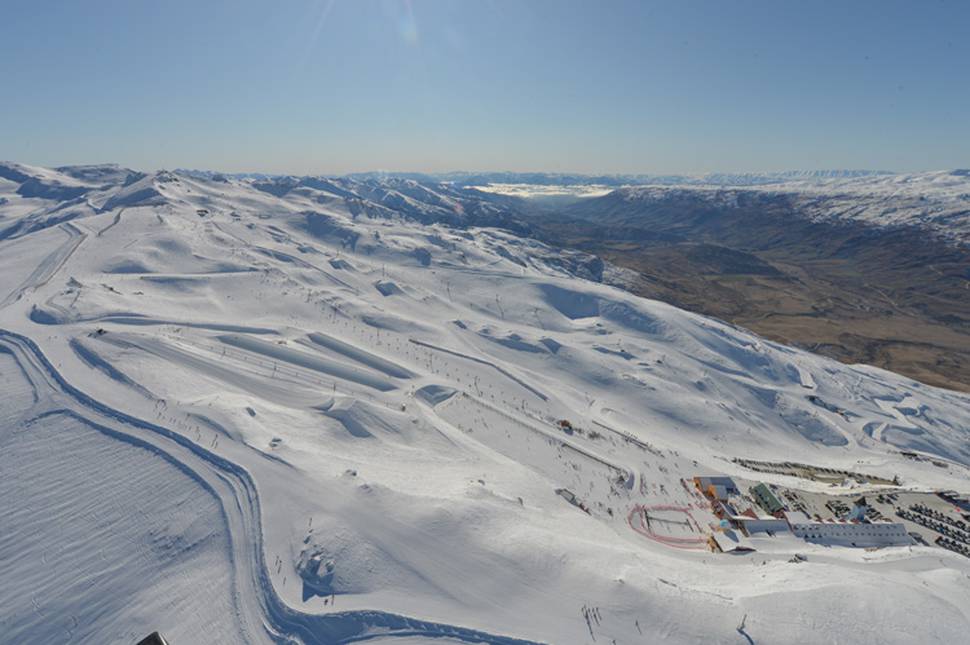 Remember the iconic 'toy town' buildings at the base facilities? The bright yellow archway is now 'Cardrona Red', and the rest of the buildings will follow suit over the next couple of years.
And the pièce de résistance, for those who are time-poor but cash-rich or just in need of a big treat - you can take a helicopter ride to the mountain from Queenstown or Wanaka, pick up your high performance ski or snowboard rental, take a full-day private lesson breaking for lunch at the Mezz Café, sip Mumm Champagne at Vista Bar at the top of the Chondola and ride home by helicopter at the end of the day . . .or stay a night at the on-mountain apartments with dinner at the Mezz followed by a stargazing experience. The SBs would love that.
With the arrival of the first snow-to-low-levels (how I love those words!), it's time to tune my Dynastars and spruce up my SBs. It is with considerable trepidation that I approach the topic of retiring the old gals – they are getting particularly cranky and require annual visits to Dr Paul, the Scottish ski-boot doctor at Outside Sports in Wanaka. He's a magician but there's only so much he can do to make my elderly SBs more comfortable. Their days are numbered . . . 2018 may well be their last hurrah.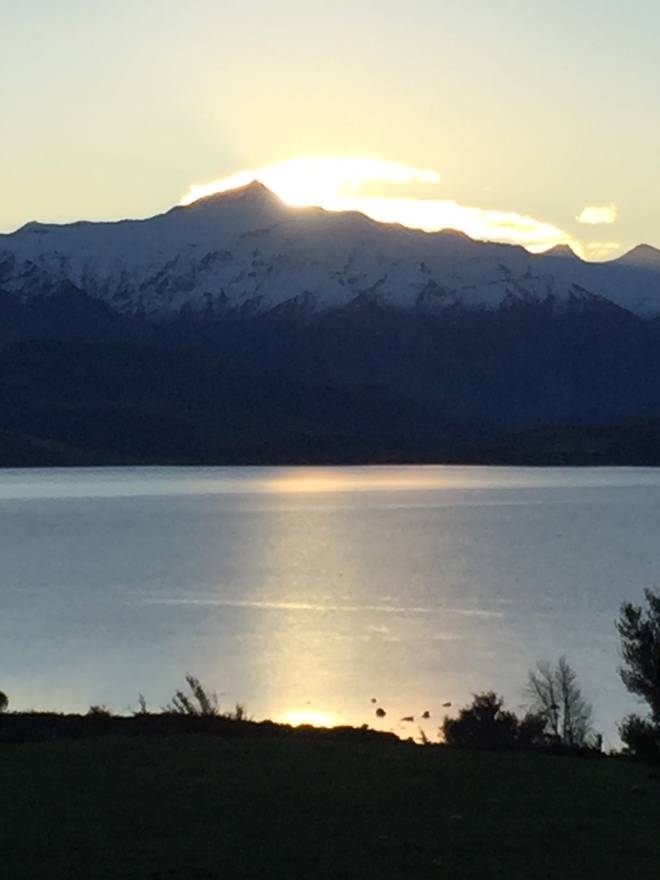 Check list
• Cardrona Alpine Resort near Wanaka is one of New Zealand's most popular ski areas, attracting all kinds of snow enthusiasts – from beginners and families, to Olympic and X Games athletes. The season opens on June 16 and closes on October 14.
• If you arrive by air, pick up a JUCY Rentals 4WD from Queenstown Airport and drive to Wanaka - 60 minutes over the Crown Range or 90 minutes via the Kawarau Gorge, both magnificent scenic experiences. Drop the vehicle off in Christchurch, Wellington or Auckland.
• Touch of Spice: while in Wanaka, stay at the lake-edge Cedar Hideaway, an award-winning 2010 Home of the Year.
• Visit Outside Sports in Wanaka, Queenstown, Queenstown Airport and Te Anau for all your skiing, hiking, biking, camping, fishing, running, fitness, travel and leisure needs. Outside Sports also has bike rental and ski hire.