Dunedin has great ways to welcome the weekend, writes Alexia Santamaria.
Friday is a great day in any city. The end of the working week, and the gateway to some relaxation (well, after your errands and boring stuff is done). But in Dunedin, Fridays are extra special as there are a few things you can do only on that day of the week. I recently spent such a day checking out what Dunedin had to offer in food — and fun.
Stop 1 - St Clair Beach
We start with a coffee at a table outside at the Esplanade Cafe at St Clair Beach (about 10 minutes' drive from the city centre). With sun blazing, wild turquoise waves rolling in and the light sparkling off the water, it is one of the best starts to a day I've had in a long time. When we take a beachside stroll we can see the Hot Salt Water pools — the only surviving saltwater pool of several in Dunedin from the late 1800s.
Although this is a story about a Friday in Dunedin, it's worth noting that there is a fabulous woman called Victoria who opens up the bakery at her home in Ings Ave, very close to St Clair Beach (Coach House Boutique Bakery) on Thursdays. She makes things from what others discard: spent grains from Emerson's brewery for her oatcakes; ugly fruit that people wouldn't buy for jam or cake/pastry fillings; she even uses the scraps from tarts to make "compost" cookies (way more delicious than they sound). The combination of a culinary arts degree and a no-waste policy is wonderful.
Stop 2 - The Friday Shop, aka The Highgate Bridge
I love a bit of anticipation and it seems the crowds are thrilled when Friday rolls around and they can get their weekly fix of chef Jim Byars treats at the Friday Shop. It was crowded with customers lining up for croissants, tarts and pies plus home-cooked meals to take away. Jim is classically French trained (he's worked in some pretty highly regarded restaurants around the world) and makes everything the traditional way, all from scratch.
We are there at 8.30am and are told they'll be sold out by 11. After tasting their pastries, we see why.
Stop 3 - Street Art
The Dunedin Street Art project was a highlight of the city for me and after Jim's pastries we don't mind a bit of walking to see some of the enormous works of art on the side of buildings. We're not talking small pieces of stylised graffiti, this is full on, full-sized beautiful inspiring art up to three storeys high, painted by well-known international artists.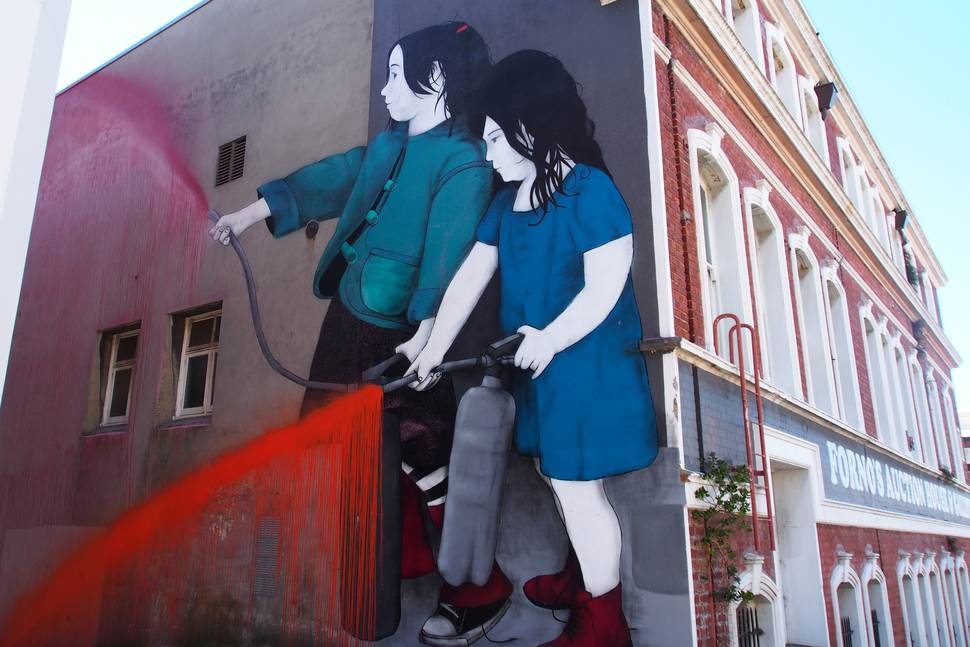 All 28 works are magnificent and are mainly concentrated in the Warehouse Precinct. Some of my favourites were Haast Eagle, by Dal East from China; Song Bird Pipe Organ, by UK artist Phlegm; no set name, by Be Free from Australia; and Love is in the Air, by Natalia Rak from Poland. There's a map available on the website.
Stop 4 - Burgers and Chocolate
It is time for lunch and Good Good is the perfect location. A relatively new American-style burger caravan lodged permanently in a warehouse in Vogel St, it has a fantastic fit-out with funky decor, pink neon and even a classic American car. It's already a hit with locals and after tasting their burgers and oozy mac 'n' cheese balls we understand the appeal. Reece and Rob got sick of construction and corporate life and are following their hospitality dreams. Lucky Dunedin.
Things get only better as we have to pass Ocho chocolate on the way out. The smell of the dark rich cacao is happiness itself and was the perfect sweet treat after burgers and fries. Ocho import fermented and dried beans and roast, grind, conch and temper the chocolate themselves before making it into bars. I make sure I stock up on their Dark Salted Caramel and 70 per cent Solomons.
Stop 5 - A wander round the Warehouse Precinct
The Warehouse Precinct was one of the busiest places in town during the gold rush in the
1880s. Many of Australasia's most important companies were based there. Dunedin City Council and other building owners have recently invested time and money, giving it a new lease on life and you can see it's becoming a very hip part of town. Precinct Food, Vogel St Kitchen and Ocho are already constantly busy, and on our walk we meet Brendan Seal, who is getting ready to open an urban winery there
next year.
The Corner Store Cafe
With energy flagging slightly, it is time for a coffee — and The Corner Store Cafe is just the place, only 10 minutes' walk from the Warehouse Precinct. Mark Anson has owned cafes and coffee businesses in Melbourne and makes a great brew in his light airy cafe, which still has some of the original windows from 1888. Better still, the cafe uses locally-sourced Holy Cow milk, which tastes just like milk used to, fat and all.
Stop 7 - Vault 21
We've heard the cocktails are good at Vault 21 so pop in for a cheeky Mango Sake Sour to kick off the evening. And we can't resist some paua fritters and crispy ponzu-cured yellowfin tuna wonton crackers to go along with it. The paua fritters are some of the best I've had and we could happily while away a few hours over cocktails in this lively spot.
Stop 8 - Johnnie's Southern Kitchen
On the way to pick up the car from the Warehouse Precinct, we are led by our noses to Johnnie's Southern Kitchen. We are as charmed with the food itself as we are by owners Kim and Matthew Morgan, who after a lifetime in professional and academic theatre, decided
to give it all up and cook for a living. There are all the Tex Mex favourites like tacos, burritos and quesadillas but also gumbo, white bean stew, red beans and rice and corn bread — all served with that beautiful southern hospitality.
We devour some delicious hot buttered cornbread before leaving. It would be rude
not to.
Last Stop New New New Brewery
Another Friday-only stop is New New New brewery. They produce (great) beer all week but on Fridays they throw open their doors to the public at 4.30pm. The brewery space is incredible — they light up the giant beer tanks, making it a fun party spot, very popular with locals. There's a different line-up of food trucks every week and we enjoyed sampling some of the wonderful brews from the Tap Room, especially their IPAs and Sours.
All up, Dunedin is an outstanding place to spend some time and that extra bit of Friday magic only adds to the appeal. I wish I' could stay one more night as the Otago Farmers Market the next day soundsfantastic. The perfect excuse for another visit sometime very soon.
FACT BOX
Getting there
Air New Zealand and Jetstar fly direct from Auckland to Dunedin.
Details
dunedinnz.com