The Big Day Out is back, and we've got it covered with updated reviews, photos and videos live from Western Springs Park and Stadium.
Pearl Jam, Snoop Dogg, Deftones, Major Lazer and Naked and Famous are among the 40-odd acts due to perform at today's festival - the first Big Day Out to be held in New Zealand since it was axed in 2012.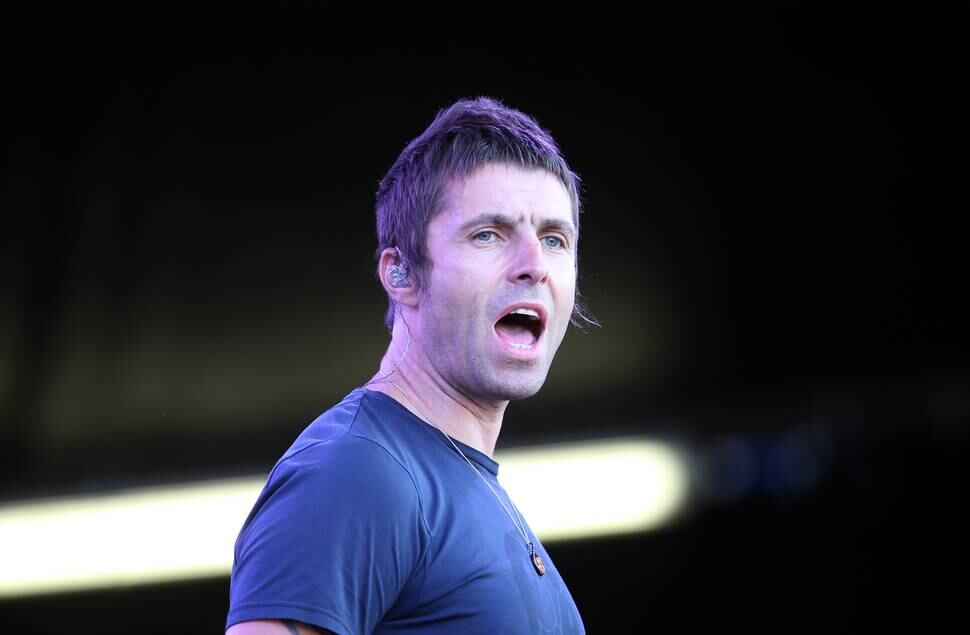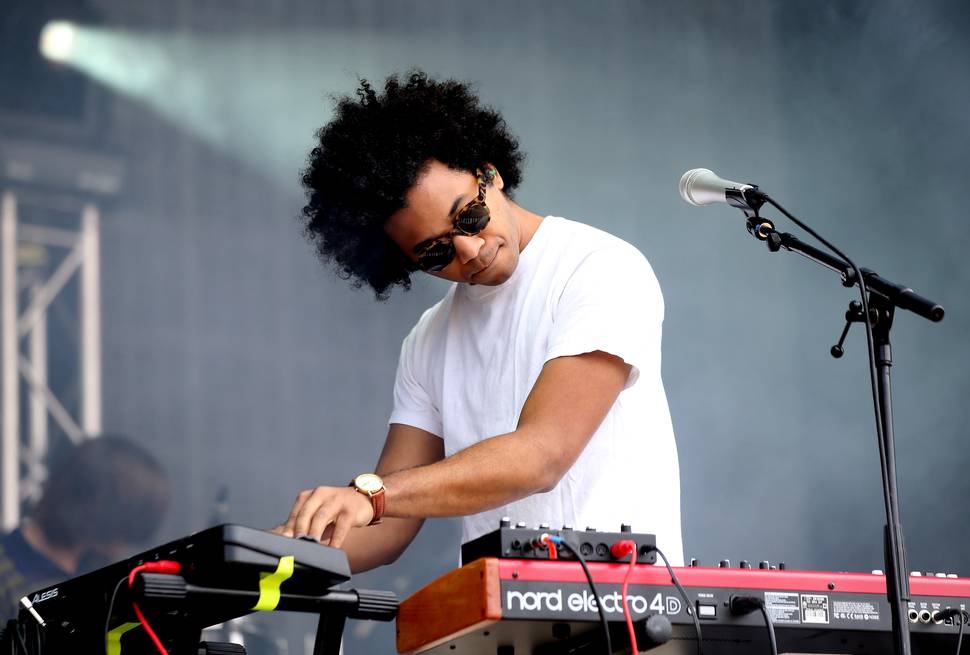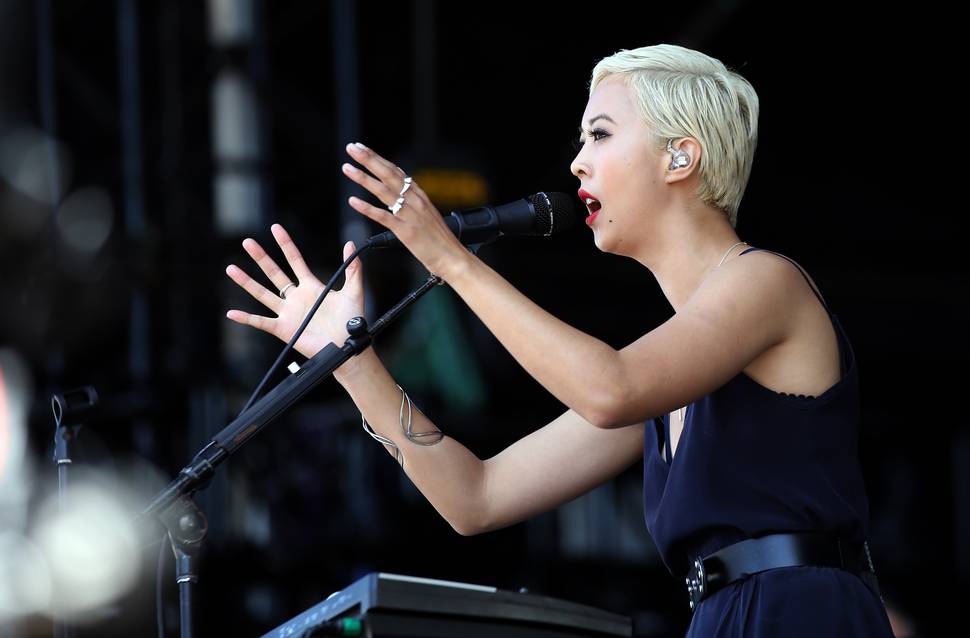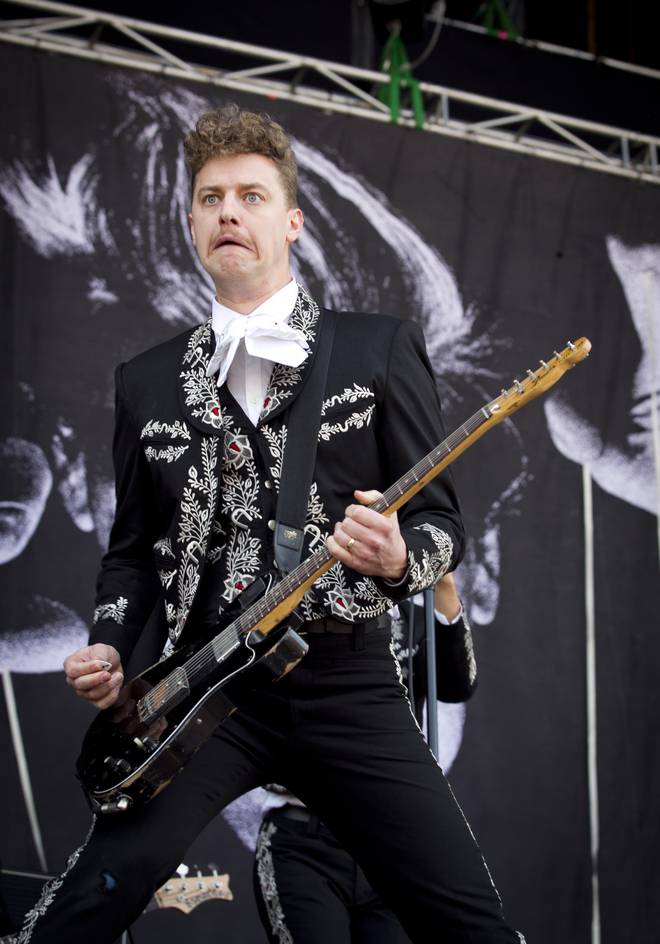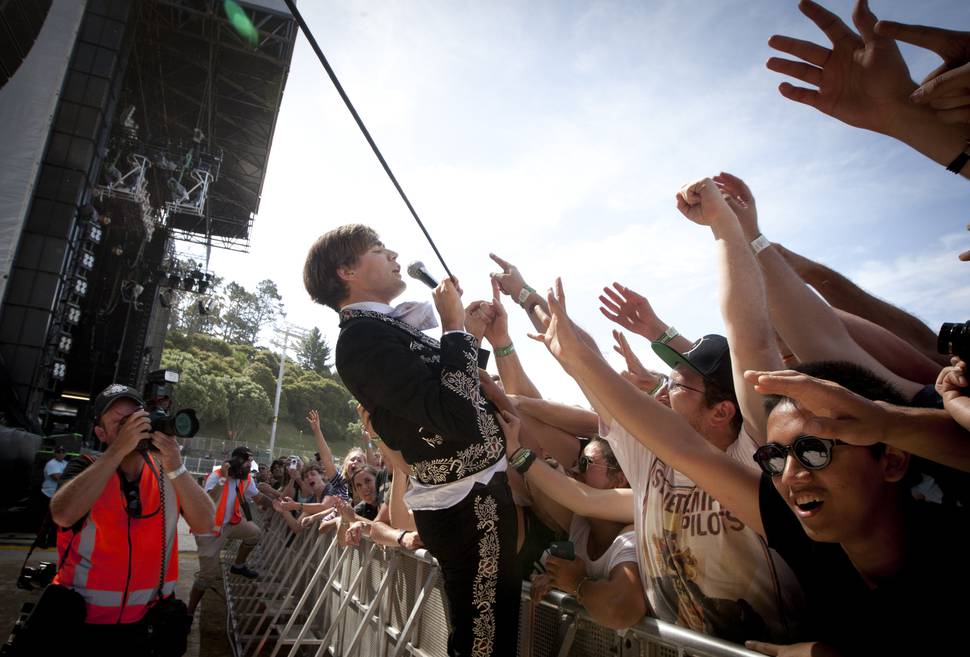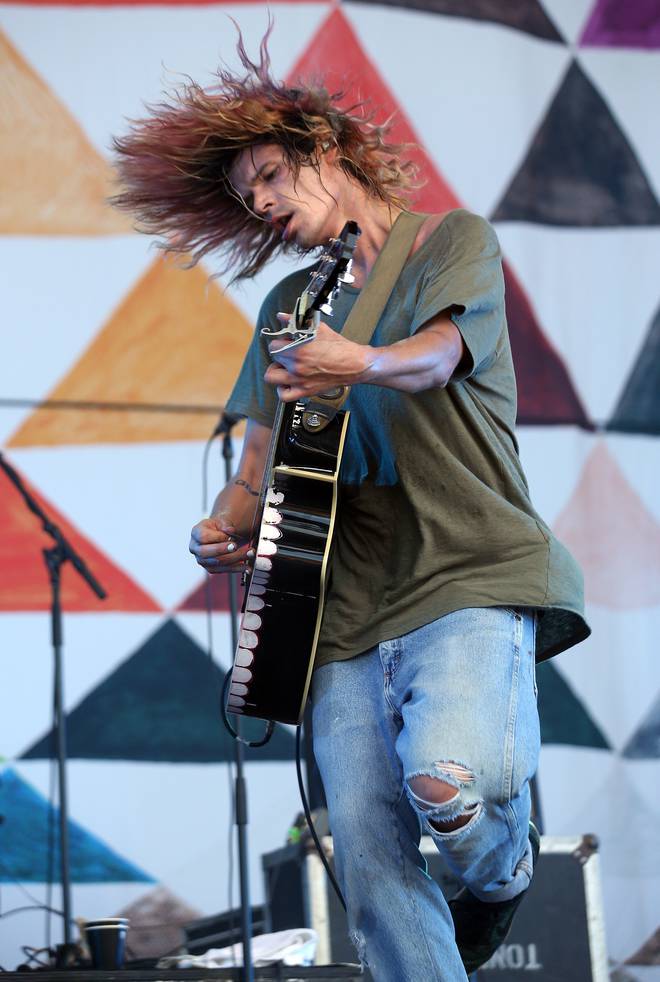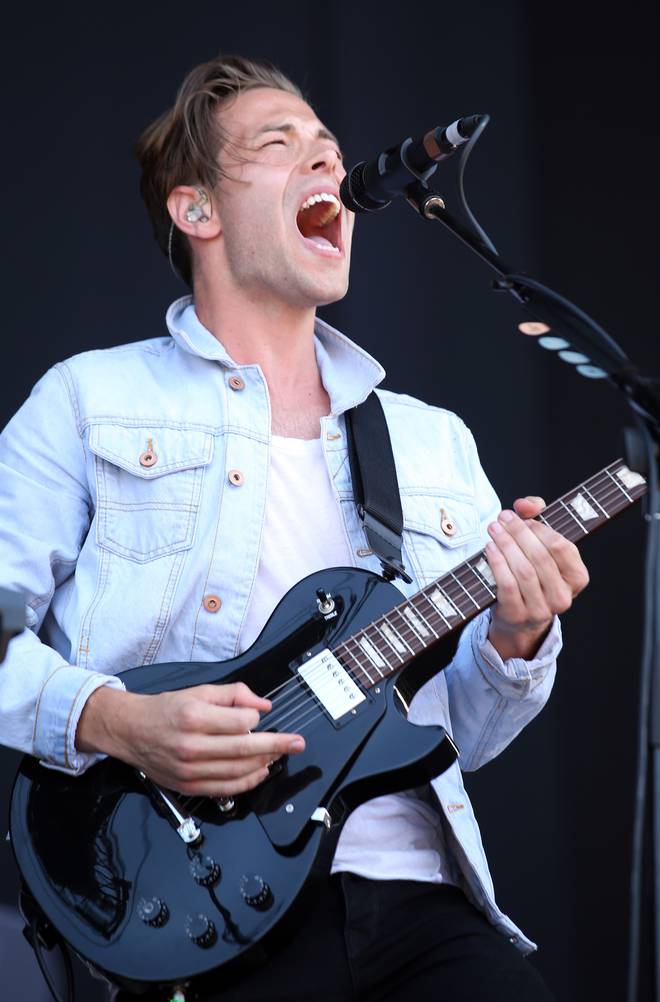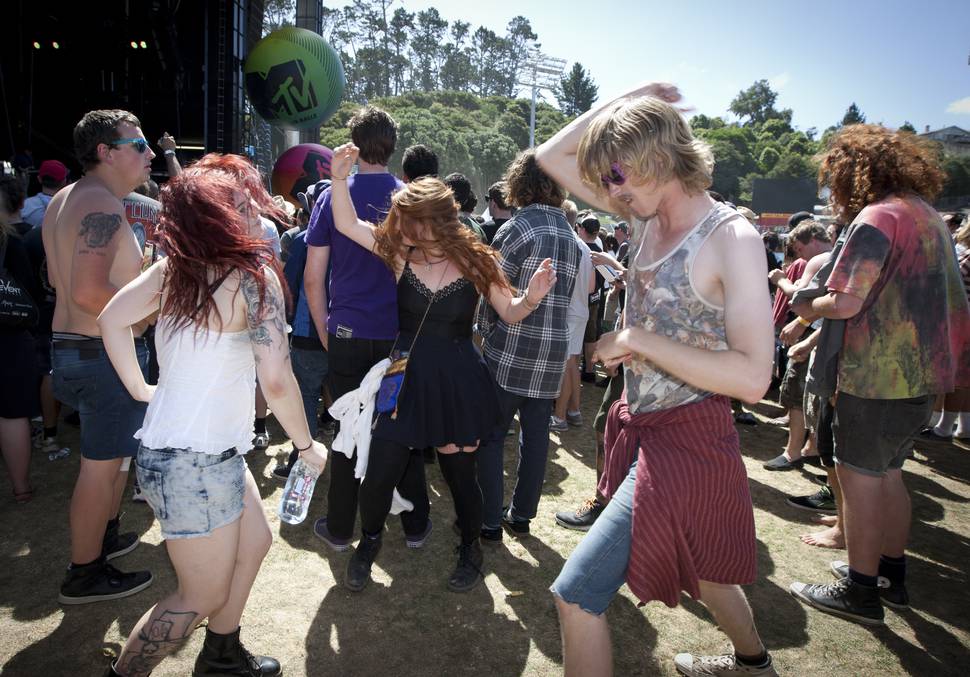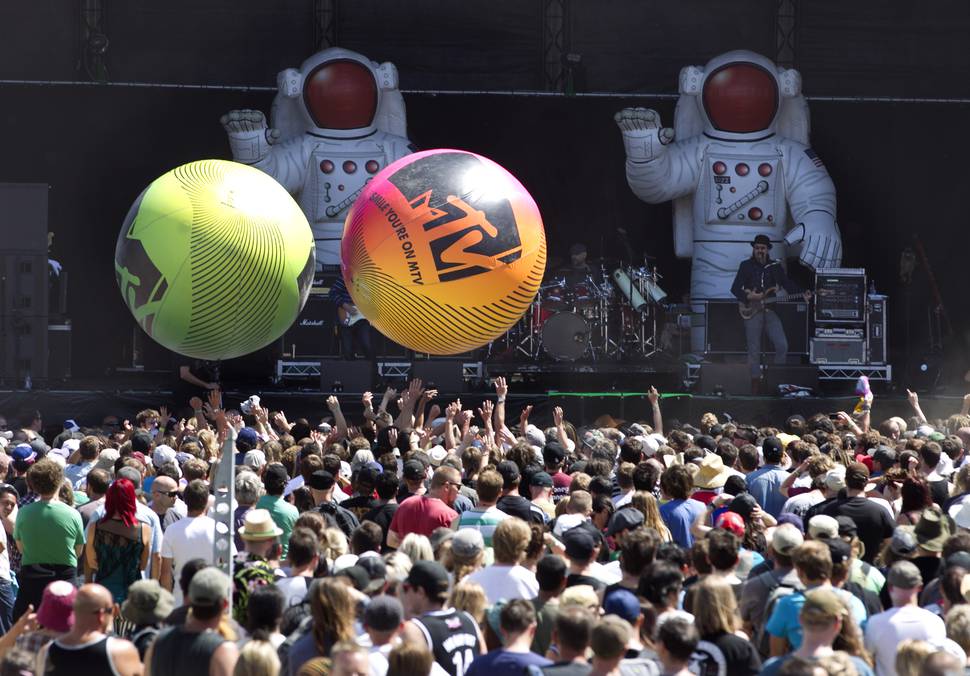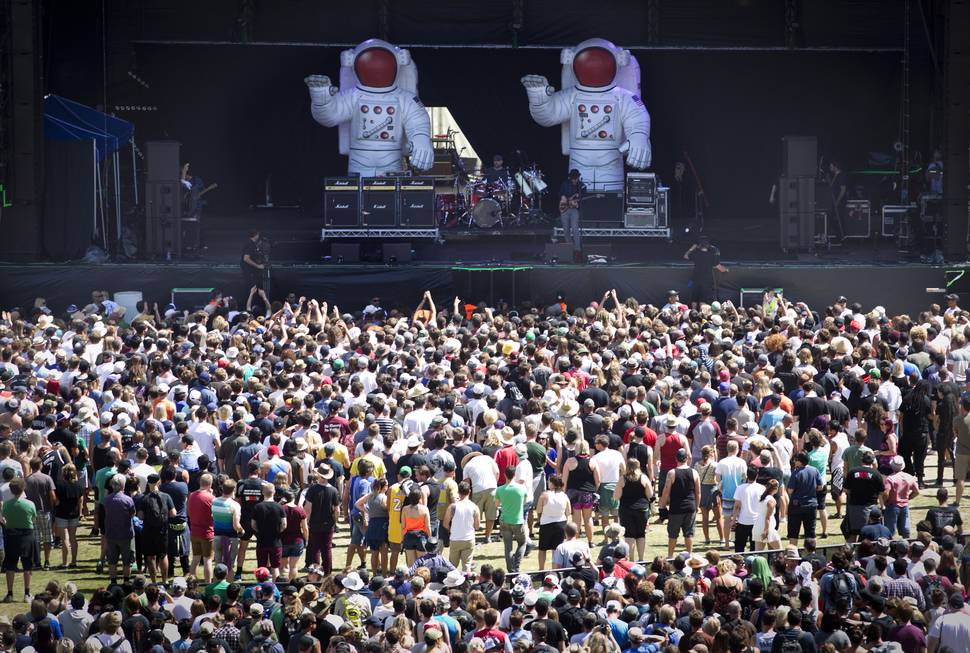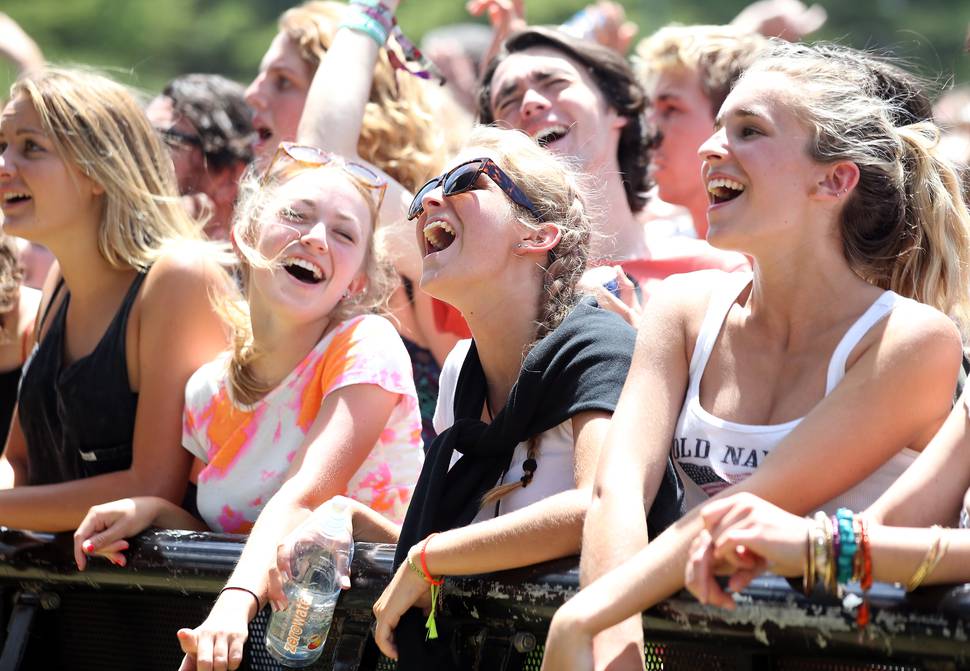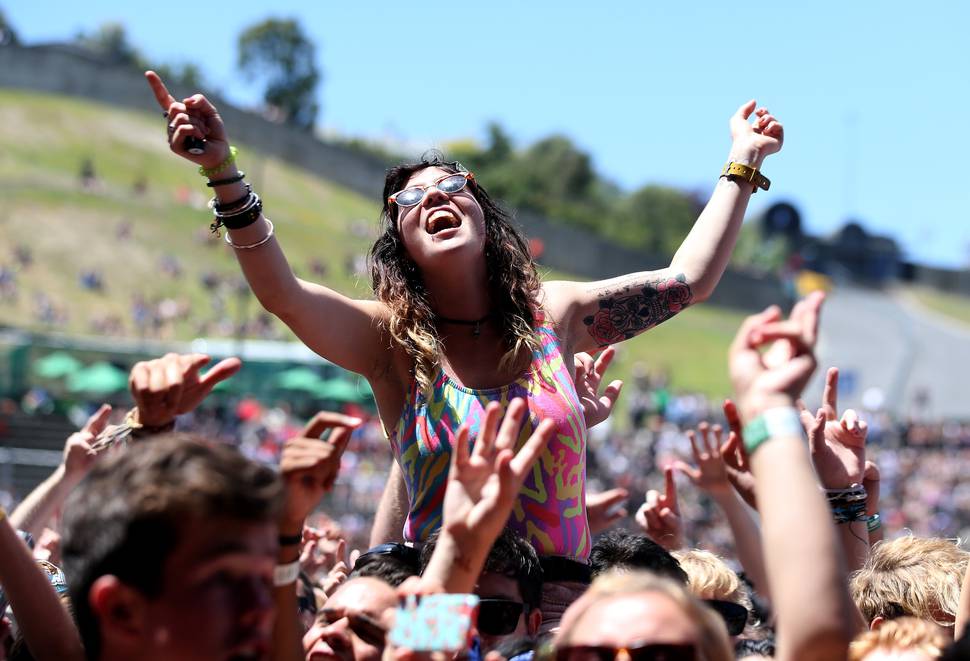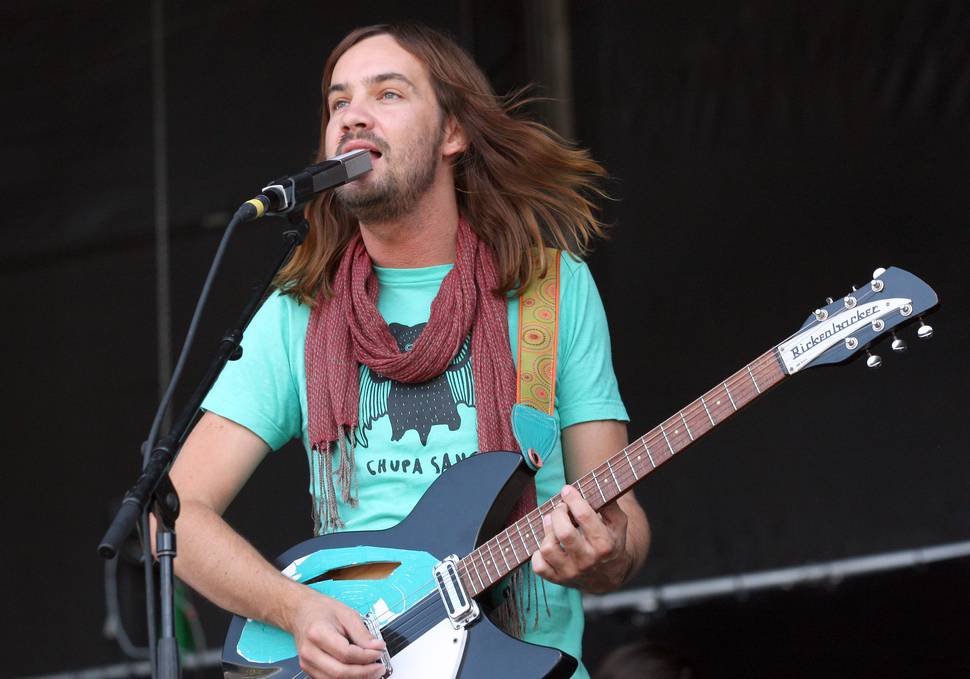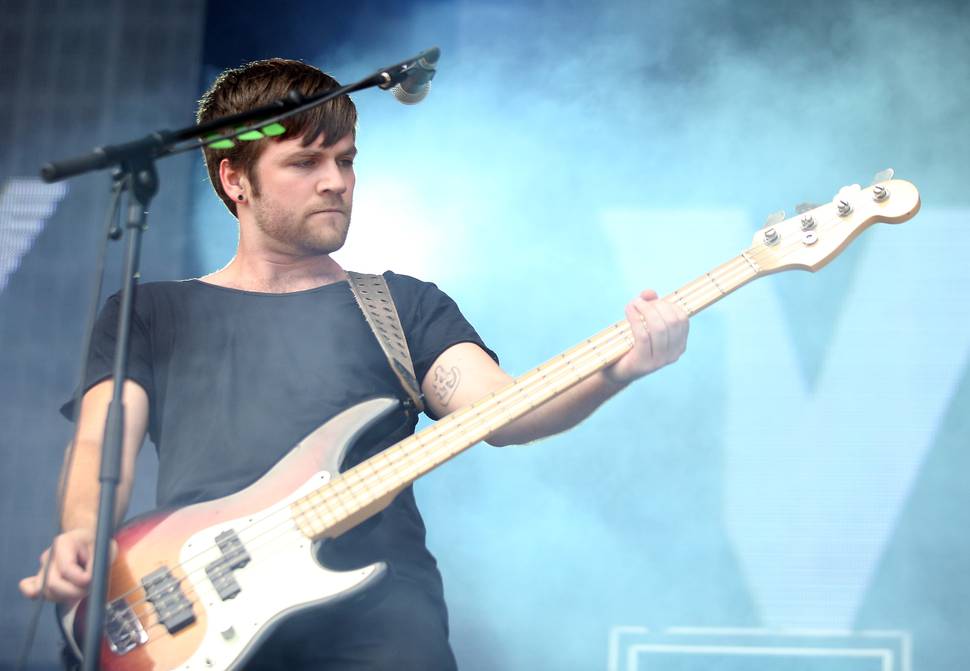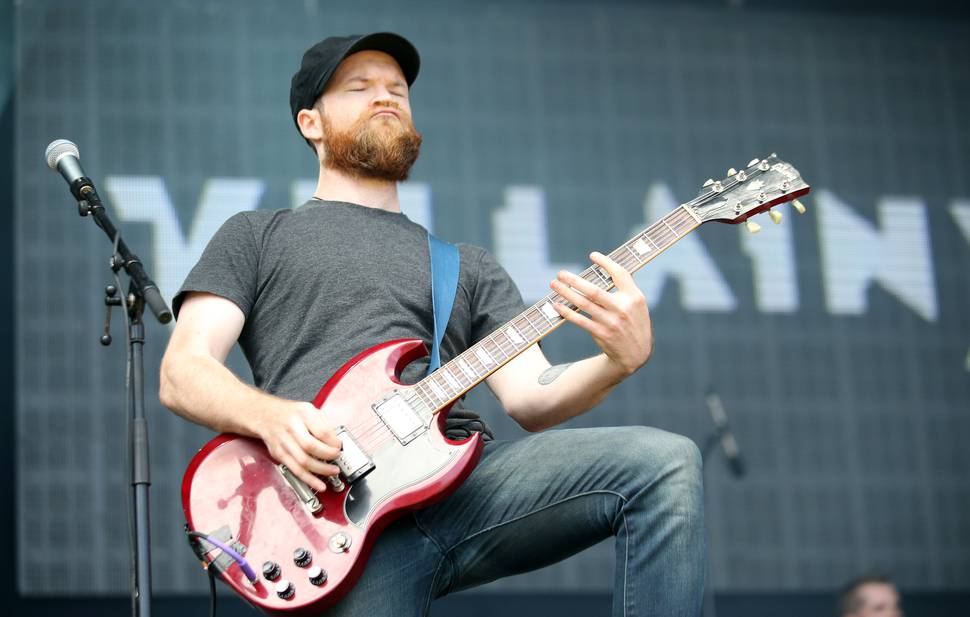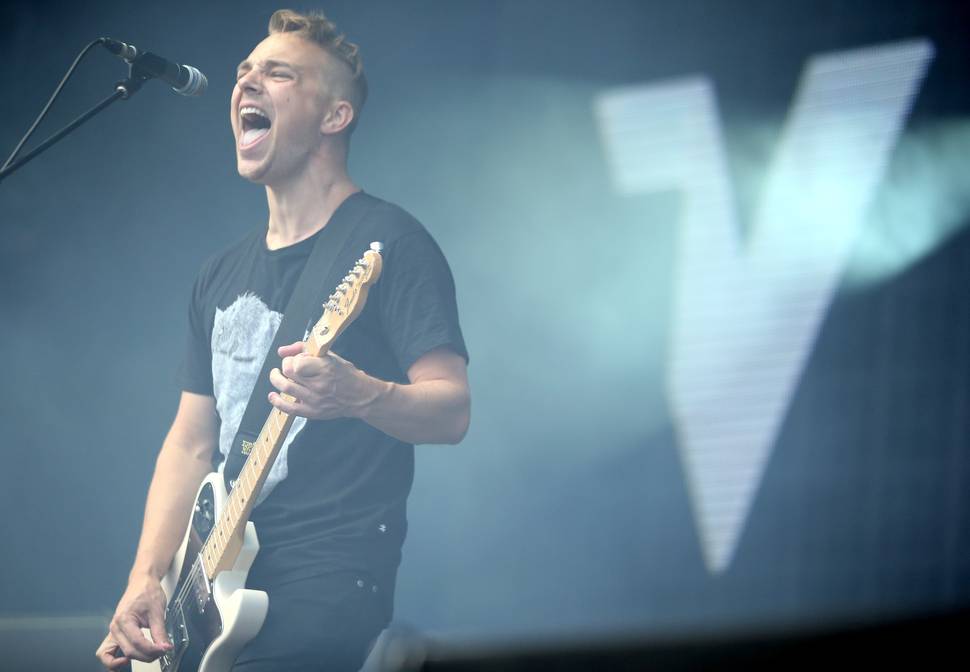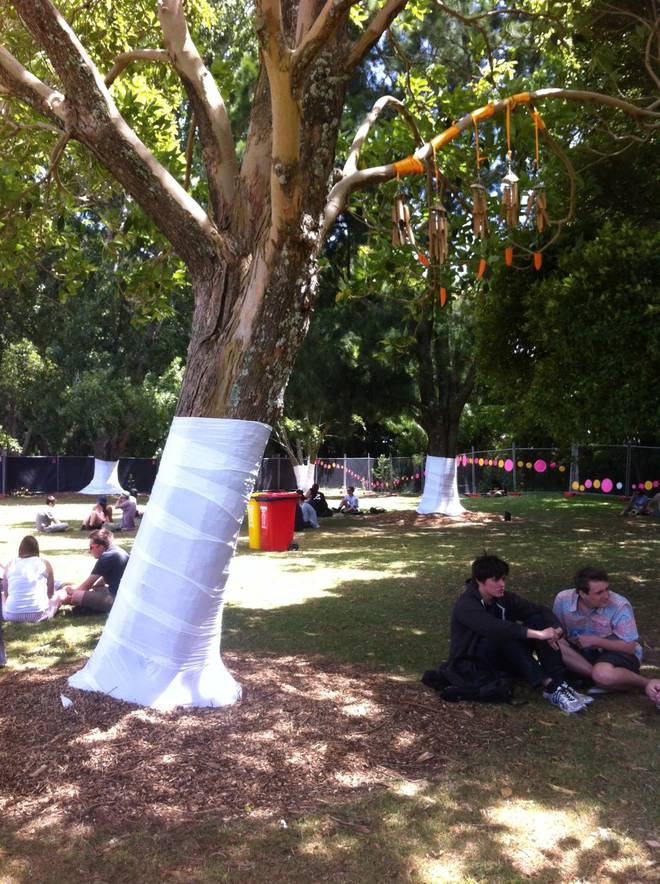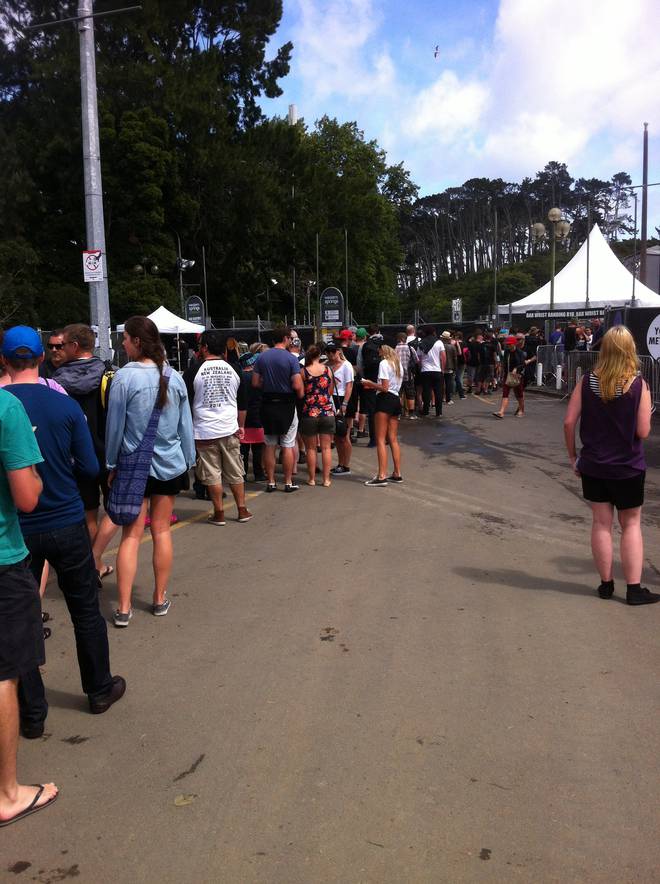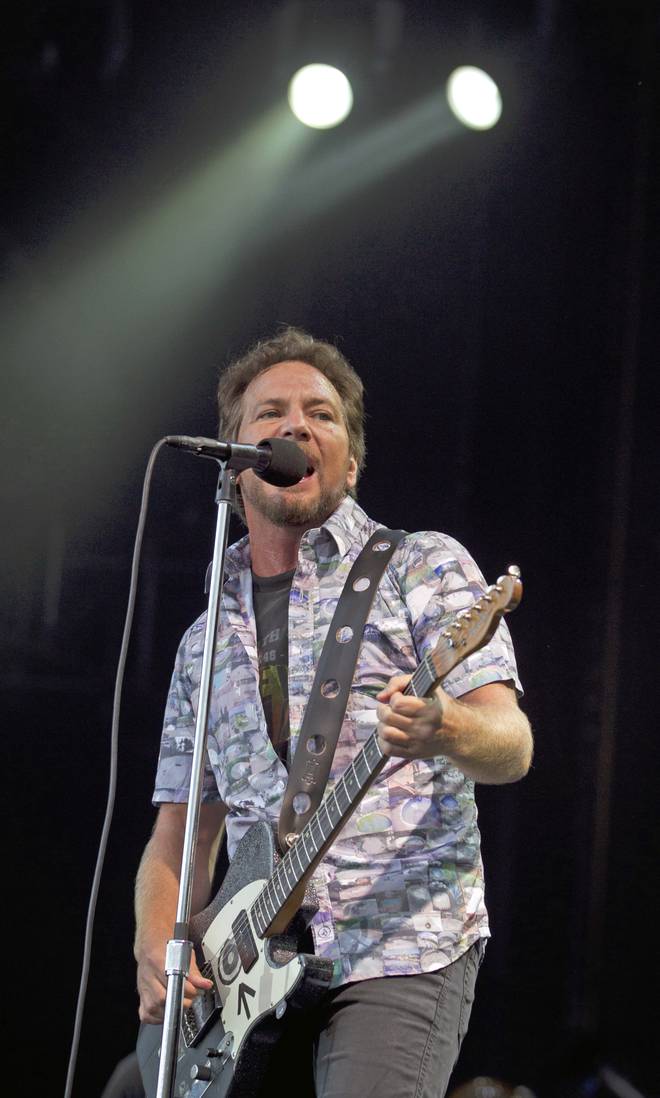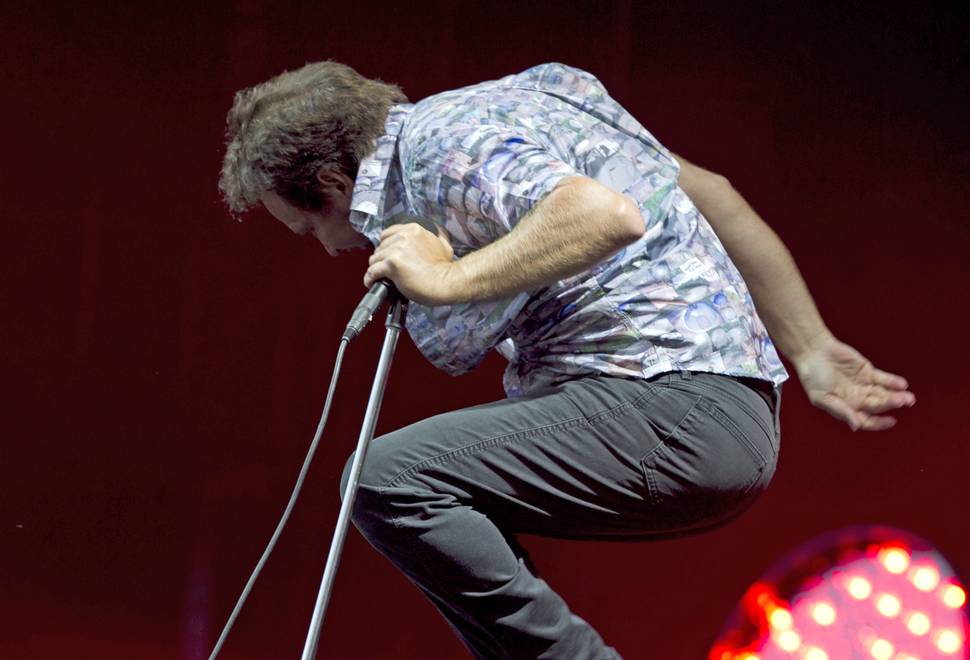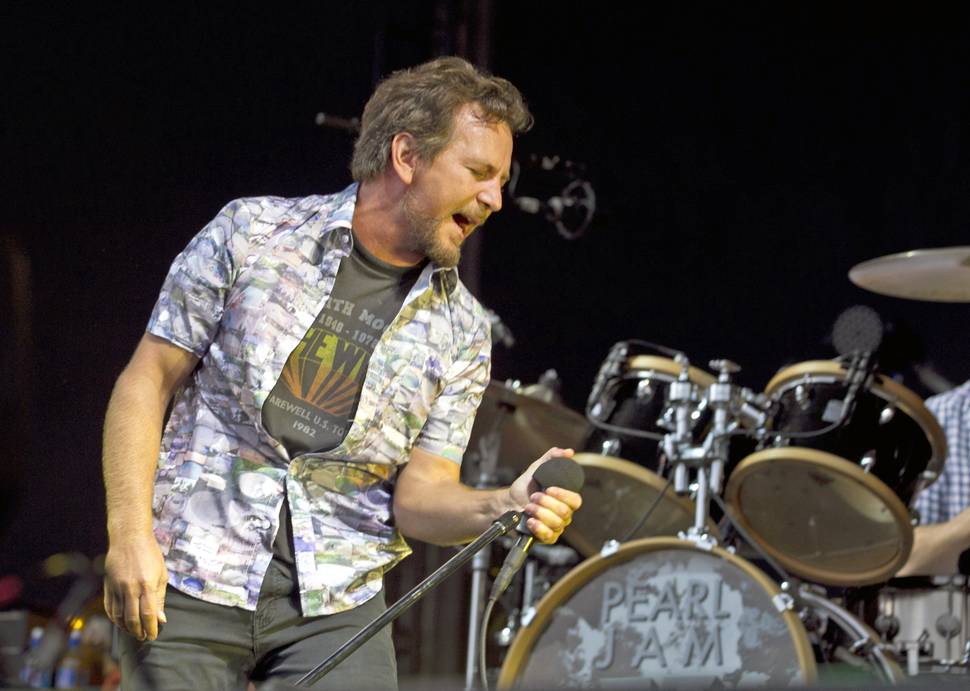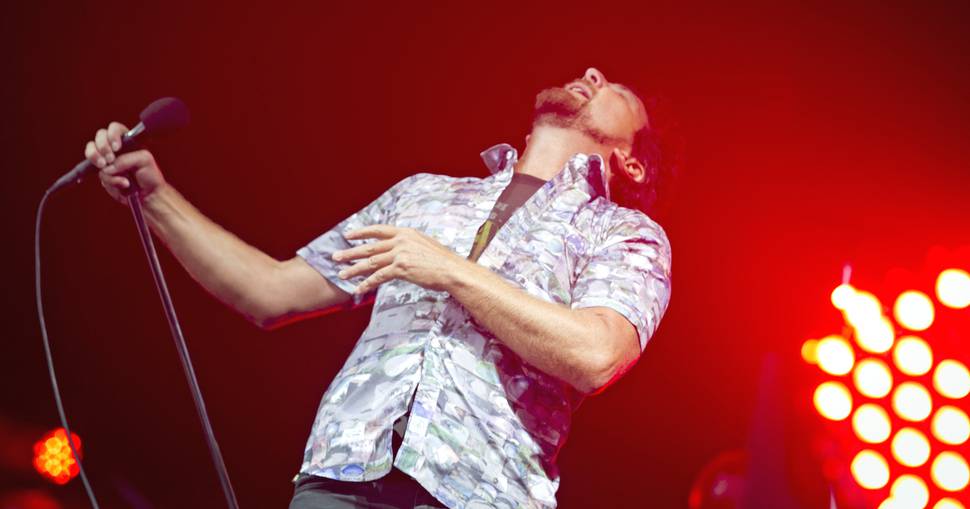 Russell Baillie, Lydia Jenkin, Chris Schulz, Hugh Sundae and Rachel Bache will be providing updates throughout the day, including band reviews and details about the new-look site.
We'll also have photos and video coverage throughout the day, so keep checking back on this page for updates.
9.45pm: Deftones
It's their third Big Day Out appearance, but the first two times, I'd been disappointed: Bad sound, wayward setlists and their mid-afternoon performance times hindered both shows.
Tonight, Deftones delivered the kind of high intensity set I'd been hoping for. While everyone was over at Pearl Jam, a few thousand of us jammed in for what had to have been the best Deftones setlist ever: My Own Summer (Shove It), Change (In the House of Flies), Rosemary and Rocket Skates all made an appearance as Chino Moreno and the boys bashed out one of the most aggressive sets of the day.
Earlier, as Snoop Dogg - who played the entire same set as last night's Powerstation show - and Pearl Jam sucked in all the crowds, I caught one of my favourite things ever: Dillon Francis, who had Diplo and Mac Miller doing co-ordinated dance moves to TLC's Scrubs while they threw blow-up animal balloons into the crowd.
Afterwards, I saw Lorde hanging out with Diplo, so I'm picking she's going to show up during Major Lazer's set. You have my word.
6.20pm: Beady Eye, Arcade Fire
So Liam Gallagher hasn't changed. The former Oasis frontman turned Beady Eye helmsman still treats the crowd with disdain, stalks cocksure around the stage, and eyeballs the front rows like he's ready for a fight.
I didn't catch them performing any Oasis songs, and their generic Brit-rock anthems - filled with more "yeah babys" than an Austin Powers movie - certainly are nowhere near catching up to where the combined talents of Liam and his brother Noel managed to take them.
Rocking a stadium crowd is no problem for Arcade Fire. Their first festival show since Reflektor was released showed they'd lost none of their knack for carnival rock theatrics, and Ready to Start got things rocking in double quick time.
I'm looking forward to hearing more Reflektor material - especially Normal People. Could be the night's biggest anthem.
6.15pm: The Lumineers
Colorado folk-pop band The Lumineers served as a much needed change of pace to this non-stop day. A chance to sit down on the grass and relax.
Their catchy, piano and acoustic guitar driven set made for easy listening as the sun began to set over Western Springs.
The crowd came alive during Ho-Hey, jumping to their feet to singing along to the hit song.
- Rachel Bache
5.40pm: Mac Miller
Okay, so I'm almost certain I'm the only member of the Herald reviewing team who attended Pittsburg rapper Mac Miller's fired up show, and getting hassled for eating a chicken salad from a moshpit mate didn't help with my morale. There's probably a snap of me stuffing beetroot and carrot into my face on Facebook now. Shame.
Miller didn't take long to put a smile on my face. Yes, his rap shock tactics earn him comparisons to early Eminem, his midset attempt at singing is probably better left off
future setlists, and with his aggressive attitude and constant use of the 'F' word, he might just have been the angriest man on today's line-up.
But there's no denying his potent rhyme skills. Songs from Miller's most recent album Watching Movies With the Sound Off show another side to the rapper, from the Flying Lotus-produced summery stride of SDS, to the brilliant jump around thump of Diplo's Goosebumpz (Google the chorus - it's an awkward song to sing along to), and the closing frenzy of Donald Trump, this really was something for hip-hop fans to get excited about.
From now on I'm eating my salads in private. That was just weird.
5.35pm: Ladi6, The Phoenix Foundation
Highlight of my day so far: Phoenix Foundation. From the moment they opened with 40 Years it feels like the party I wanna be at. The sound is spot on, Sam Scott and Luke Buda are in fine voice, and they seem to have picked out a set of their most catchy upbeat numbers.
Orange and Mango seems particularly delicious in the hot sun, and new song Bob Lennon and John Dylan was peppy and raucous. Awesome.
Arrived at the Lakeside stage in time to see Ladi6 groove her way into beautiful ballad Shine On from her latest album Automatic. The righteous title track followed, reminding why Ladi is one of our strongest female performers.
The small PA seemed to be having a hard time balancing the richness of layers being produced by the band, but when she kicked into Like Water she got the crowd bopping in earnest.
-Lydia Jenkin
5.20pm: The Hives
My brain is starting to turn to jelly and I can't decide if it's from being in the hot sun all day or from all the head banging I did to The Hives during their performance on the Tui stage.
Dressed in black and gold-embroidered marching band-style uniforms, The Hives worked the crowd hard with their gritty guitar riffs and growling vocals.
It was so great to hear a lot of their older tracks that their fans love. Especially the "3rd best rock n roll riff in the universe" Hate To Say I Told You So ... I think I just had a 2006 flashback.
After boldly starting off their own encore of Tick Tick Bomb, The Hives got the entire crowd to sit down during the final song in preparation to rock out harder than they ever had - and I think it worked.
The Hives put on an entertaining performance, the perfect way to kick off the headlining acts for this evening.
- Rachel Bache
4pm: Big Day Out fashion
Flower crowns, denim cut-offs and baggy singlets are everywhere! Despite the heat there are a surprising number of short-sleeved shirts being worn with the buttons all the way up. Not to mention more than a few animal onesies.
Raybans and aviators have proved to be popular again this summer, while floral print and lace are another big one here at the Big Day Out. But of course there will always be dudes wearing black (**insert band name here**) T-shirts.
- Rachel Bache
3.30pm: Grouplove
Over on the Tamaki stage Grouplove came out dancing and ready to party. With their catchy indie pop songs, the band absolutely killed it, keeping energies high during their whole performance.
The whole crowd got into their set, jumping along to their single Tongue Tied while band members skipped across the stage in skeleton onesies and floral shirts. Their upbeat style is perfect for a summer music festival.
- Rachel Bache
3pm: The Naked and Famous
It's been a long time since we've seen The Naked and Famous in New Zealand - so long, in fact, that I can't remember the last time they played a show here.
But they've become seasoned festival performers during their time away, with the Los Angeles-based Kiwi five-piece pulling the biggest main stage crowd to date with songs like I Kill Giants and Rolling Waves proving to be perfect summer anthem fare, thanks to their synthy feel-good stomps.
They seemed genuinely surprised by the massive crowd they'd pulled: at one point Alisa Xayalith - who has grown remarkably in confidence - pulled out a camera to snap photos of the front rows, while guitarist Thom Powers got so excited during Punching in a Dream that he tripped over his guitar cord.
But the setting proved to be exactly what their underrate last album In Rolling Waves was made for: not headphones, not home theatre systems, but giant open air festivals.
- Chris Schulz
3pm: SJD, Kody Nielson
There was some nice mellow genius action happening on the Lakeside stage mid-afternoon. The rippling lake and rustling trees made a lovely backdrop for Kody Nielson's vocal-free avant garde electro jazz set. With father Chris Nielson on an array of horns and another young man on tenor sax, Kody wove a strange and groovy soundscape of beats and bleeps and yelps and washes.
Then there was SJD with his current five-piece band of local stars. The 'meaning of life' exploration Beautiful Haze felt like the perfect joyful singalong for the sunny afternoon, and a rare performance of Southern Lights was a delight. Things got especially groovy for a clutch of tracks from Songs From A Dictaphone, and special guest Julia Deans was a treat on new song Little Pieces.
The new Big Day Out site may be in an idyllic green location, but it's still a residential area - with a reputation for being anti-speedway. Hugh Sundae went door knocking to gauge the mood.
Great to have Sean Donnelly performing with a full band again, looking forward to more performances from them.
-Lydia Jenkin
Read a full review and check out photos from last night's Snoop Dogg sideshow at the Powerstation.
2.15pm: The 1975, Tame Impala
The most improved award at this year's Big Day Out has to be the supersonic sound systems they've installed. From Randa's beautifully produced cartoon bass tricks to Beastwars' doom-metal racket, Clap Clap Riot's sweet harmonies and songs about girls (sooo many songs about girls), and Tame Impala's surprisingly heavy psychedelic tinged set, the sound is crisp and clear - even with moderate winds whipping across Western Springs.
Heck, they even managed to make The 1975 sound okay. On paper, these Manchest lads probably thought they were onto something with their bonkers combo of indie-rock, 80s pop, emo edges and synth samples. But live they come across like this year's version of Foster the People - without the tunes.
Great haircuts though. Did Skrillex give them advice?
Next up: The Naked and Famous, GroupLove and SJD. I'm going to make like a human Spotify app and do my best to cram in a bit of all of them.
- Chris Schulz
2pm: The 1975, Portugal.The Man, Tame Impala
Portugal. The Man were the first act to play the Tui stage, pulling a decent crowd with their indie rock riffs and falsetto vocals. Their semi psychedelic vibe was perfect for this sunny afternoon.
As soon as they were finished the crowds swarmed to the Kowhai stage for Tame Impala whose dreamy synth rock got people dancing.
British band The 1975 rocked out over on the Aroha stage with a mix of nasal crooning over 80s-esque synth tracks and indie beats. Despite minor technical difficulties the band still pulled off an effortlessly cool set that everyone enjoyed.
- Rachel Bache
1.40pm: Randa, Clap Clap Riot
Auckland's cutest rapper girl Randa opened the Lakeside stage with great enthusiasm. The pop culture references to skittles and Dakota Fanning and the vibrant video projections made for a great start to the afternoon.
Local Big Day Out regulars Clap Clap Riot were an early highlight, making the most of their 1pm spot on the Aroha stage with an energetic performance showcasing some great new songs off their upcoming album Nobody/Everybody.
Swaggering rock n roll with a good dose of fun.
- Lydia Jenkin
12:45pm: Randa, Lakeside stage
The Lakeside stage is an oasis at the Big Day Out, with the cool breeze blowing through hundreds of wood chimes strung up throughout the trees. Auckland rapper Randa kicked off the day at Lakeside, spitting bass-fuelled beats, internet jokes and random celebrity references with ease.
Performing in front of Pokemon images and giant cats licking ice creams, Randa got the crowd amped while she ran around the stage, proving that this girl can rap - even when she's rapping about skittles.
- Rachel Bache
11.30am: Gates open
The gates are open, the crowds are flooding in, and the Big Day Out venue is buzzing like a beehive. But the only music playing so far are generic dance hits floating over the venue from the Lake Side stage, and the occasional drum roll from a sound check.
Bring on the bands!
Beastwars are first up on the main stage, and there are already quite a few black-clad fans hugging the front of the D-barricade. Some were even running to case out the best spots. They're in for a long, hot day if they plan to stick around there for the next 12 hours.
There's a definite Coachella vibe happening around the venue - but that ain't no bad thing: there are a tonne of top class eateries, including the White Lady, Fatima's, Bird on a Wire and One Love - and that's without checking out Chow Town up on the top hill.
You can even wander around in bare feet and feel the grass between your toes. But if you're planning on having a refreshing dip in the lake, beware - there is bird poo everywhere.
-Chris Schulz
11am: Preview
Wind, clouds and rain - that's how today dawned. But at 11am it seems like we're settling into a fairly typical Big Day Out kind of day. There's cloud cover, yes, but also plenty of sunshine. And after a quick tour of the venue, I have to admit the site is looking incredible.
If you're heading down today, the first thing you'll notice is just how much green space there is. Grass banks are all over the place, you could happily watch many of today's acts from under a tree, and there's so much to explore I've hardly even touched the sides.
The stages also look impressive. They're huge. The smaller stages, like the Lake Side stage and supposedly smaller Tamaki and Aroha stages are nearly as big as the main stages at previous Big Day Outs. And the gigantic main stages themselves tower over the Western Springs arena.
Also, there are zombies. Big Day Out, I'm glad you're back. Let's get rocking.
- Chris Schulz
11am: Preview
To be honest, this is my first Big Day Out experience ... ever. So obviously there is a lot to be excited about! Though I won't know how it compares to past Big Day Outs at Mt Smart, I will get to view everything with fresh eyes and see how they've transformed Western Springs.
NZ Big Day Out promoter Campbell Smith gave NZ Herald Online's Hugh Sundae a chauffeur-driven tour of the festival's new home at Auckland's Western Springs park.
Just thinking about Chow Town makes my mouth water. No soggy chips or questionable hot dogs at this music festival. With food being served up from delicious Auckland eateries: Orleans, Masu, Mexico, Blue Breeze Inn, Federal Delicatessen (just to name a few), what more could you ask for? Now I just have to figure out a strategy for avoiding the long lines.
Then of course there is the music. I'm actually really stoked with this year's line-up. I am especially looking forward to checking out smaller international acts like Grouplove and The Lumineers. Having to flip a coin on whether I end up seeing The 1975 or Tame Impala is a bit gutting though - damn timetable clashes! The Naked and Famous, Arcade Fire and The Hives are other bands I can't wait to see.
- Rachel Bache
- nzherald.co.nz