Toyota series puts Kiwis up against rising overseas stars
The list of single-seater prospects coming to New Zealand next month for the annual Toyota Racing Series has been released and it includes some handy pedallers.
The championship has been producing national and international champions for 10 years. It has also been an outstanding stepping stone for all the young Kiwi racers now plying their trade overseas.
The series has helped the driving skills and race craft of young international racers, including Red Bull Racing Formula One driver Daniil Kvyat; Alex Lynn, who won the GP3 title, was second in TRS in 2013, won the 2013 Macau Formula Three Grand Prix and has recently tested in Formula One; Lucas Auer, who was fourth in the FIA European Formula 3 Championship and Ferrari Development Academy driver Raffaele Marciello in GP2.
The list of young Kiwi drivers who have graduated from the TRS category is equally impressive.
It includes Porsche factory driver Brendon Hartley, who is racing in the FIA World Endurance Championship, Porsche Supercup champion Earl Bamber, who has also been hired by the German manufacturer as a works driver, and Mitch Evans who finished fourth in the GP2 series.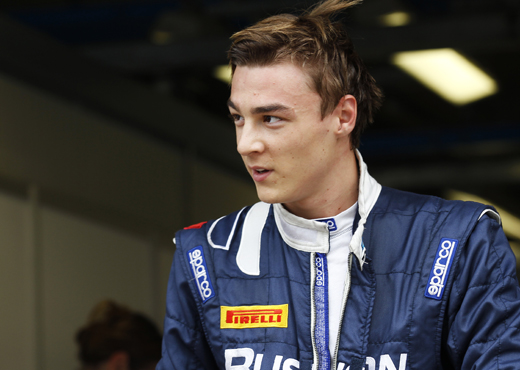 GP2 series driver Artem Markelov. Photo / GP2 Media
Others are Richie Stanaway, who is also a factory driver for Aston Martin in WEC, Nick Cassidy, who raced in the FIA European Formula Three championship and the Macau GP, and Shane van Gisbergen and Daniel Gaunt, who now compete successfully in V8 Supercars and the Porsche Carrera series respectively in Australia.
To add interest to next year's series, Toyota Racing New Zealand recently launched its new TRS FT50 racecar, which is a big technological leap forward from the well-regarded but 10-year-old FT40.
In its first 10 years the series has consistently attracted talented international drivers to New Zealand to hone their racing skills during the northern hemisphere winter.
This has given young Kiwis a chance to test their speed and skill against drivers they are likely to meet on circuits in Europe, Australia, Asia and the US.
Next year will be no different. Four young Kiwi drivers - James Munro, brothers Brendon and Damon Leitch and James Conroy - will do battle with drivers from India, Canada, Mexico, Denmark, Italy, Ireland, Austria, the UK, Russia, America and Australia.
One of the leading lights in the field is Russian Artem Markelov, who was Kiwi Mitch Evans' teammate at Russian Time in this year's GP2 championship. It will be the first time in the 11-year history of TRS that it includes a current GP2 competitor.
Another to keep an eye on is Canadian Lance Stroll who won this year's Italian F4 championship and is supported by Ferrari's Development Academy as he prepares to step up to the European Formula 3 championship next year.
"We're really pleased and it's a strong driver line-up this year and it's going to be a very interesting championship," says category manager Barry Thomlinson.
"The good thing about Ferrari sending their young drivers out here is that they've seen the car being built at the Tatuus factory in Italy and they like what it offers their drivers for further training.
"Some of the drivers returning from overseas recognise what the TRS offers them in further developing as a driver.
"We're almost at a full grid [18 of 20] and we're very happy."
Former TRS champion Gaunt has put the new car through its paces at Hampton Downs.
"Most importantly the biggest improvements have been in safety," he says. "A lot has changed with racecars in 10 years and the new TRS car has incorporated all the advancements in that time.
"I was lucky enough to drive both cars at a recent test day and you really can tell the difference. There's a big change in aerodynamics and the brakes are so much better. With the change to twin front shocks, the car feels much more stable and you can grab more kerb.
"The car feels 15 to 20 per cent better in all areas. It uses the same engine as the old car, which is fine as it's a great powerplant so there was no need to put a different one in."
Returning to TRS are brothers Brendon and Damon Leitch from Invercargill, and Christchurch's Munro, who won this year's Formula Master China series, as well as another Invercargill driver, Conroy, who is the current New Zealand Formula Ford champion and will face the recently-crowned Australian Formula Ford champion Thomas Randle.
"It looks like it's going to be a tough championship this year, there are some pretty experienced drivers in the field," says Munro, who is in Spain testing F3. "It looks like it's going to be tougher than last year."
Toyota Racing Series 2015 entries
Lance Stroll (M2 Competition) Canada
Mathias Kristensen (M2 Competition) Denmark
Arjun Maini (M2 Competition) India
Charlie Eastwood (M2 Competition) Ireland
Jamie Conroy (M2 Competition) New Zealand
James Munro (Giles Motorsport) New Zealand
John Simonyan (Giles Motorsport) Russia
Artem Markelov (Giles Motorsport) Russia
Santino Ferrucci (Giles Motorsport) USA
Sam MacLeod (Giles Motorsport) UK
Alfonso Celis Jnr (Giles Motorsport) Mexico
Ferdinand Habsburg (Victory Motor Racing) Austria
Stefan Riener (Victory Motor Racing)Austria
Brendon Leitch (Victory Motor Racing)New Zealand
Damon Leitch (Victory Motor Racing)New Zealand
Matteo Ferrer (ETEC Motorsport)Germany/Italy
Nikita Mazepin (ETEC Motorsport)Russia
Thomas Randle (ETEC Motorsport)Australia
as at December 20
2015 TRS Calendar
Round 1, January 14-18
Mike Pero Motorsport Park, Ruapuna, Christchurch, Wigram Cup (TBC)
Round 2, January 22-25
Teretonga Park, Invercargill, Spirit of a Nation
Round 3, January 29-February 1
Hampton Downs, New Zealand Motor Cup
Round 4, February 5-8 Taupo Motorsport Park, Taupo, Denny Hulme Memorial Trophy
Round 5, February 12-15
Manfeild, Feilding, NZ Grand Prix (with the Dan Higgins Trophy and Dorothy Smith Memorial Cup)