Aussie-built Falcon and Territory get final flourish
It will be "say hello, wave goodbye" for the facelifted Ford Falcon and Territory when they are launched in New Zealand. The brace of Australian-designed and built models will arrive in 2015 but be gone again by the end of 2016, with Ford Australia ceasing local assembly.
Why bother with the facelifts at all? Because the commitment to produce the models, with the help of 34 million Australian tax dollars, was made before the decision to close the local factories. So Ford will be hoping a fresher Falcon and Territory will provide enough sales stimulation to see local assembly out with some semblance of dignity.
It's a short run so the styling work has been modest, focusing on the most obvious areas at the front while avoiding expensive changes to sheet metal. Ford has provided images of the Falcon XR8 and G6E models, highlighting a dramatic new front section.
Read between the shut lines and it's clear that Ford Australia is using the new Falcon as a transitional model. The new look is closely aligned with global models heading our way, such as the Mustang and next-generation Mondeo.
It's a brave face, although the bulk of the body shell is carried over from the current model.
Some of the sheet metal is due for a long-service medal: the doors and roof date back to the controversial AU-series Falcon of 1998.
Ford says there have also been substantial changes at the rear of the car, although it hasn't revealed those. At the very least, expect to see an intricate new tail-light design and an increase in brightwork.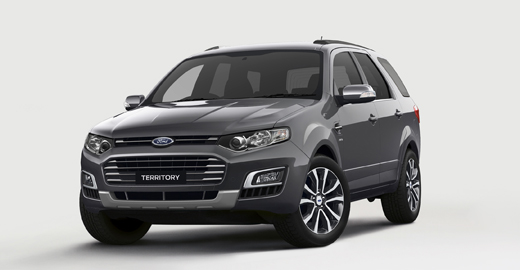 Ford Territory.
It's not all low-key, of course. The final Falcon signals the return of the XR8 in a big way. With the demise of the Ford Performance Vehicles (FPV) brand, the rorty 50-litre supercharged V8 previously limited to FPV vehicles will filter down into the Falcon.
Unique to the XR8 will be a bonnet dome and tuned exhaust system. It's also possible (albeit unconfirmed) that the superheated FPV turbo-six could be used in the new XR6 Turbo.
The regular Falcon six-cylinder and EcoBoost four-cylinder engines will continue, probably with some minor improvements in fuel economy to satisfy requirements for government co-investment.
Ford Australia has also revealed the look of the new Territory Titanium, which appears to differ only in grille and front bumper design. Territory exterior design manager Nima Nourian says: "Our customers appreciate the functionality, seven-seat capability and fuel-efficiency of the turbo-diesel, but we also wanted to deliver a new level of visual appeal."
Ford has not yet revealed the interior styling of the Falcon or Territory, but it's likely changes will be limited to new trim options and integration of updated electronic systems such as Ford's Sync infotainment voice control.