Van offers lots of room for people and their luggage
Pure people-moving vehicles are a source of angst among the New Zealand new-car industry. Such things are widely perceived as sale-proof unless you've got a really good relationship with rental-car companies and/or traffic enforcement agencies, so brands either avoid them altogether or try and pretend they are something else in advertising and marketing.
None of this should bother Ford. Its new Tourneo Custom is a large steel box containing three rows of three seats and its sole purpose in life is to move as many people as possible from A to B; yet if our week's experience is anything to go by, the Tourneo is also an object of widespread admiration - enough for total strangers to walk up to the driver's window and ask for a look inside. Everybody recognised and loved the fact that it was a Transit, even though it's technically not - on this model, one T-badge replaces the other.
Most thought the cabin stylish and car-like, while a couple of people simply wanted to say how awesome it must be to drive in the bus lane. Which you can't, actually - vehicles with nine seats or less are excluded, while 10 seats or more are permitted. Common misconception.
Still, there was the overwhelming impression that the Tourneo was a machine that makes people movers cool. That's despite a paint job that looked vaguely purple, which is quite an achievement.
We've tested the Transit Custom before, in short-wheelbase light-commercial form. As you might remember, Transit has been split into two different body shapes: the smaller, trendier Custom with styling cues and cabin architecture inspired by the Fiesta, and the full-size Transit for the really serious load carrying.
So the Tourneo is a larger version of the smaller Transit, with a massive 370mm increase in wheelbase (total 3300mm) to liberate room for all those people and their luggage.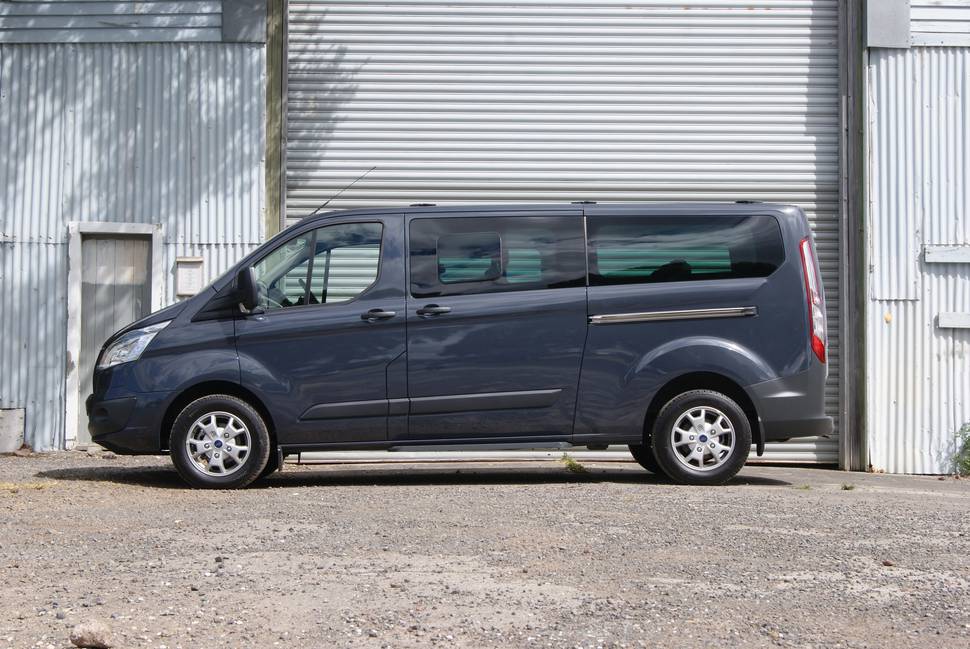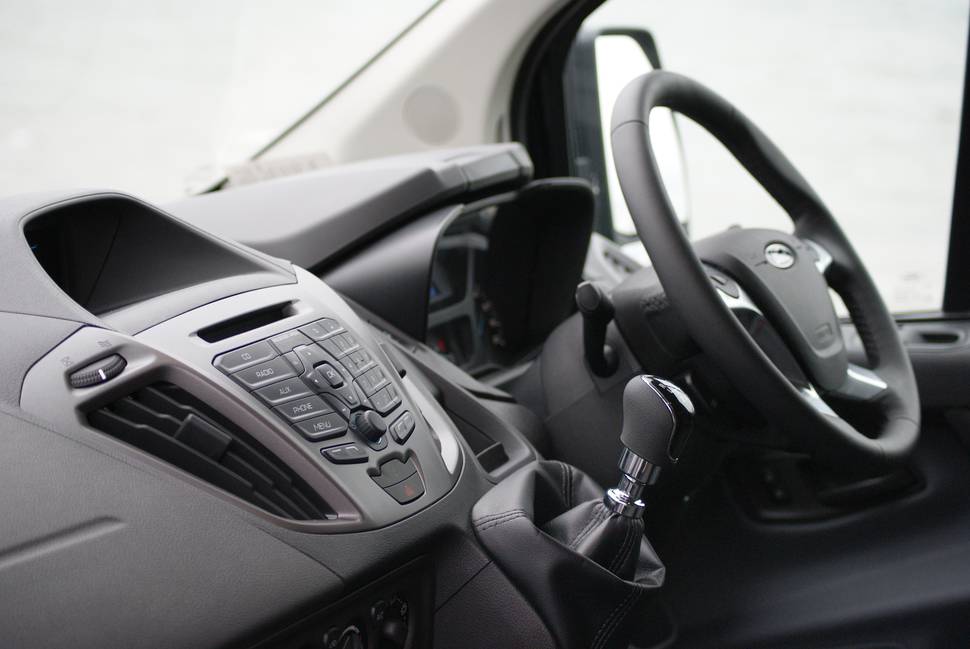 Up front it's familiar Custom, which means a very stylish dashboard, loads of storage spaces and an early version of Ford's Sync software that incorporates voice control into the audio and Bluetooth functions.
There are three seats up front, the middle one folding flat to form a table and cupholder should you so desire. So far so good.
But it's in the back where all the action happens - so to speak - with another two rows of three seats. It goes without saying that there is generous space for all passengers and plenty left over for luggage (which is where most of the extra wheelbase goes).
Air conditioning is strategically installed in the rear and the heating system has been configured especially for Tourneo.
You can also play a game I like to call Tourneo Tetris, because the seats not only fold flat, they can be clicked shut like a clamshell (both seatback and squab release and join together vertically) and slid all over the place. Ford claims 30 different seating combinations for the rear compartment by the time you've explored every option of folding and shifting the chairs.
Good chairs they are too, although if you're right in the rear the ambience is not ideal because you're hemmed in by the second-row seatbacks and a rather high window line - yes, even a nine-seat van can fall victim to automotive fashion, with passenger visibility sacrificed for a rakish beltline in profile.
Still, you cannot complain about a vehicle that seats six with the third row folded away and can still swallow three fully assembled mountain bikes.
We've said it before and we'll say it again: the Transit - ahem, Tourneo - is fun to drive. New Zealand models get the most powerful of three versions of the 2.2-litre turbo diesel engine available in Europe, with 114kW/385Nm. It's manual transmission only, which might put some off.
But the gear lever is ideally placed on the dashboard and the shift action is crisp.
You do have to make allowances for the Tourneo's monster wheelbase when negotiating tight turns, but the steering is good and it's fully kitted out with car-like active safety features, including stability control and even torque vectoring - a system normally seen on sports cars that shifts torque side-to-side on the driven wheels to improve traction and overall cornering ability.
Now, we do know Tourneo is the type of thing that's aimed at shuttle bus operators, hotels and government departments rather than your average family buyer. But the point is that its style, on-road performance and general aura of cool help it transcend the status of mere appliance. It's a lot of fun.
What would we change? You could always argue that the Tourneo would benefit from more refinement. Despite the upgraded trim and extra lining in the passenger space, it still sounds van-like on the road and the ride lacks subtlety on some difficult urban surfaces.
But you could also argue that there's an expectation that a vehicle of this type and seating capacity will be essentially a van with chairs and that a little roughness around the edges is opportunity cost for the rest of the package. For a van, it's still pretty impressive.
The badge on the back is another matter. This might be an awesome nine-seat express, but Tourneo is a dreadful name.
It's an old favourite of Ford's, being used for people-moving Transits since 1995 in Europe. No clue as to the etymology of the name, but I'm guessing it's a blend of "torneo", which is Spanish for tournament - presumably a reference to the sheer number of seats in the thing - and "tour", suggesting travel.
Let's call it the Custom Supermover instead. Agreed?