Jacqui Madelin discovers a classic as big as the country it came from
Clifford Brice glows with enthusiasm as he lifts his garage door to reveal the 1970 Chrysler 300C Hurst wedged inside.
"They made 485 of these - Chrysler says 485, Hurst reckons 501 - and there are 150 left in the world, so I'd guess it's the only one in New Zealand."
He squeezes in, starts it up - and it sounds macho, the garage magnifying the grumbling idle as he confidently backs it out.
There's only millimetres each side of the over two-metre-wide car, which is 5.7 metres long.
"It won't fit in a standard garage," he says, pointing out the extension he had to organise.
After all, his tractor shed had filled up with a 1978 Dodge Ram over there, and under covers is a Chrysler Valiant Regal.
But you can't help admire the gold-on-white paint of this gorgeous Chrysler coupe.
"It was a collaboration between Chrysler and Hurst Performance - like the Tickford Fords - and the Hurst treatment means some cool features."
They include this paint, gold on white with hand pinstripes, a custom fibreglass hood with power bulge and integrated fresh air intake for the passenger, plus a custom fibreglass boot lid with its recessed air foil, and custom touches to the cabin.
Hurst didn't touch the TNT engine, it didn't need it, or the auto which was tuned for this motor.
The car cost US$5939 ($7200) new, but totalled US$6918.85 once the cost options had been included, like the tinted glass, remote mirror and air conditioning. You even paid extra for the tilt and telescopic adjust steering wheel.
"That was a lot of money in 1970, more than a Cadillac was worth. They were a rich man's luxury muscle car."
Clifford's the third owner and has the original build sheets, the factory order sheet, and the limited edition Hurst manual that came with each car - "every scrap of information from the day it was made," including a letter from Hurst to the first owner about some spare part or other.
He bought it from the second, a private collection. A friend in the US stored it for 18 months, then he went over and drove it from Texas to California to ship it home.
Once we've taken the photos Clifford tucks me behind the wheel, electrically adjusting the seat to suit. The bonnet stretches away in front, the fibreglass rippling as the air runs over it - or is that the engine?
It's a 440ci - 7.2-litre - 90-degree V8, the TNT version with 480Nm of torque at 3200rpm and 280kW at 4600rpm. This engine had a hotter cam and larger-duration intake and exhaust openings with higher lift for an extra 18kW over the standard 7.2.
It idles at 800rpm, but engage drive on the three-speed TorqueFlite auto and pull away and you realise it's barely ticking over at open road speeds. Left-hand-drive on the left side of the road takes a kilometre or two to get used to, but Clifford's comfy enough to tell me to put my foot down, and it instantly cuts down the gears and boogies.
It'll hold second to 150km/h says Chrysler, and kick down to second at anywhere below 135km/h.
It shrugs off the epic two-ton weight. Clifford's paperwork suggests a standing quarter in 16.8 seconds and 140km/h.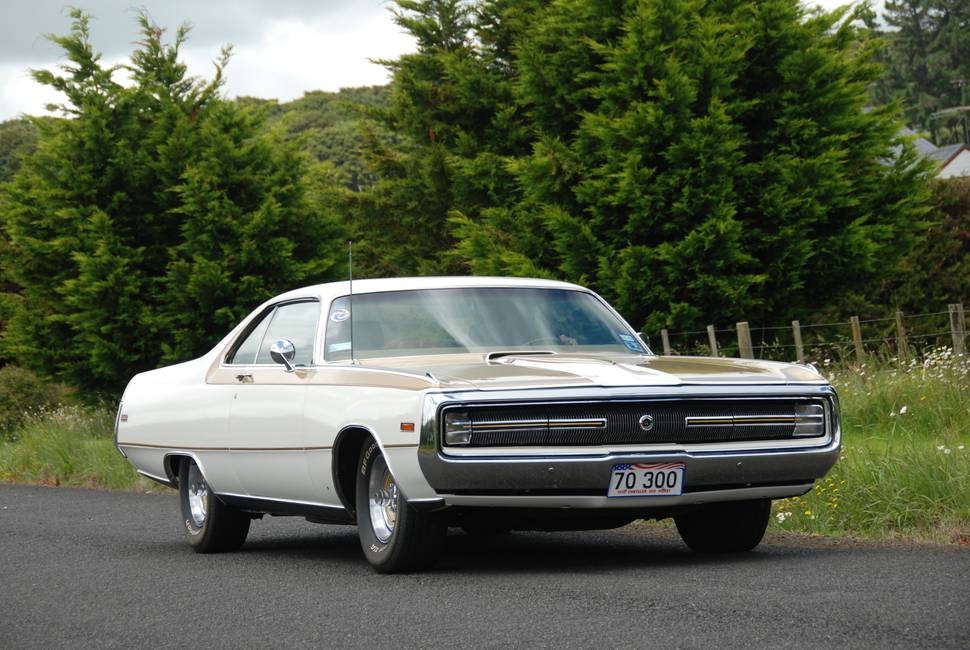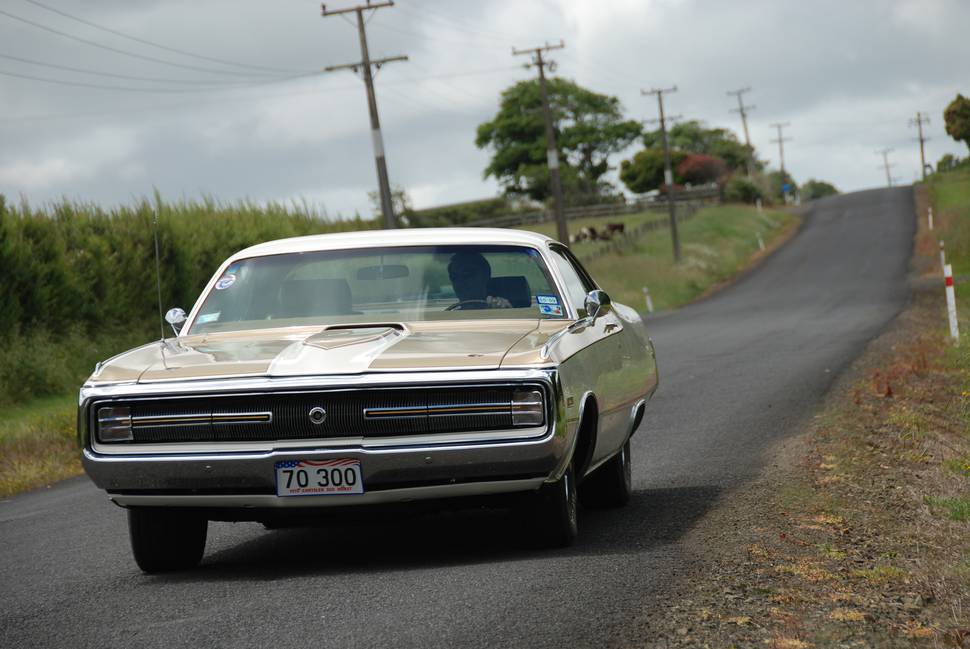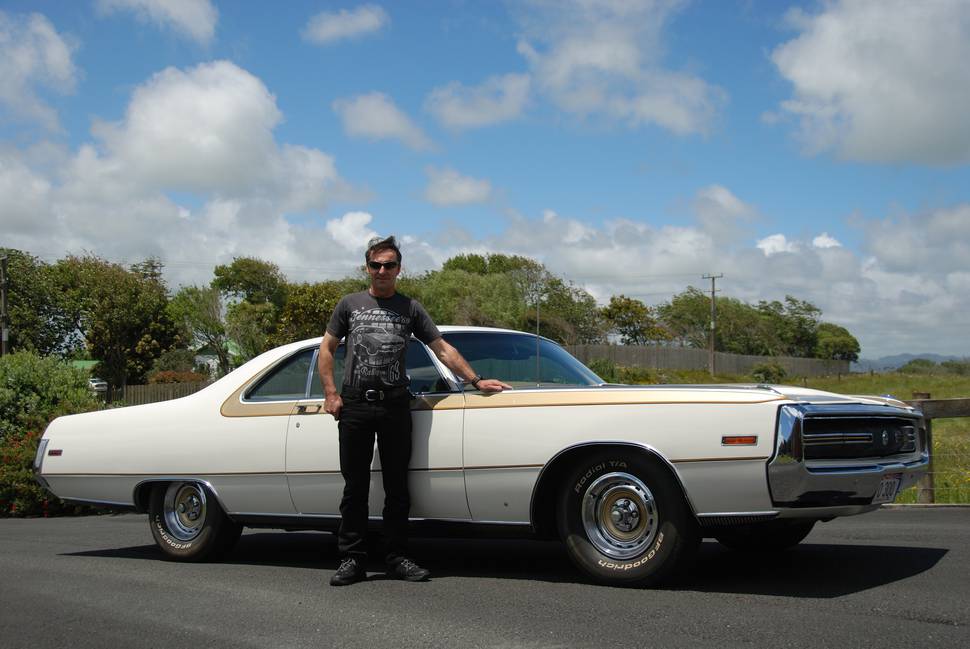 I'm glad of the power steering, and knowing there's a disc front brake to match the drum rear - allegedly the car will stop from 100km/h in 62 metres.
The independent suspension with torsion bar springs and heavy-duty shocks plus front swaybar seems effective, though I'm hardly putting it to the test on this short drive.
The only bugbear I find from this brief taster is that the hand brake lever is right next to the boot release. Fuel might have been an issue too, had I been paying for it, as Clifford reckons it'll use 17-23L/100km, acceptable for a Sunday driver but not an everyday car.
Clifford's Mobile Mechanical Repairs workshop is running a car show in Waiuku in January, a word-of-mouth affair with free entry. "Last time we got 100 cars!"
He puts a sign up on the day and Lions runs a fundraising BBQ, so if you're in the area, look out for it.
And don't be surprised if there's a for-sale sign on the Chrysler; he's got an eye on a 1956 Cadillac four-door, and "short of building another shed" he needs to sell a car to liberate storage space ...