Eighteen years ago, thousands of babies were born in the first year of the new millennium. A documentary profiles six who are now 18. Sarah Catherall — whose daughter was also born in 2000 — talks with three of those millennium teens.
In the month after the feared Y2K bug failed to shut down the country's computer networks, more than 4600 babies were born to first-time parents around New Zealand. They arrived at the dawn of a new era.
Auckland film-maker Kate Peacocke — who gave birth to daughter Seraphina in the Year 2000 — has made a documentary charting the lives of seven of those babies born in January 2000 around New Zealand.
January this year marked their journey to adulthood when they turned 18. It's an auspicious birthday — at 18, they can vote, marry without their parents permission, get a full drivers' licence, a credit card, and drink alcohol. Larenz Olliver, Sean Pennells, Tom Stevich, Jordan Cameron, Paris Sinclair, Megan Prentice and Angela Pan were all born to parents experiencing parenthood for the first time.
Eighteen years on, three still live at home, and four are in tertiary study, including one who has fought and survived cancer.
They are digital natives, facing sweeping technological changes in their lives. A year before they were born, entrepeneur Sam Morgan launched Trade Me. Growing up, their parents filmed them on video cameras. Their childhood homes had dial-up internet. They were 7 when the first iPhone hit New Zealand, 10 when the iPad was released. As small children, they watched videos, then DVDs. Now they socialise through apps like Snapchat, Facebook and Instagram.
Just six took part in the latest series when Peacocke filmed them at the end of their 17th year, as they were on the cusp of moving on to the next chapter. She explored the nature versus nuture debate to find out what signs of character traits were there, if any, when they were first filmed as 3-year-olds. She says Tom couldn't leave wheels alone from as soon as he could toddle, and one of his current obsessions is his motorbike. He is now doing a diesel mechanic apprenticeship in Wanaka. His father is also car and bike-mad.
Peacocke says the teens were selected because of their diversity, but haven't bonded as friends. While the documentary-makers expected that at least a couple of the parents would have broken up, all have stayed together and all went on to have more children. Says Peacocke: "None of these kids signed up to be in it, and they inherited the opportunity. Right from the start, all the parents were all totally on board.
"Everyone will see something they identify with. Whether it's a family or a teenager. But they're definitely their own people."
Sean Pennells
Sean Pennells is in his first year at the University of Otago, studying zoology and majoring in marine biology. He grew up in Darfield with his parents and younger sister, Emma. At the age of 10, Sean was diagnosed with leukemia. He is hoping to get the all-clear this year.
"When I was growing up in Darfield, all the kids knew me as the kid who had cancer. It's different here. My uni friends are a big part of my life. They know I had cancer, but it doesn't define me. I was diagnosed with leukemia when I was 10. I was pretty active, playing a lot of sport, and I just got really lethargic. I think it was a shock. The hardest thing was for my family.
I had three and a half years of treatment.
We'd go into Christchurch Hospital. Sometimes it was every week, and sometimes daily. It meant I missed all of Year 7 and half of Year 8.
"I was in Christchurch when the first big quake hit. I had just had chemo and we were pulling into a Pak'nSave carpark. All these buildings started collapsing around us. Being in those quakes didn't affect me too much. Having had cancer means I definitely make the most of my life. I want to do everything I can. I really wanted to dive and so through Make-a-wish, I went diving at Goat Island when I was 12. I've always loved animals and diving just opens up this whole new world. I've had 98 dives. I was always in love with animals and always a water baby.
"My parents had a huge influence on who I am. They used to buy me all the books and docos about everything I wanted to know about. But they've never pushed me to do well. Me and my sister want to make them happy and proud of us, but but they don't tell us to do that.
"University life is amazing. At school, you have to study subjects you often don't have a passion for, but now I get to choose. I have a huge passion for learning. I want to do a Masters and then a PhD. You can't major in marine science at Otago but I was talking to this girl who is studying whales in the Southern Ocean, which sounds incredible. I love boats and I love the ocean.
"The documentary didn't really show how important my mates are to me. Yeah, we go out drinking a couple of times a week. I'm sitting in the uni hall and there are 12 cans here right in front of me.
"My worries? I was pretty nervous about coming to uni and making new friends — the right friends. Every six months I get a blood test. The last one came back clear. After five years, I'm considered to be cured. It was on a my mind a bit when I was younger, but I don't even know when my next blood test is now. One thing I do have though is an enlarged spleen and they're trying to figure out what's wrong with it. When I was having chemo, they'd chuck the volumes up or down depending on my response, and they think that high dosage means my spleen has taken a bit of a hit.
"Having cancer made me emotionally stronger. I just appreciate things such a lot. The main thing for me right now is having fun. That's what life is all about."
Larenz Olliver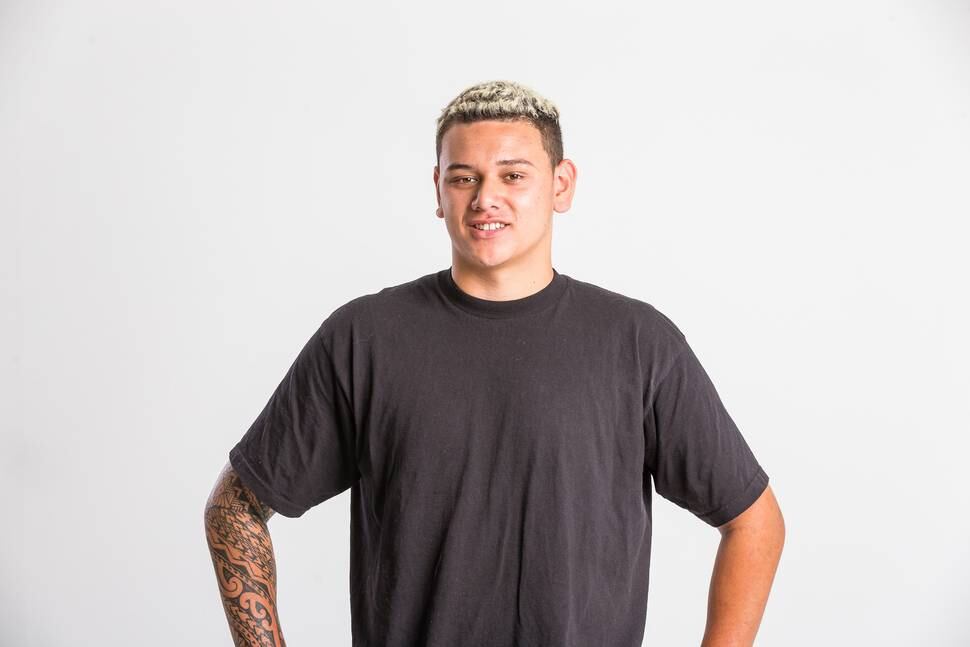 Larenz Olliver works in a Tegel factory processing chickens in Henderson, and is applying for the army. He lives in West Auckland with his grandmother, his parents and two younger siblings. Fitness, family, food and friends are the four most important things in his life.
"At Tegel, I work in the factory from 1pm to 11pm. There are about 16 of us on the late shift. I've been working there for three months. It's $18.20 an hour. It's good money, that's the way I see it. Before that, I was at another factory, a sprinkle factory. You know, it makes hundreds and thousands. Hundreds and thousands are just icing sugar.
"I'm hoping to go to the army in Christchurch. I've got my interview this month. I've never
been to Christchurch. I've never been south of Auckland, just north, and to Tonga. I left school when I was 15. I was at Rutherford High School. I got NCEA Level 1 and 2. I just didn't want to go to school anymore. It wasn't really me. I reckon university is not the real world. It's just an excuse not to get a job.
"A big dream when I was younger was to have my own restaurant. I always wanted to be a chef. That was the reason why I left school. I had a job lined up with Michael Meredith but I changed my mind.
"When I'm hungry, I like to cook. Nothing special. I just make something up from what's in the fridge. My [paternal] grandfather was a chef in the army. He owned a restaurant. He passed away when my dad was really young, like just 16. If I don't have a restaurant, I wouldn't mind owning a club. I like going out. I've never smoked. It looks yuck. If I drink, it's mainly top-shelf. I'm pretty anti-drugs. Last year, when I was 17, I got beaten up by the Mongrel Mob. About 30 of them jumped me. They were saying something to me and I just told them to shut up and pointed the finger at them. My dad and uncle came. It wasn't too bad.
I'm quarter-Maori. I'm more in touch with my Tongan side, Dad's side. I've been to Tonga three times. It's hot there, just like real island life before it got too touristy.
"A girlfriend? Nah, not that keen, eh? That's called lockdown.
"It was all right being part of the doco. It was a long process.
"I've always been close to my dad because he's so young. He was 22 when he had me. It's good living at home cos you don't need to pay as many bills. My parents let me know my boundaries. When I was a teen, sometimes those were broken. I'm saving up for a motorbike. I want a Harley or something. There's a place I know where I can get one for cheap, like $7000 or something.
"Worries? I worry about living not as good as I want to. Getting off the track a bit. Struggling, you know, financially and stuff.
Megan Prentice
Megan Prentice is in her first year studying health sciences at the University of Otago on a $6000 university leadership scholarship. An accomplished pianist and musician, she grew up in Wellington, with her parents and younger brother and sister.
"In the first few years of my life, Mum had a huge influence of me, especially through music. Mum would get us up early before school and we'd have piano and music lessons. When I was 8, we moved to England to be near Mum's family for two years, and I did three piano exams in 18 months. Mum would sit beside me and make me practise. I passed grade 8 piano when I was 10. It's pretty crazy thinking about it now. But then after that, Mum and Dad stepped back and let me be, and they let me find my way.
"Down here, a lot of students had their parents nagging at them right through school and they come to uni and they've gone a bit awry. So I think that I had the right approach really. Music is really important. It defines me. A lot of people are really good at netball or rugby or something, but I'm good at piano — that's my thing. I came to Otago not sure what branch of health sciences I'd go into — my [maternal] grandparents are both doctors. But I'm keen on dentistry because a lot of things that are health-related start with the mouth. Orthodontist work also really interests me because I'm a bit of a perfectionist and I like the idea of doing a job that helps give people confidence. There are 1500 people doing health sciences and only 50 spots for dentistry, so it's really competitive. With dentistry, there's an interview and it's not just about the grades, which appeals to me as it says something about the profession.
"I try to think of my study as like a job that I do, where I start at 8am and finish at 8pm, either studying or going to lectures and tutorials. I go to the gym and see friends in between. It's been pretty hard to adjust to uni life though, because with school everything was set out for you but here I have to manage my own time.
"Yeah, my friends are the most important thing to me right now. I've got a really good group of friends and we have so much fun here. I've done voluntary work with refugees, especially around music. Mum has a refugee family she looks after, and I taught them to play the guitar and the piano. In Year 12, I started playing music with the Make Foundation (a charity to raise awareness about Syrian refugees) and I played outside Parliament. It was really special to be able to use music to shine the light on an awful situation.
"I'd really like to do a job that's interesting and that I enjoy, and I'd like to do some sort of service trip overseas. The things I'm worried about right now are the Umat test — which is like an IQ test but it's harder. I'm also worried about the age we live in. Everything is evolving so fast. I wonder what the world is going to be like in 10 or 15 years' time, and what jobs will be like. When I was young, I wasn't on the computer much. I feel like we've grown up at a time when so much has changed.
Millennium Teens screens Tuesday September 4 at 8:45pm on TVNZ 1.