The hand-stitched designer dress is ready at last and a crack team of celebrity hairdressers is on stand-by to coiffe her tresses.
But with just two weeks to go until the wedding of the year, Carole Middleton is far from ready to put her well-heeled feet up, the Daily Mail reports.
The marriage of her 33-year-old daughter Pippa to hedge-fund millionaire James Matthews on May 20 will, without doubt, be one of the most important moments of 62-year-old Carole's life.
For while her eldest daughter Kate's royal nuptials to Prince William at Westminster Abbey in April 2011 may have been a global affair, this time the ceremony is on the Middleton's home turf in Berkshire. The stakes are high indeed.
Pippa and James will tie the knot at 12th-century St Mark's Church in Englefield, six miles from the village of Bucklebury, where Carole and her husband, Michael, 67, reside in a Grade II-listed manor set in 18 acres.
The Duke and Duchess of Cambridge will attend, with their two children, Prince George, three, and Princess Charlotte, two, who, as page boy and bridesmaid, will trot down the aisle behind Auntie Pippa.
Prince Harry will also be there and, a source tells the Mail (contrary to previous reports stating she might not go), his American actress girlfriend, Meghan Markle, is expected to attend the ceremony and the reception.
Her appearance, which would be her first at Harry's side at a semi-formal occasion, would fuel speculation that there may be another wedding on the cards after Pippa's. Kensington Palace refused to comment yesterday.
It goes without saying, then, that the eyes of the world are on Mrs M as she tries to pull off a spectacle worthy of a woman who made millions out of selling mail-order party supplies and, in doing so, catapulted her family into the highest echelons of society.
If anyone is in any doubt about how seriously the Middletons are taking the forthcoming wedding, then it's worth noting the meticulous attention they have been taking over the details.
Pippa, for example, is said to have spent around two hours just a couple of weeks ago practising walking up and down the aisle at St Mark's.
Meanwhile, Bucklebury villagers - not all of whom can be accommodated within the narrow pews - are said to have expressed a desire to be involved.
Local gossip suggests they may have been put out by a suggestion by one of the team involved in organising the wedding - unbeknown to Carole or Pippa - that they might like to assist with VIP car parking duties.
Other villagers, says another source, have 'attempted to sign up to St Mark's as parishioners, a status which would have given them the right to attend what is, according to Church of England policy, a public event - but only if there is 'available seating or standing room'.
And that is unlikely.
Carole herself has risen above these matters. Instead, she has been going quietly about the business in hand - preparing herself and her palatial home.
No stone has been left unturned in her quest to be the best-dressed woman in the church - excepting the bride, of course, and to showcase the beautiful £5 million Georgian manor house she and Michael bought in 2012.
Here, we present 'Carole's Countdown' to May 20.
A TURKEY AND WINE DIET
Super-slim Carole has always had an enviably girlish figure, but she's leaving nothing to chance. Last year, she dropped down a size from a 12 to a perfect 10 so there's no need for crash dieting.
Instead, a source says, Carole has been taking advantage of Pippa's encyclopaedic knowledge of health and fitness to ensure she exudes youthful radiance on the big day.
Pippa is a devotee of the Sirtfood diet, which is based on claims that certain foods activate proteins in the body called sirtuins.
These so-called miracle proteins are said to regulate inflammation, metabolism and, all important for sexagenarian Carole, slow the ageing process.
Sirtfoods include green tea, dark chocolate, turmeric, kale, parsley, blueberries, capers and red wine.
If she's been following the diet to the letter, lucky Carole will have been tucking into such delights as turmeric baked salmon, turkey escalope with sage, capers and parsley and prawn stir-fry with buckwheat noodles.
The Middleton kitchen cupboards are also said to be stocked with high-quality Vivani premium organic dark chocolate along with Ghirardelli Intense Dark - velvety smooth and 86 per cent cacao.
That might take away the taste of the daily kale smoothie also prescribed by the diet.
But the recommended red wine might give Carole a headache.
Her favourite tipple is a glass of Chardonnay - chilled in her state-of-the-art Sub-Zero fridge to ice-cold - every evening at 6pm.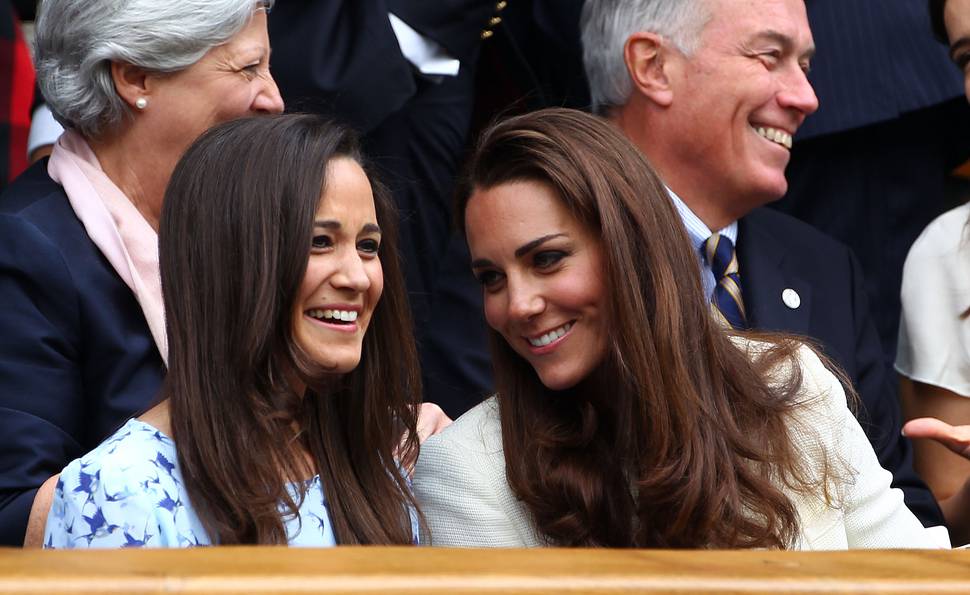 UNDERWATER BIKE RIDES
When she strides down the aisle to take her seat at the front of St Mark's, Carole will be in peak physical form thanks to her love of working out.
Like her daughters, Carole is sporty and competitive.
She swims regularly in her heated pool at home and has been doing aqua aerobic exercises under Pippa's tutelage.
Pippa herself is a fan of hydro spinning classes in which fixed bikes are submerged in water pods while the rider pedals like billy-o.
Carole is also an avid tennis player and enjoys frequent games on the hard court in the grounds of her country home - preferring singles to doubles and always playing to win.
As if that wasn't enough, she takes long walks in the Berkshire countryside - her super-healthy picnics are legendary among the Middletons' friends.
'NO GREY ON THE DAY'
Carole knows all too well that if you get the hair wrong, you get everything wrong. There have already been a number of 'try-outs' by celebrity hairdresser Richard Ward, whose Chelsea salon Carole has been going to for many years.
For the big day, Ward and his crack squad will travel from London to Bucklebury to tend Carole's locks.
A battery of combs, brushes, straighteners, pins, scissors, soft rollers, lacquers and gels, along with fluffy towels and hairdressing gowns, will be laid out in Carole's immaculately feminine bedroom and dressing room for the task in hand.
One of Ward's slogans is said to be: 'No grey on the day' and, indeed, Carole has plumped for a blonder and more youthful look of late. Ward and his team will be tasked with ensuring that her mid-length hair is beautifully cut, layered and blow-dried.
The look Carole is going for, says our source, is 'pared-down elegance'. She is unlikely to opt for a fussy 'up-do'.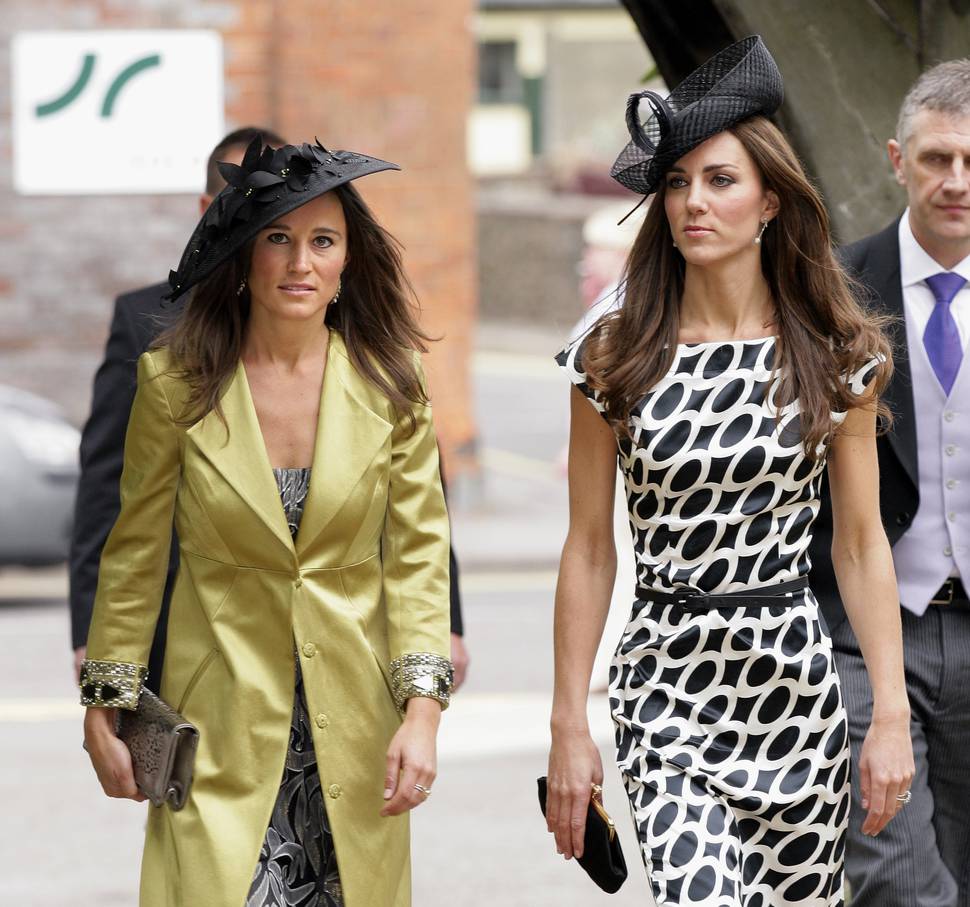 The finished result will be deceptively simple, but Carole is also expected to wear some subtle yet show-stopping hair jewellery to balance out the overall effect.
NOT BOTOX - VTOX!
According to another source, age-defying Carole has dramatically stepped up her intake of avocado recently because of her belief in its miraculous qualities in improving the complexion.
It is believed she receives facials from the team at Linda Meredith beauty salon in London's Knightsbridge.
She is also said to be a fan of Meredith's VTOX - a super-cream containing natural algae which is said to surround the muscles with protein to stop the skin contracting - and prevent wrinkles from forming.
Carole also believes in the firming properties of cold water. Bucketfuls of fresh country air from all those long walks also helps to maintain her super-smooth complexion.
DRESS FIT FOR DIANA?
Looking a million dollars without upstaging the bride is no easy feat for Mrs Middleton.
It is understood that Carole has met a design team from Catherine Walker, a favourite of the late Princess Diana. It is not clear if the team has been commissioned to design the mother-of-the-bride dress, but Carole is believed to have requested a flawlessly elegant outfit made from the finest fabric.
She is predicted to go for something similar to the ice-blue Walker long-sleeved coat and matching dress she wore for Kate's wedding in 2011.
Carole is partial to lace and tends to favour a palette of lilac and pale blues, which flatters her light tan.
But leaving nothing to chance, the source says, she is having two similar outfits made... just in case.
Indeed, it's believed that Carole has even bought a dress from upmarket Fenwick of Bond Street to put on standby.
Her outfit, says the source, will be accessorised with lambskin gloves to match her Jimmy Choo or Gianvito Rossi heels.
There will be two further outfits for the evening do, perhaps something less formal and more suitable for drinking a 'Jam n' Pips' cocktail in honour of the bride and groom - it's a Caribbean concoction, created for the big day, featuring shots of grenadine and rum, with nutmeg, pineapple and shaves of ice.
TEAM OF GARDENERS
As well as her own appearance, Carole has devoted much thought to creating a traditional English wedding.
A huge marquee will be erected in the grounds of the Middletons' Grade II-listed home, filled with sumptuous floral displays, selected by Carole and Pippa, and the delicate aroma of garden flowers.
Carole has instructed a team of gardeners to get the grounds to a Chelsea Flower Show standard. Lawns are being mown in Wimbledon-style stripes, thick borders housing English flowers and thick waving grasses lovingly tended.
Inside the marquee, tables will be laid with starched linen and gleaming Waterford glasses.
TO THE MANOR BORNE
Carole's home is immaculate but on the wedding day, not a pin will be out of place.
Kate and William will, says our source, be staying there during the celebrations.
Since the Middletons bought the manor for £4.7 million, the somewhat tired kitchen has been modernised with a state-of-the-art cooking range.
The laundry room has Miele appliances and dryers and racks for Carole's favourite cashmere. There are rolls of tissue for storing delicate clothes.
The essence of the manor is warmth, comfort and airiness. Large vases of white roses are placed throughout. Sofas are covered with cashmere throws and plumped cushions - perfect for relaxing with a 'Jam n' Pips' cocktail.
A CARIBBEAN GETAWAY
Once the confetti has been swept away and the bunting comes down, Carole will need a jolly good rest.
And where better than her favourite bolt-hole, the Caribbean island of St Barts, where she and Michael are planning to join their new son-in-law's parents, David and Jane Matthews, for a 'debrief' holiday at the Matthews's fabulous hotel, the Eden Rock.
The world-famous resort, favoured by the likes of stars such as Leonardo DiCaprio and Mariah Carey, is surrounded by white coral beaches and lapped by crystal-clear turquoise seas.
Here, Carole can kick off her heels in the sunshine and congratulate herself on a job well done - and another daughter married in a wedding which will no doubt be talked about for years to come.