Each week Greg Bruce challenges a chef to make him lunch in less than 10 minutes.
David Bach of Siostra, 25, and just weeks into his first job as a head chef, put a kitchen timer in front of me and set it for 10 minutes. I didn't need it, because I'm a professional, and supply my own equipment, but it nevertheless projected both confidence on his part and an inherent understanding of how to please the customer. He didn't make a big deal of it, just put the timer down in front of me without a word, and got straight to work.
It was impressive - and all the more impressive because he knew he would never be able to cook this dish in 10 minutes. The lamb rump would have to roast for at least seven minutes and rest for at least three, plus it had to be seared in the pan, and then he had to prepare some sauce, do something with chickpeas, and something else as well.
He told me an incredible fact about chefs: "We have no idea of the actual length of a minute," he said. "There are three times in the kitchen: there's right now, two minutes and five minutes."
Right now, he said, means a chef has something cooked and ready to go; two minutes means it's under control, it's cooking and will be ready at some point shortly after the right now. Then there's five minutes.
"Five minutes," he said, "is, 'No way mate, not even a chance.' Five minutes really should be about 20 minutes. Five minutes is, 'I had no idea I was supposed to be doing that'."
This comment crystallised my understanding of much of what has surprised me about this series of articles: world-class chefs looking at me blankly as I said: "four minutes!" or "halfway!" then swearing and smashing things when I told them there's one minute to go. I had given them 10 minutes, an eternity, and then that eternity was gone.
Bach did everything right. He plated after 13 minutes, showing just enough respect - but not too much - for the time limit; he served me red meat, having done his research on what I liked; he said "green sauce" instead of "salsa verde", which was a term he knew I didn't understand; he served the food on Crown Lynn plates, which induced waves of nostalgia for family dinners in the 80s; and he offered me a choice of two wines but recommended the lightly chilled Odyssey pinot noir.
A good restaurant is a happiness-inducing machine and a good chef is both its lead designer and operator. As I sat there, my mouth full of rich, red meat, oily green sauce and milky chickpeas from northern Spain, it was hard to imagine eating something that would have made me happier, which was a fact Bach almost certainly already knew.
Lamb Rump, Navarra Chickpeas, Chard and Green Sauce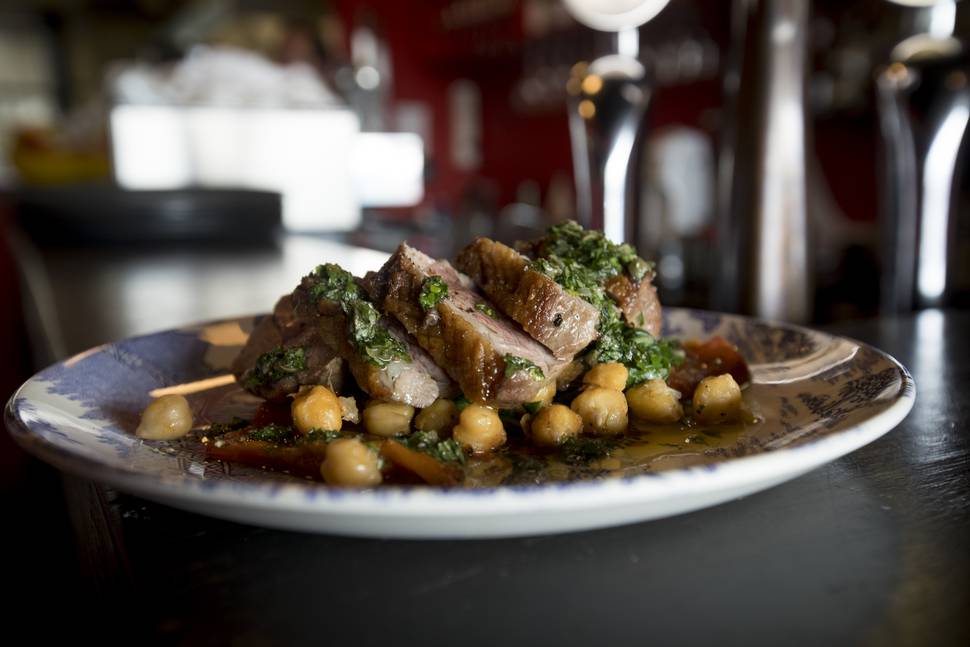 Lamb Rump
2x Lamb Rumps
10x Thyme, sprigs
1x Garlic Clove, sliced
5g Black Pepper
5g Juniper Berries

Take the skin of the rump cap and score lightly with your knife. Marinate in the thyme, garlic, juniper and black pepper for at least 4 hours, overnight is best. Bring out the meat to room temperature at least 30 minutes before cooking. Season the lamb with sea salt liberally. Place skin side down in a dry pan on a low heat to render then fat out, until the skin is nice and brown. Then flip and brown the other sides on a high heat. Place in the oven for 7-9 minutes depending on the size of the meat. Then rest for 3-4 minutes before slicing and serving.
Green Sauce

1 cup Italian Parsley
1/2 cup Mint
1/2 cup Oregano
1x Garlic Clove
2x Anchovy Fillets
1 Tbsp Capers
80ml Olive Oil

Chop all the herbs and place in a bowl. Cut the anchovy into a fine dice and place into bowl. Roughly chop the capers and add to bowl. If you have a microplane or fine grater then grate the garlic into the bowl, if not just chop as finely as you can. Add olive oil until everything is just combined loosely, do not dilute with too much oil.
Chickpeas

1x tin of Navarra Chickpeas, drained of liquid
1x bunch of Chard (Silverbeet)
1x grilled red peppers, sliced
1/2 lemon
20ml Olive Oil
Salt and Pepper

Boil a pot of salted water, blanch the char leaves for about 1 minute and then take out and place into a colander. Dress immediately with the olive oil, juice of 1/2 lemon, salt and pepper. Heat a pan, add cooking oil and fry off chickpeas until brown, add sliced peppers and the chard and toss together. Check the seasoning.

Assemble on a plate with the chickpeas on the bottom, slices of lamb on top and then drizzle all over with the green sauce.