Each week Greg Bruce challenges a chef to make him lunch in less than 10 minutes.
If you ask a leading chef to make you lunch in 10 minutes, there is a better than average chance you will get seafood - trevally, flounder, tuna, crayfish, shellfish, snapper and squid are all foods I've eaten over the last few months of this series - and here I was once again, this time at Mr Toms, staring down a big whitey-pink slab of fish awaiting heat.
This isn't a complaint, rather to point out one of the many things the ambitious home chef can and should learn from this column: when time is of the essence and you're hoping to impress, your best bet is probably fish.
It's also a little bit of a complaint.
With seconds to spare before the expiration of the 10-minute time limit, Tom Williamson plated the last of the greens on top of the hapuku and tuatua lying in a shallow pool of broth. His sticking to the time limit displayed an impressive discipline, which had been lacking from this series in recent weeks.
He had seared the fish, chucked it in the oven, then returned it to the pan, so that it was cooked. He served it with steamed tuatua, kale, broadbeans, peas, small tomatoes and some green-leaved things.
"Love hapuku," he said, "It's probably my favourite fish, just nice, meaty, sweet, it's a lovely fish."
The fish was thick and soft, and the tuatua swam gummily in the off-brown broth, which was in turn sopped by the sourdough, and the whole thing was given a necessary vigour by the freshness of the greenery.
Williamson says his philosophy is "just good, honest food", and that's what this was. I was pleased to be eating it, but when he started talking about the steak that they could probably never take off The Kitchen's menu, I started to enjoy it less.
It's not that there was anything wrong with the fish. On the contrary, it was quite lovely, but as this series draws closer to its astonishing climax, increasingly I'm coming to realise that the quality of a plate of food cannot be judged objectively. I can no longer remove myself from my preferences and, increasingly, I understand that my preferences are for red, smoky, fiery meat.
"I'm quite partial to it," Williamson said of the steak, "quite fond of it. It's an eye fillet with smoked bone marrow butter and then triple cooked chips, jus ..." He added something else, but I didn't care what it was. I just wanted to eat that steak right then and there, desired it more than I had ever desired anything.
I continued eating the objectively excellent and no doubt quite expensive bounty of the sea, but what was in my head was the picture of a juicy chunk of steak and bone marrow butter in my mouth, and the feeling of joy that would bring to my heart.
I tasted disappointment and it tasted a lot like fish.
Tom Williamson's scores (out of five):
Dish construction: 4
Fish deduction: -4
Steak fantasy induction: 5
Recipe: Pan-seared hapuku, steamed tuatua, kale, broad beans and peas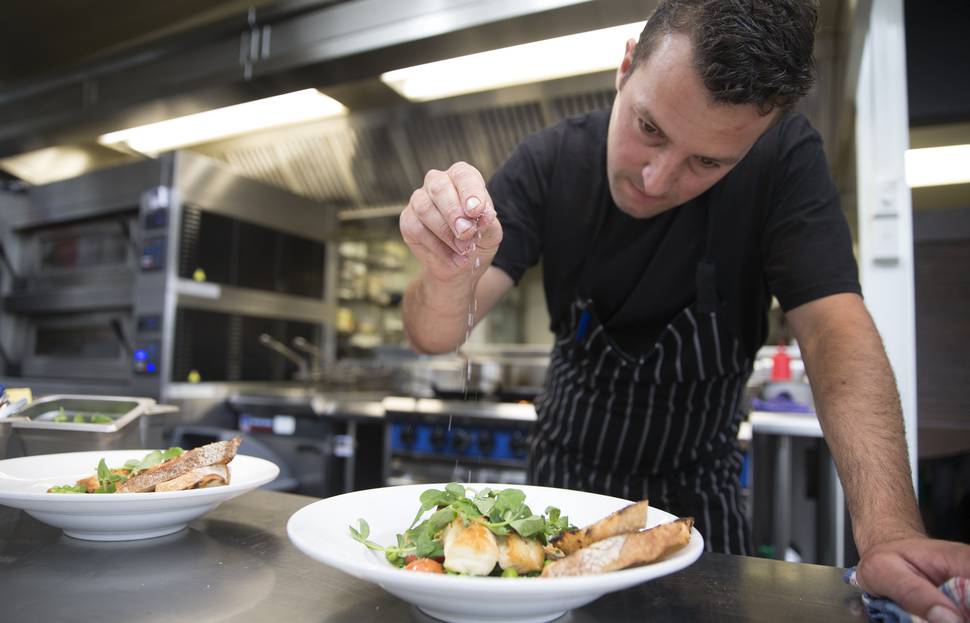 pieces of hapuku
8 large tuatua
1 handful of kale
3 Tbsp broad beans
3 Tbsp peas
8 cherry tomatoes, cut in half
1 Tbsp chopped parsley and tarragon
1 clove garlic, thinly sliced
2 cups white wine
1 lemon
50g butter, diced
Season hapuku generously with salt, sear in a hot pan with vegetable oil. Cook for 2 minutes and put in the oven for 3 to 4 minutes until it is just cooked through. Finish with a squeeze of lemon.
Meanwhile heat a saucepan large enough to fit the remaining ingredients in. Once the pan is hot add the tuatua with the white wine and put a lid on to steam. Once the tuatua have opened, add the remaining ingredients and mix everything until hot and the butter is incorporated into the broth.
To serve, place the kale in the centre of the bowl, arrange the tuatua around, then pour in the broth and remaining ingredients. Place the hapuku on top, seared side up, and finish with some grilled sourdough to mop up the broth.