Each week Greg Bruce challenges a chef to make him lunch in less than 10 minutes.
At last year's Cuisine awards, Phil Clark's restaurant, Phil's Kitchen, won best new metropolitan restaurant. "It was totally unexpected, eh," he told me. "I didn't really anticipate on winning anything, to be honest. I didn't go to win anyway. It was my birthday. I went for a few free beers, you know. I went in there for a few free ones and ended up coming out pretty trolleyed."
He pointed in the direction of the restaurant's entrance. "It's on the f***in' wall over there," he said.
For lunch, he made me some lean pork with berries and carrots, which was a clean, fresh delight of pig-based sustenance, exactly the sort of thing you'd expect from Kingsland's best restaurant, and, while we ate, he told me about the miserable way in which he realised his plan to become a 33-year-old chef with a critically-lauded restaurant hanging on the f***in' wall.
First, he spent a few years working in good restaurants around Auckland, then five years in London, working 100-120-hour weeks, for £17,000 a year. "That was £1200 in my bank account at the end of every month. My rent was £850 a month and my transport was £50 a week, so I was down to £100 a month for buying coffee and beer from the off-licence. For five years."
That sounded hard enough, but there was more.
"Everyone from Europe comes to London to be the best, to work for the best, so when you can, get into a kitchen like that and stay in a kitchen like that, because it's like a pack of hungry street dogs, and you're at the top of your game all the time. People try to f*** you all the way, for so long, just stitch you up ... You have to be emotionally really strong to go, 'We're all playing this game, no worries.' You're a Kiwi on the other side of the world, by yourself, you're left with no money, you've got no money and you're just dedicated, no friends, family, you just went by yourself and you push and you push for five years to become good because it would be a shame to come back and not be good, wouldn't it?"
A great meal feels a lot like a magic trick, like a delightful surprise, but the hard truth about magic is that its success generally depends on years of suffering. Usually you can't taste that suffering, but when the chef's sitting opposite you, telling you about it in horrific detail, you definitely can.
It tastes delicious, and a lot like pork.
Phil Clark's scores (out of five):
Alcohol abuse: 3
Swearing: 4
Budgeting: 5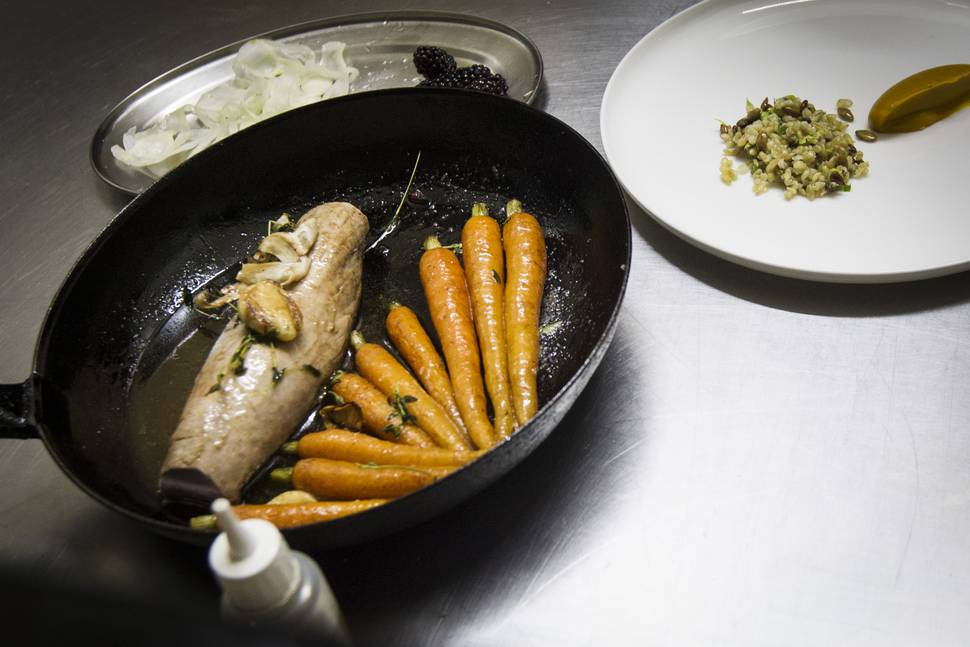 Slow-roasted baby carrots cooked in brown butter and garlic
Melt butter and whisk until brown. Add garlic and place onto an oven tray. Add baby carrots and thyme. Cover with tin foil and cook until ready.
To make carrot puree, cook normal sized carrots in oven as above before blitzing in a food mixer.
Slice fillet and stack on top of freekeh. Garnish your plate with thin slices of fresh fennel, washed blackberries, fresh coriander flowers and green mustard leaves.