As TVNZ tells its staff to cut out the glamour, experts advise the best look for work is smart, dressy and not too revealing.
You have spent the summer in shorts and jandals and are likely sorting your return to work wardrobe today.
But if you think the holiday look will wash at work, think again.
Last week the Herald on Sunday revealed TVNZ had gone all Fashion Police on its staff. The state broadcaster asked employees to dress in a less-formal "New ­Zealand look" - women were asked to look less glamorous and men more blokey under its 2016 dress code.
But fashion experts and recruitment advisers say our work clothes are ­already too relaxed - that casual Friday has corrupted the more serious, well-dressed days of the week.
"I don't want to see shoestring straps, viscose knit tops, tight T-shirts and casual jeans sneaking into the office," designer Tanya Carlson said.
"I don't care how much you spent on your snap-back cap, please take it off when you get to work. You are not four and you are not at a ball-game."
Jandals, hats, exposed bra straps, low tops and backless styles should be kept for the weekend, according to Carlson. "If anything, we need to be more ­formal at work.
"In meetings ­people are more likely to ­listen to a person in a tailored outfit than someone with rolled up sleeves.
"You feel and work better if you feel better in what you are wearing."
At Hays recruitment, the advice is simple: if in doubt wear a suit. Until you know the ­expected standard it's best to err on the "side of conservative" and put your best foot ­forward.
Jonathan Greening at Hays said employees should dress for success. "It's not just what you wear but you need to be well-groomed as well," he said.
"Don't overdo the jewellery or perfume and make sure your clothes are well ­presented."
He said people should dress for the new year as they mean to go on. "If you dress well you will feel ­better, enjoy your work more and no doubt do a better job."
At Kelly Recruitment, Wendy ­Hewson said candidates were given specifics on how to dress.
"We have clients in light industrial, office, contact centre and technical roles and each com­pany has a different dress code." Over time she had noticed a more relaxed dress code but still urged candidates to dress more formally.
Last year, one of Auckland's poshest schools, Auckland Grammar, issued a strict dress code - and not just for students.
Teachers were sent a memo reminding them plunging necklines, high hemlines, spaghetti-­string straps, sandals and ­jandals would earn a trip to the headmaster's office.
Male teachers were told to ditch walkshorts, knee-high socks and sandals in favour of a ­corporate wardrobe of ties, business shirts, dress pants and ­formal footwear.
"They're all gone," said headmaster Tim O'Connor.
"So are the stubbies. We have moved with the times and we have moved with fashion."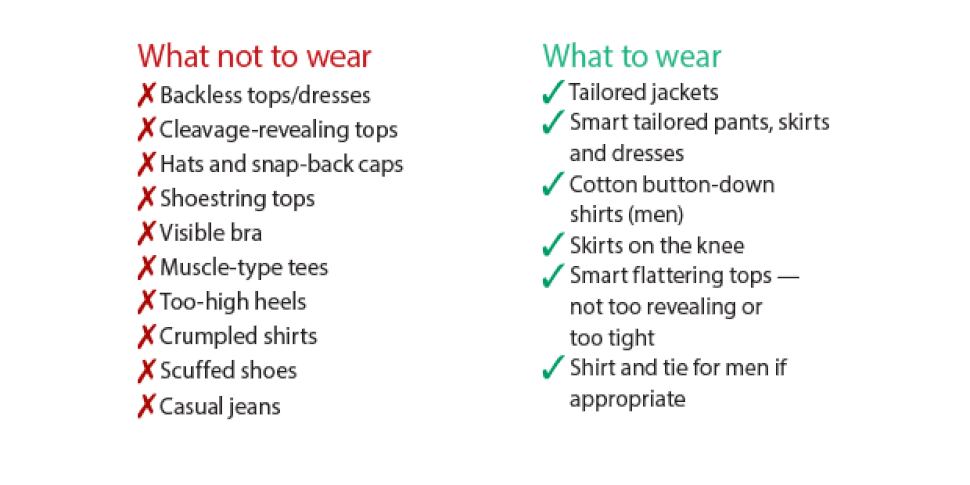 At Mecca Cosmetica in Pon­sonby the dress code is semi-conservative black, with an emphasis on a ­polished look that was not ­distracting for customers.
Manager Vanessa Illangakoon said the policy ruled out spaghetti straps, anything too low
for tops and too short for bottoms.