It wasn't so long ago that the Tongan league team struggled to get a game anywhere.
When they did, they would eat at local pubs instead of their hotel to save costs, and the players had to fork out for group outings, extra meals and massages, while making do with one set of training gear for a week.
Tonga used leftover strapping tape and supplies donated by other teams, and their initial sponsors were friends or relatives of the coaching staff.
"[In 2014] we had to go to Papua New Guinea, up in Lae just to get a game for the boys," said assistant coach David Tangata-Toa. "That was our only match that year, and only because they paid for it. Now we are playing Australia, there's talk of the Kiwis next year, staying in nice hotels. It definitely is miles away from where we were."
Tomorrow feels like the culmination of the Tongan league miracle.
A small pacific island kingdom, with around 100,000 inhabitants, has become pivotal to the future of international league.
Mate Ma'a Tonga is arguably the biggest drawcard in the international game – thanks to their passionate fan base – which is why the NRL moved heaven and earth to arrange tomorrow's fixture in Auckland against the world champion Kangaroos.
The boom started at the 2017 World Cup, fuelled by the unprecedented decision of superstars Jason Taumalolo and Andrew Fifita to switch back to their nation of heritage, and the men in red are now hot property.
[Read more: Jason Taumalolo on the Tongan league revolution he helped create]
"Obviously now we can have a much more professional environment and more resources," Tonga head coach Kristian Woolf told the Herald. "The passion in terms of playing for Tonga has always been there. There just hasn't been the opportunity, or the environment. Things are still tight – all of the staff are volunteers – but they have changed a lot over the last few years."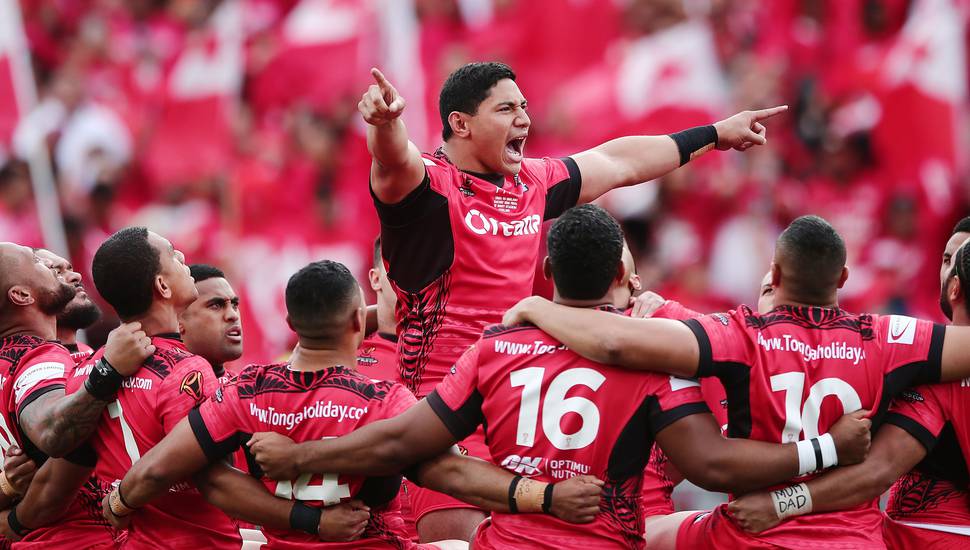 Woolf got involved as an assistant coach with Tonga in 2013, which coincided with Jason Taumalolo's debut in the Pacific test.
He took over as head coach the following year, but soon realised the realities of coaching a tier two nation.
"We had virtually nothing in terms of finances," recalled Woolf. "The players weren't paid anything and the staff all had to do multiple roles. The sponsorship that we raised that year (about $10,000) came from people who were relatives or close friends of [assistant coach] David Tangata-Toa."
Tonga would have gone the entire 2014 year without a match, until being invited to Papua New Guinea.
"The PNG government covered almost all of our costs but it was still hard," said Woolf. "All the things that players are used to at NRL clubs, like massages, supplements and extra meals around your main three, they were things that we just couldn't provide."
Tonga was part of the Pacific test series again in 2015, losing 18-16 to Samoa in front of 12,000 fans on the Gold Coast.
The NRL covered travel, accommodation and other costs, but staff still needed to get creative.
"The NRL would pay for you to eat at your hotel," said Tangata-Toa. "We would say no, we will go and eat at a local pub. The way we would do it, I'd ring a friend up who owns a pub, they would do it for us for $15 and we would be $30 a head better off. We would eat out three or four times a week to get some more money for other things for the camp."
Tangata-Toa also had a contact at a gear company who donated some supplies, to help ease the financial burden.
"Hit pads, strapping tape and other leftover stuff from the Kangaroos, he would put it aside for me," said Tangata-Toa. "I'd go and store it in my garage for our next camp."
Before one Pacific test they were quoted $11,000 for the supply of playing and training gear but didn't have the funds, so they negotiated a cut price sponsorship deal.
"We were given one training shirt, shorts, a singlet and a backpack," said Tangata-Toa. "That was the deal we could negotiate because we didn't have any money to buy it off them. We said 'If you give us what you can, we will sign the deal'."
It was also tricky for the players.
"If they had a double session, they would try and wash their gear somewhere," added Tangata-Toa. "For a week long camp, it's pretty tough going [and] the laundromat got a fair work out."
Tonga steadily progressed, but everything changed in the first week of October last year.
First Taumalolo called Woolf to say he wanted to represent Tonga at the World Cup, then 90 minutes before the Kangaroos were due to assemble Fifita made the same decision.
Other NRL names like Will Hopoate, Michael Jennings and Solomone Kata had made similar pledges earlier in the year but the presence of the big two dramatically changed the narrative.
They became the story of the tournament and a cultural phenomenon, playing to sold out stadiums across Australia and New Zealand.
"Jason was the first player of that stature to say, 'I'm not going to play for one of the big nations, I'm going to play for a minnow'," reflected Woolf. "It was incredibly brave. You obviously cop a lot of criticism for that, it's not easy to put yourself out there, but he was happy to wear that and still make the call.
"In years prior I thought it was a chance but you never really know with those things. When he rang me, there was no doubt in his mind and no one was going to talk him out of it."
The impact has been obvious. Last year there were 11 A-grade teams in the domestic competition in Tonga, this year there were 38 A and B-grade teams playing for the newly minted Jason Taumalolo Cup.
In New Zealand there are more than 300 kids who have already aligned with Tonga through the junior grades, and similar ripples happening in Australia.
"I don't think Jason and Andrew really realise what they have done," said Tangata-Toa. "I reckon they will end up doing a movie about it one day. We've certainly noticed the impact.
"I had young players at Penrith last year who were Tongan kids but playing for the Junior Kangaroos. Their whole mindset is different now, they ring me and say 'I just want to play for Tonga, I don't want to play for Australia'. The whole landscape has changed, which is great for the game. The reason we have been so successful is because of those two guys, and everyone else has followed them."