Trimmed-down Warriors hooker Issac Luke admits he has failed to deliver over the last two seasons but has vowed to repay the club's long-suffering fans this year - in what could be his final campaign for the Auckland-based NRL franchise.
The 30-year-old former Kiwis test hooker is entering the final season of a hefty three-year contract, and regardless of whether he extends his time at the Warriors, he's determined to right some wrongs.
Since arriving at the club as a marquee signing in 2016, Luke has battled weight and fitness issues and struggled to recapture the form that made him one of the best hookers in the world during nine seasons at the South Sydney Rabbitohs.
Read more: Tuivasa-Sheck reports 'baseless' says agent
"I came over to do a job and the last two seasons I've failed," Luke told the Herald.
"I want to make sure - I've pissed most fans off, but I don't want to piss them all off.
"I know I haven't played up to my standard. The name I made for myself (in Australia), it wasn't tarnished here, but it's been questioned.
"I've just got to have a good season. It's my last year at the club, if I was to leave, so I'm going to try to impress."
Luke's renewed determination comes after he was dropped late last year by coach Stephen Kearney in favour of young hooker Nathaniel Roache, after the Warriors slumped to their fifth straight defeat with an embarrassing round 22 performance at Newcastle.
That was a wake-up call, but reality really hit home for the 37-test veteran when he was overlooked by New Zealand selectors, with 22-year-old Knights hooker Danny Levi getting the nod for the Rugby League World Cup.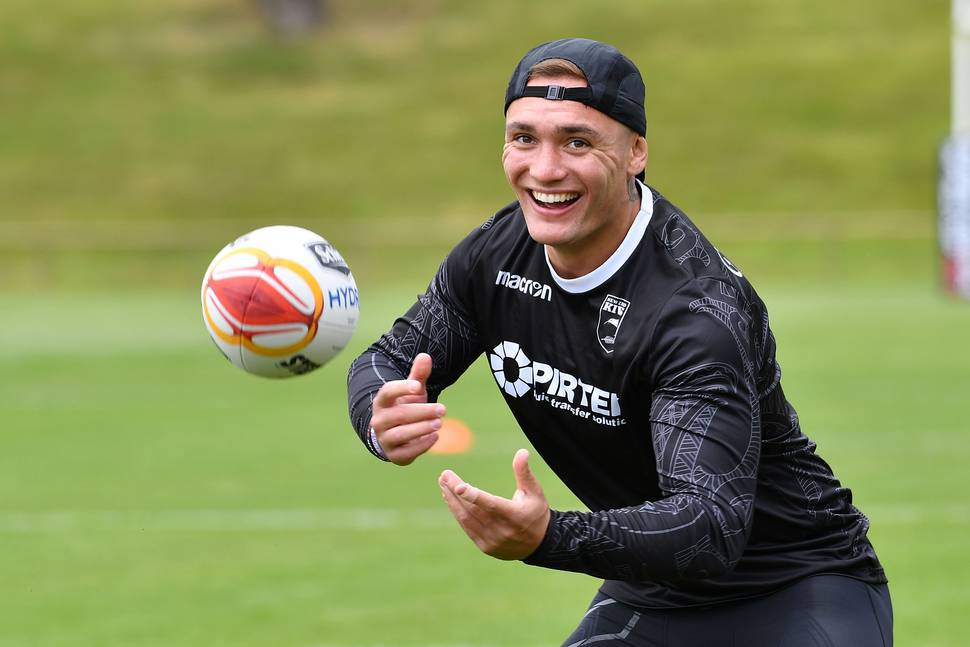 His omission meant he was on deck for the start of Warriors preseason training at the start of November – a rarity in his 12 year career. The benefits are obvious with Luke having shed six kilos and looking leaner than he's been since 2015.
"This is probably only my second full preseason," he said.
"It's been very tough and it's something I've always wanted to be a part of but most seasons I was with the Kiwis and missed half of it.
"So to start on day dot and then keep chugging along, it's been good to keep the legs ticking over and be part of the bigger group."
According to Luke, the players have thrived under the guidance of new high performance coach Alex Corvo, who joined the Warriors after 11 successful seasons at Melbourne Storm and four more with the Brisbane Broncos.
"He's done a great job with the boys and showing them what conditioning is about.
"He's well respected in that you've got to do the work to be playing at a good level in first grade.
"The boys had targets to make after Christmas - just the mandatory targets that are going to affect you on the field - and 99 per cent of them came back in if not better shape than they went away with.
"So we started off in a good state the first week and had all our tests done and he was really happy."
Luke's improved attitude and training ethic has not gone unnoticed by Kearney, who observed how the pain of last season's missed opportunities helped motivate him, despite some minor injuries troubling him over the summer.
Read more: Have Warriors fans lost their faith?
"That's been a realisation for Issac, culminating in not getting picked in a (Kiwis) touring squad of 24, off the back of two seasons where he was a big recruit for the club," said Kearney.
"From that perspective I have seen him determined to play and do what Issac does well.
"He's had a bit of a hampered preseason, just with a couple of hamstring issues and niggles. Some of them have been ongoing niggles that he's had over the course of his career and some he's picked up just through the volume (of training).
"He's lighter than he has been before and when he has run he's been good and that will hold him in good stead.
"He's put himself in a pretty good position to have a crack at the season and that's the best you can ask for."
Luke knows he'll face another tough battle this season, with big things again expected of Roache, who is making good progress recovering from a ruptured Achilles, while Sam Cook and Manaia Cherrington are also pressing for selection.
Read more: The Tuivasa-Sheck circus will continue through the year
"Having Nate right next to me, he's the fire that I need. I've got to try and keep him out but I also want him there with me.
"We are competing for the number nine jersey and the handful of games he played he performed well, so you know what he's capable of.
"Even if I was to leave this club I know it would be in good hands.
"Manaia's (Cherrington) there and Sammy Cook is coming through too, so you'll probably see a lot of them, especially through the trials. We've just got to put our best foot forward."
Kearney speaks highly of 24-year-old Cook and warned that performances in the preseason will determine who gets first shot for their round one clash against the Rabbitohs at the new Perth Stadium on March 10.
"I have no doubt (Cook) will challenge at some point, if not right at the start. He's had a wonderful preseason and I like what I see of Sam.
"Nate's doing some running on the field now so it's a gradual process in getting people back to full fitness and ready to play, but he's progressing really well.
"The point with all of it is the performer will be the one that gets the nod."
The Warriors first trial match is against the Storm in Rotorua on February 17 before they take on the Gold Coast Titans on the Sunshine Coast on February 24.
To get the day's top sports stories in your inbox, sign up to our newsletter here