We need you to help us to Help Our Kids. The Herald is running a major campaign to try and raise at least $150,000 for our national children's hospital, Starship. Each year, more than 9000 Kiwi kids from right throughout the country are treated in Starship's theatres. Now it's our turn to help the hospital and staff that Help Our Kids.
Starship's outdated operating theatres have become so cluttered with important surgical equipment that staff risk tripping on electrical cords and accidentally turning off machines.
"It has happened," says paediatric surgeon Steve Evans.
Improving patient safety is a key reason why the operating theatres suite is being upgraded and an extra, larger theatre added, at a cost of around $9 million. The Herald's Help Our Kids campaign aims to raise $150,000 to help fund vital equipment for a new operating room at the hospital and the refurbishment of four existing operating rooms.
SCROLL TO END: See what Help Our Kids is raising funds for
Mr Evans recalls a case in which the cable that powers the keyhole-surgery equipment and video monitors was pulled out of the wall by someone tripping on it.
"All the laparoscopic equipment, the light source, the camera source, the device that pumps carbon dioxide into the operating space ... and two of the television monitors went black. We lost all our power.
"You just have to come out, let it all be rebooted up again, get some carbon dioxide back into the abdomen, get your image back, get all the patient data put back into the screen ... it adds five or 10 minutes on to the operation.
SHARE YOUR STARSHIP STORY: CLICK TO EMAIL THE HERALD
"It's a significant safety issue both as a trip hazard and as having reliable imaging at critical parts of the operation."
As catastrophic as such a failure could be, Mr Evans is not aware of any patients being harmed as a result when this has happened at Starship. But he is a strong supporter of the upgrading which he says will improve the working environment for surgeons, allowing them to operate faster and with a greater margin of patient safety.
"Throughput of patients through Starship - that's going to be the big benefit. It will chop waiting lists down."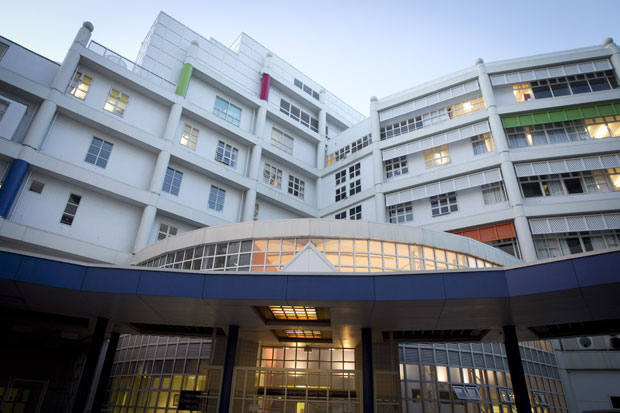 Starship has around 120,000 patient visits a year, and 9000 of those children need to be operated on. Photo / New Zealand Herald
Starship, the Auckland children's hospital which also provides many specialist services for young people from all over New Zealand, opened in 1991. Built at a cost of $78 million, it replaced the Princess Mary Hospital, a cluster of dilapidated buildings that had been erected for temporary use in the 1940s.
The Starship's cancer ward was rebuilt in 2008/9 and the neurological services and medical specialties wards were done last year. A number of areas have had high-tech medical machines installed, such the MRI and CT scanners in the radiology department.
The theatres suite has had some additions, including the creation of two cardiac theatres opened in 2003, but never a major refit of the original operating rooms, which are now considered tired and outdated. The cardiac theatres, however, are still considered quite adequate and are not being changed.
READ MORE
• LUCY LAWLESS: Get behind Help our Kids
• SAMUEL'S STORY: He needs six tubes to keep him alive but he's not a sick kid
Three theatres were built in the original Starship. A fourth, smaller OR was later created by converting what had been the room for putting plaster casts on children's fractured arms and legs.
With the development of new surgical techniques and equipment - and population growth - the number of patients being treated in the theatres has increased greatly - from 4500 a year before 1998, to more than 9000 by 2009.
Watch: Lucy Lawless: Get behind Help Our Kids
Lucy Lawless has urged New Zealanders to get behind the Help Our Kids campaign to help raise funds for the Starship Children's Hospital. The actor, who is an ambassador for the hospital, says: "We have a massive push for an upgrade so please help us and get to helpourkids.co.nz and donate because you know every penny of your money at Starship is very well spent." The Help Our Kids campaign aims to raise $150,000 to help fund a new operating theatre and new surgical equipment for the hospital.
"Further increase is not currently possible, and so an increasing number of cases are going out to the private sector and to the Greenlane surgical unit," according to the book written to mark Starship's 21st birthday and edited by Dr Lochie Teague, the clinical director of paediatric haematology and oncology.
The Starship Foundation fundraising charity has pledged $3.1 million towards the Auckland District Health Board's paediatric ORs project.
Stage one was completed in July. This included a new and enlarged pre-operative and parent waiting area, with more side rooms for privacy, a rebuilt day-stay play room and Radio Lollipop, and a bathroom.
Stage two, completed last month, was the enlarging of the post-anaesthetic care unit where patients go after surgery.
Work started this month on the additional - seventh - operating room and is timed for completion in December. The upgrading of theatres, to be done one by one, also began this month, with the first of the four expected to be complete by next month and the last by April.
The new theatre, at 66sq m, will be significantly larger than the four do-ups, which range from 33 to 44sq m, although the cardiac theatres are both 60sq m or greater. Size matters. Having more space reduces the chances of staff bumping into each other or tripping. Up to 15 people, including trainees watching, can be in the room for some operations.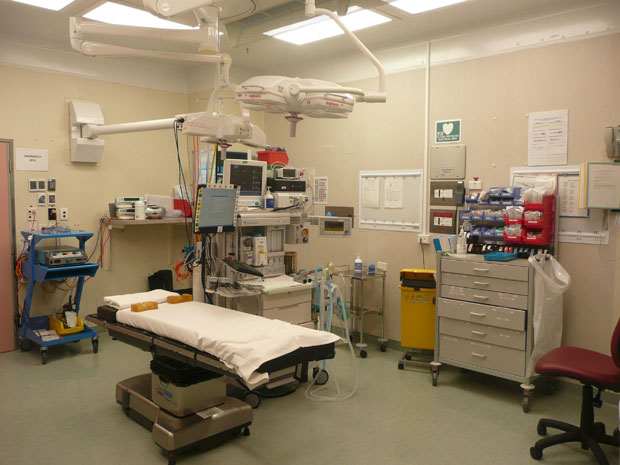 The existing operating theatres need upgrading to reduce clutter and crowding. Photo / Supplied
The smallest theatre will become a dedicated minor-procedures room for relatively straightforward work such as inserting a catheter into a central vein for giving medicines and fluids. It is hoped this will help alleviate the juggling of patients and postponement of less-urgent procedures that occurs at present.
Mr Evans says the upgrading will reduce crowding, clutter and fatigue at the operating table, thus improving safety and efficiency. He points to the lights, the video screens and the image capture and viewing system as the most important improvements in technology.
"Our lights are old lights. Wherever I have worked in the world, this is the poorest lighting," says Mr Evans, who, before coming to Starship, had worked in England and Scotland.
Halogen lamps will be replaced by brighter LED lighting sets. Some sets will also contain a camera to allow the operation to be displayed on a 50-inch wall-mounted screen. Learners, instead of peering over the surgeon's shoulder to view open operations, will be able to step away from the operating table to see.
The current keyhole-surgery screens are about 20-inch and are wheeled around on the portable "stacks" of surgical equipment. They will be replaced by a 26-inch ceiling-mounted screen for the surgeon, with two from the ceiling in the new theatre, plus the larger wall-mounted screens.
"A lot of what we will see is a reduction in surgeon fatigue," says Mr Evans. "It will be ergonomically better, with the ability to visualise things better. Complex laparoscopy is extremely tiring. The end of the operation is often the more challenging part, for instance stitching. It's uncomfortable. Operations should become shorter and that has benefits for patients."
Another safety improvement and efficiency increase is that high-definition digital x-ray and medical scan images of patients will be available on the surgeon's main operating screen. Surgeons' repeatedly scrutinising these images is critical for some operations, such as removing a tumour surrounding a major blood vessel. At present the surgeon must leave the operating table to view the images at a wall-mounted screen.

Halogen lamps will be replaced by brighter LED lighting sets, above; high-definition screens, below, mounted at the operating table will allow surgeons to scrutinise their work. Photos / Supplied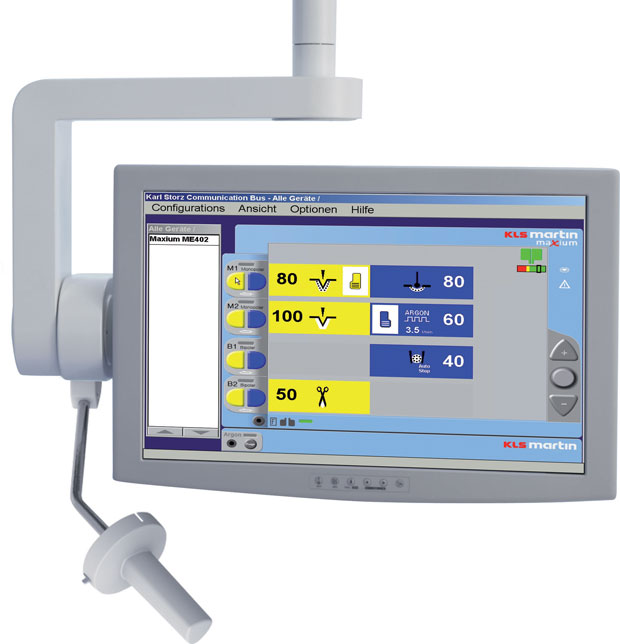 The hospital says the new image capture and viewing system will eventually allow images, including video, of the operation to be downloaded into the patient's notes as a comprehensive record of the procedure and a tool for training other doctors and nurses. At present, an operation's images can be downloaded only manually on to a portable memory device and only still images can be scanned into patients' notes.
Former clinical leader Dr Richard Aickin, a Starship ED specialist, says the upgrading is all about children.
"This is about a standard of care for children, what you do to make a hospital procedure or attendance of the child actually acceptable ... as non-traumatic and supportive for the child as we can. Coming into hospital is a very scary experience and often involves discomfort and a whole lot of things a young child has a great deal of difficulty understanding."
HELP OUR KIDS: What we are raising funds for
SCREENS
- 26-inch screens in direct view of surgeon and others to see surgical site.
- 42-inch wall-mounted screens. For trainees and team to follow operations without having to peer over surgeon's shoulder.
- At present, screen mounted on surgical equipment stack trolley.
CORE SYSTEM
- Computer system to capture and view images.
- Surgical images from cameras in lighting sets sent to screens in the theatre.
- Images will eventually be able to be downloaded to patients' notes.
- Only limited ability to store images at present.
- X-ray/scan images can be displayed on surgeon's screen. At present only on wall screens.
LIGHTS
- LED lighting sets
- Brighter
- Reduces surgeon fatigue
- Some sets have a camera
THE FIT-OUT AND WHAT IT COSTS
NEW OPERATING THEATRE
- 1 x large lighting set: $28,000
- 1 x small lighting set with camera: $33,500
- 2 x 26-inch screens: $13,600
- 1 x 42-inch screen: $3900
- 1 x core system: $36,000
OPERATING THEATRES 2, 3, 4
- 1 x small lighting set with camera and 1 large lighting set: $50,500 per OR
- 1 x 26-inch screen: $6800 per OR
- 1 x 42-inch screen: 3900 per OR
- 1 x core system: $36,000 per OR
OPERATING THEATRE 1 (minor-procedures room)
- 2 x lighting sets (no cameras): $38,250
- 1 x 26-inch screen: $6800
- 1 x 42-inch screen: $3900
- 1 x core system: $36,000
TARGET: $150,000
Source: Starship foundation
Or make an offline donation by printing off and filling out the form below: