The Herald and World Vision want to raise $100,000 for the urgent water and sanitation needs in the Hanuabada village of Port Moresby. Each day we'll be reporting on a particular problem for the region and showcasing how World Vision has helped. Today, when climate changes.
Our welcome to the Tobenam community is given special treatment from what feels like the whole village.
Drummers thump away on traditional bamboo pipes, a group of warriors greets us in dance while young girls smear plant die on faces and drape our necks in bunches of fresh picked betel-nut.
First impressions are of an idyllic well-organised group. On one side is the ocean, where small fishing boats lie shaded by coconut trees on a white sandy beach.
On the other, there are extensive gardens, including young cocoa plants under cloth in a large nursery. But it soon becomes obvious that this village is living barely one step ahead of hand to mouth, as they try to come to grips with the effects of climate change.
Village leader Mak Peka, recalls the massive drought of 1997 when the village's water dried up and crops were destroyed. And now they are recovering from another drought that last year left their community without enough to eat.
"We used to have the climate being well distributed, coming in with the wet season only three months and then the dry season, it was very good these things."
"But not now. It comes in hot. Same as rain, it comes and stays raining for three to four months. It makes it hard for us to cross the river to grow our gardens."
Suffering the harsh effects from an extended El Nino event, traditional crops that have kept this village fed simply no longer grow.
A programme implemented by World Vision has bought in more drought-resistant options, which is helping, but it is a delicate balance.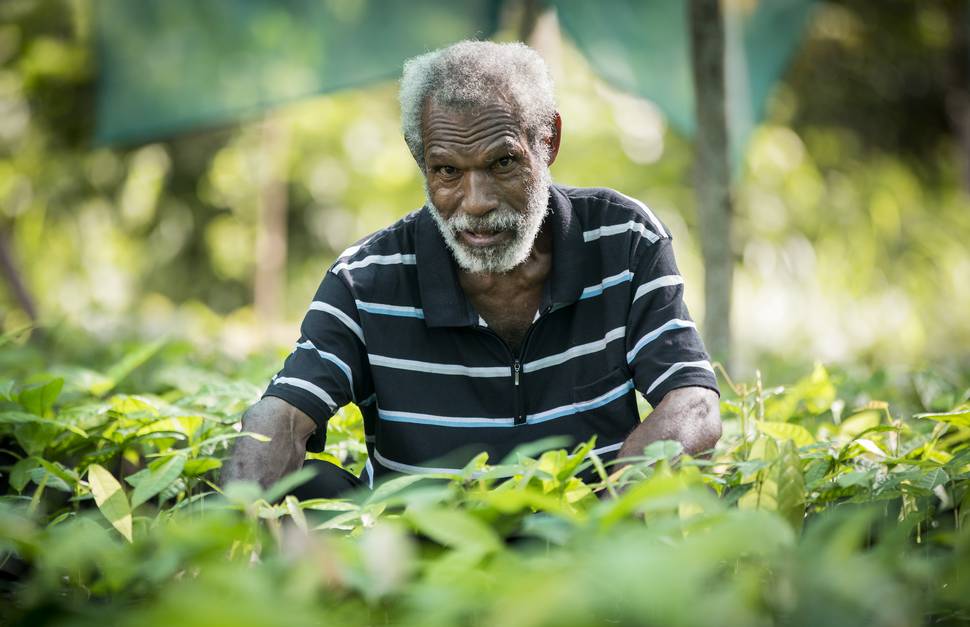 No longer can banana, cassava, yam or sweet potatoes be reliably grown. They are now supplemented with foods like taro, greens, wild yams and sago which is a staple.
"We feel very bad, yes we were hungry, we had to struggle a lot to find food. Every day was a problem and struggling. We normally have only one meal per day.
"It is very hard for the kids."
Read more:
•Hidden Pacific: Q&A
•Pregnant mum's long trek for malaria shots
•Illness lost to West still ravaging island villages
Whereas the village once derived extra income to purchase food from cocoa crops, a cocoa pod borer (CPB) moth arrived in PNG in 2007 with devastating results.
Production was reduced in some regions by 82 per cent, and villages like Tobenam have been forced to rip out entire crops and start again.
Despite having a nursery filled with young cocoa plants, these will take years to bear fruit which leaves Mak frustrated.
"You can hardly control this disease. It means the whole village has to co-operate. When I cut my crop down - my plantation - the other person has to cut his down. If he doesn't it still affects us."
With no money from cocoa and El Nino winds frequently whipping up seas too large to go fishing, the responsibility of feeding the village weighs heavily on Mak.
"When I was born there was no problems with the climate. It never took place, now it is very hard."
What at first appeared like a postcard to me turns out to be anything but.
How can I make a donation?
You can make online donations, phone donations and offline donations.
Phone donations can be made on 0800 90 5000.