Lowdown:
What: Auckland Art Fair - 40 galleries and 150 artists take part in this year's fair.
Where & when: The Cloud, Auckland Waterfront; May 2-5
ANDY LELEISI'UAO:
Wallace Arts Trust Paramount Award winner Andy Leleisi'uao and Bergman Gallery (Rarotonga) appear at Auckland Art Fair as well as opening at the Pah Homestead Kamoan Mine, the first major survey show of Leleisi'uao's work which stretches back to 1996.
Tell me about the artists who influenced you when you were young?
There are two of them: Masaccio, especially The Expulsion from the Garden of Eden, and Pietro Perugino. They are two totally contrasting artists from the Renaissance period; I was introduced to them by my art teacher Max White in art history classes at Māngere College, which must have been in the mid-1980s. Perugino's painting style is so subtle, so calming and so serene; it makes you believe there is a heaven or afterlife that you want to aspire to be part of but then you've got Masaccio, who is just rugged and visceral but he has that total empathy with Adam and Eve being shut out of Eden. You can feel the torment on their faces.
How do these paintings make you feel – even today?
There's a touch of nostalgia, of when I first discovered them but also I put them in context of the time when the artists created these works and think of their genius and how they mixed their reality with religion and their beliefs so you have this element of human experience with imagination. Having studied these two, I started to learn more about other artists of the same time and moved on to people like Raphael and Michelangelo and Leonardo. The timeline just grew but I always come back to these paintings.
How important is a good teacher?
Across any subject, I do think it's vital. It's more than teaching; you have the counselling that comes with it but it's like nurses, who are so underrated in this country. With art teachers, I always think of the movie Mr Holland's Opus, where they might have felt they missed their calling but, at the same time, they have created a symphony of younger artists who are coming through, which I think is deeply enriching. My Māngere College art teacher and I still keep in touch; we keep in touch every week and do our NRL picks - that's just the way the relationship has evolved during the years.
What about a more contemporary work that inspires you?
Fatu Feu'u from 1983 (untitled) oil on board; it has a calming influence and, because I've seen his work evolve during the years, to me, this is one of those works that anchors everything he has done since then –my understanding is he is referring to when he first came to Auckland; this is from that period and I think he just missed Samoa but you can see he's trying to find his feet here not only in Aotearoa but establishing himself as an artist.
Does it matter to you who buys your work?
No, not really. I think it works on multiple levels and they buy it because they enjoy it and I am fine with saying au revoir. I've been fortunate enough to meet a - lot of people, who have bought my work during the years and I find them to be nice, friendly people. We all work hard for our money and I appreciate them buying a piece of work that they enjoy and believe in. Maybe one day they'll fall out of love with it but that's okay, because that happens as we change and grow and move around.
RUTH IGE:
Ruth Ige is a Nigerian-born abstract figurative painter, based in Auckland. A graduate of AUT, Ige appears at the Auckland Art Fair's 2019 Projects Programme Whanaungatanga (kinship) which highlights new and emerging artists. All works in Projects 2019 have been commissioned especially for the Fair.
Choose a particular work you have on your wall at home or that inspired you as a young artist, why did you pick this particular work?
Most of the time, my own paintings are on my wall but not in a self-indulgent way. It helps to be constantly exposed to my work and to think of new ways to push it forward. Also because the art that I want to own is miles away and worth a lot of money! I have had more of a virtual wall on my computer where a bunch of artists I was inspired by are archived for inspiration.
Who are these artists?
Years back, when I made a major change in my art practice, Jacob Lawrence was one of the artists who inspired me particularly his The Migration Series. I loved the message he was relaying and the way he presented African American life was inspiring. His style of figuration caught my eye; his use of shape, colour and form to represent the figure was something that clicked with me because it connected the style I had already. It wasn't hyper-realism so I felt I could approach figuration with my abstract visual language and it also inspired me to pursue exploring the black figure within art.
Another African American artist, Kerry James Marshall, inspired me early on. He's famous overseas and has shown in all the major museums and galleries you can think of but he isn't known here in New Zealand. When I first discovered his work, I was shocked I didn't know someone like that existed within those major spaces. The way he presents black life and experiences and the black body was - and is - quite life changing for me. It inspires me and makes me happy to see an artist of colour being taken seriously, being treated equally to other artists and being included in the mainstream and into art history.
I have also recently discovered Charles White, another African American who was finally given a retrospective at the Museum of Modern Art. His drawings are quite moving; he portrays people of colour with such dignity, grandness and sensitivity. I think that something I want to push in my own work and seeing his art made me want to do some drawings of my own. His drawing Seeds of Love in particular is a drawing that is inspiring me right now but to be honest my list of inspirations is really long!
How does it make you feel?
It makes me feel like I belong; it makes me feel like artists of colour who look like me exist and existed and, in general, that all people of colour both here and abroad have made a beautiful contribution to the art world but it has been hidden for various reasons. People down play representation and think someone is just being dramatic or sensitive but it is important to see representation of people who look like you in the world. But also a normalisation within that representation is important. In a way to say we have the same dreams, desires and fears.
What do you hope to show with your work?
I want to show in general that the stories of people of colour, their way of thinking and them as people are deserving of being within the mainstream and within contemporary art. We are also a part of contemporary life. I hope to show people new narratives of blackness. I think that is my main goal - to create and show images that are different, boundary pushing and expansive. In way honouring the past and bringing it with me to the future.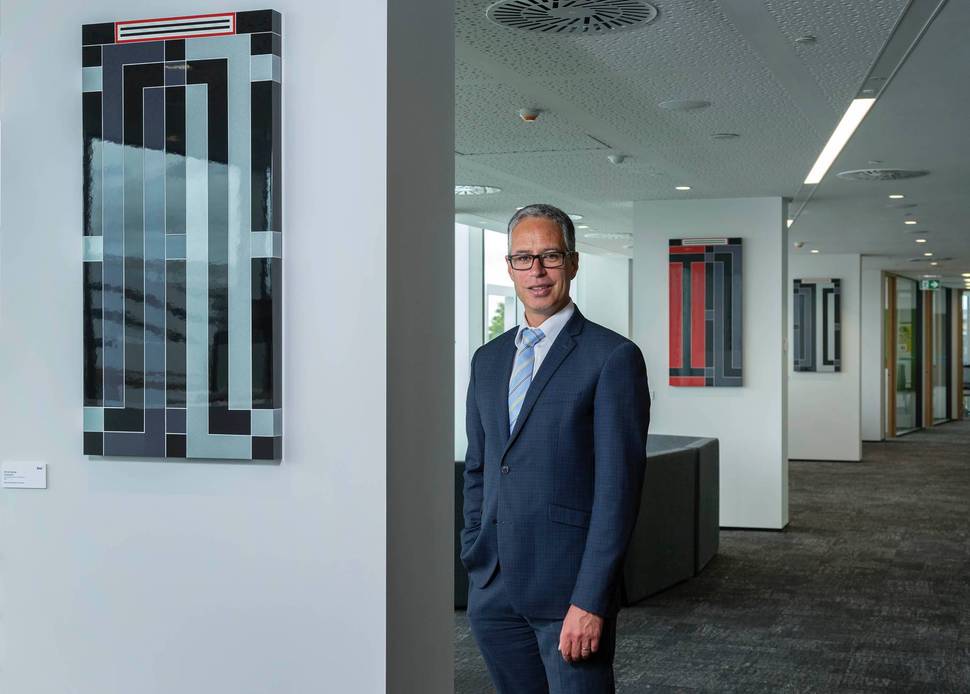 DARRYN GEORGE:
Christchurch-born Darryn George graduated from Canterbury School of Fine Arts but started his working life as a teacher who continued his studies and art making. He's become known for geometric abstraction, his use of colour and his combining of popular culture, Māori arts and Christian faith. George shows with the McLeavey Gallery at the Auckland Art Fair.
Choose a particular work you have on your wall at home or that inspired you as a young artist, why did you pick this particular work?
It's a Neil Pardington photograph from the cover of his catalogue from his 2009-2010 show at Christchurch Art Gallery, The Vault. It shows the card catalogue system of the Hocken Library with an intriguing combination of categories – things like Good – Grave; It starts with Captain Cook, and Jesus is placed near the centre of the composition. I picked it for several reasons: the aesthetic and how it relates to the way I set up my own compositions; the fact that the catalogue combinations intrigue me and it's just a beautiful thing to look at. It gives me so much pleasure.
Are you a collector or a minimalist?
I suppose we're reasonably minimalist; there's sculpture around and some photography and painting. We also have two Phil Price sculptures that we love [New Zealand kinetic sculptor Phil Price was the invited artist at this year's Sculpture by the Sea, Cottesloe exhibition where he won the people's choice and kids' choice awards]. I love his work because it's sculptural and I'm a painter - but I tend to look at sculpture and photography more than painting – and he's also one of my best friends so it's also about a connection we've had for a long time.
If you could afford one piece of art by anyone in the world what would it be?
Michelangelo's David. It's the most beautiful work in the world to me. When I first saw it, I couldn't leave the room and I kept coming back to it.
Does it matter to you who buys your work?
I love it when people buy my work because they don't need to. It's not like buying food or essentials. They're choosing to spend what disposable income they have on art and I never take that for granted. Sure, I've put time and effort in but they don't need it. It's lovely that they want it.
STAR GOSSAGE:
Star Gossage (Ngāti Wai/Ngāti Ruanui) will show new work with Tim Melville Gallery. The paintings were created after a trip to Whananaki in Northland, where she watched young cousins collect kina for the first time and says the images took on a photographic quality as they embedded themselves into her mind. She wanted to capture what was a really beautiful aroha day.
Tell me a painting on your wall – and how it makes you feel?
It would be one by my friend, Alvin Ferguson. There's a pōhutukawa branch with two groups of people close by – one group is sitting; the other is standing. I think it's quite romantic, poetic, feels joyous with beautiful colours that are heightened, almost magical. To me, it looks like summer and it makes me feel happy. I don't paint like that; I don't have the same sort of colour palette because maybe I was a bit scared of too much colour. Alvin and I went to art school together and we both ended up living in Pākiri.
Do you have much art on the wall and around your home?
SG: I do have paintings but the ones I have tend to be by people I know or by my whānau. Growing up, there was a lot of artistic activity at home with my siblings and parents (her parents were artists Peter and Tilly Gossage) so there's always been art around. I can't really imagine a life without art but I wonder if it would be calmer. I have a whare where people come to stay; there's no art in there.
If you could afford one piece of art by anyone in the world what would it be?
SG: That's a tough one because it changes every week. Right now, I would love a painting by Sally Gabori, who was an Australian Aboriginal artist - at the moment my favourite artist.
CHRISTOPHER ULUTUPU:
Born in Wellington, Christopher Ulutupu makes video/performance art with a nod toward early 1900s' landscape photography and "postcard tourism" as he addresses stereotypes and ways these can be re-imagined. The Samoan/Niuean/German artist is also an Arts in Corrections advisor at Arts Access Aotearoa. He'll be represented at the Auckland Art Fair by Millers O'Brien.
Choose a particular work you have on your wall at home or that inspired you as a young artist, why did you pick this particular work?
Actually, it's not an art work as such. My work features a lot of references from my childhood; my mum used to love watching beauty pageants like Miss World and Miss Universe. My cousins used to do this thing where they would dress up and wait behind a door for Mum to call them out and pretend they were in a beauty pageant. I remember things like making ball-gowns out of adult singlets.
How do you incorporate those ideas in the art you make?
In The Romantic Picturesque I have people in kimonos and bathing suits, lounging by a river and sipping gin and tonics. I want to transform and transport, to put people into unexpected pictorial settings to create something new. Beauty pageants are about transformation, about making something new because it's not just about beauty, is it? It's also about competition. I heard a rumour about the way film director Sophia Coppola writes and develops her films. Apparently she collates a list of songs and while listening to them forms images in her mind, then begins to write the script. This is very similar to how I create work in my practice.
Do you have art on the walls at home now?
Yes – I live with five other artists but don't ask me to pick just one of their works because that would be too hard! Often there's large-scale work around that we can't fit anywhere else so the house becomes a bit like an impromptu gallery. I can't imagine living in a world without art. What would I do? I think I would probably study law.
If you could afford one piece of art by anyone in the world who would it be?
I would buy probably something big and obnoxious! No, actually it would be Olafur Elliason whose work I saw at the Tate Modern. He inspires me in a whole lot of ways; I love the scale of his work – it's so big but it still has a sense of intimacy. It's simply sublime.