By Tom Augustine
"Very few of us live with such majesty." So says one of the many art historians profiled in documentarian Nathaniel Kahn's fascinating, quietly haunting The Price of Everything, about the collecting and purchasing of great artworks. A heady, multifaceted deep-dive into an often absurd and contradictory process, as well as a profile of the artists, critics, historians and collectors involved, Price is primarily concerned with immersion in a world where the best art equals the biggest bucks. It's a space in which an artist's work constantly hangs in the balance between jaw-dropping price-tags and obscurity; and the film positions the contemporary art market as a kind of microcosm of late-capitalist Western society, in which anything can be sold and everything has a price.
Can art in its purest form and commercialism exist in the same space? The Price of Everything is not interested in giving audiences a straight answer – though it is perhaps more in the corner of the purists than the "sellouts". Profiling a who's who of modern art, the film provides captivating parallels - most effectively contrasting the work of Jeff Koons and Larry Poons, two artists who, despite similar names, could not be more different – one having embraced commercialism in art to immense success, the other outright refusing to engage in the market, rather focusing on the joy of creation itself.
What's notable about The Price of Everything is its refusal to be purely didactic – the film profiles charming, fascinating characters on both sides of the argument. This can mean that the film's ultimate thesis can get a little murky – every time one side of the divide makes a convincing argument, someone on the other side seems to undercut the point being made. It's an even-handed approach that commendably lays final judgment on the viewer, but at times means that the impact of certain sequences is slightly dimmed. It is difficult, however, in the closing credits, not to see endless gorgeous creations locked away from the world for private collectors' personal vaults and not feel slightly incensed. It is as pure an expression of the haves-and-have-nots as any you'll see on screen this year.
VERDICT: A often troubling deep-dive into the corrupting influence of money in art.
RATING: Four stars
PRICE OF EVERYTHING: Dir Nathaniel Kahn, Rating: E
IN CINEMAS:
DESTROYER
– A grimy, tough-hearted neo-noir set in a sun-drenched LA, Destroyer features a transformative performance from Nicole Kidman as a traumatised detective drawn into an old deep-cover case when a perp resurfaces. Director Karyn Kusama is one of the most fascinating, muscular film-makers working today, and her efforts here powers through some of the more shakily scripted aspects of this episodic, twisty-turny story – most remarkably in a thrilling, bravado mid-film heist sequence. The film features a clever, circular structure that adds profundity to a dark and never-less-than fascinating potboiler.
RATING: Four stars.
DESTROYER: Dir. Karyn Kusama. Starring Nicole Kidman, Toby Kebbell. RATED R16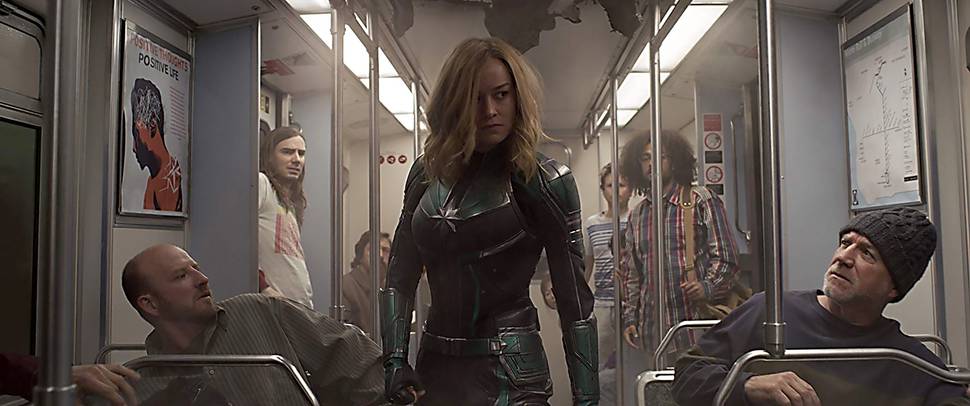 CAPTAIN MARVEL
– The latest from the Marvel Cinematic Universe juggernaut provides an origin story for the long-absent Superman of this world, Brie Larson's ethereal, all-powerful Carol Danvers. After the triple-hander feat of Black Panther, Avengers: Infinity War and Ant-Man & The Wasp in 2018 – all fascinating, fantastic films in their own ways – Captain Marvel is a somewhat more low-key story, featuring a fairly by-the-numbers lost memory plot structure and largely unremarkable action and production design. That said, the film is not without its pleasures – largely derived from a wonderfully game cast (including an astonishingly de-aged Samuel L. Jackson and a hilarious turn from Ben Mendelsohn) and one fantastic feline. A minor, but enjoyable addition to the Marvel canon.
RATING: Three-and-a-half stars.
Dir. Anna Boden, Ryan Fleck. Starring Brie Larson, Samuel L. Jackson. RATED M