What's it like playing in a park on a hot sunny day? We asked performers how they cope.
"There's nothing to do ... "
Don't you hate it when, midway through the long summer holidays after the excitement of Christmas has waned, the kids start to say that or you, possibly back at work and feeling restless, begin to feel that way?
The fact is, however, there's plenty to do in a region like Auckland during summer especially come Saturday, January 12, when Music in Parks begins. Newly crowned as a City of Music, Auckland lives up to the title with its council's annual summer concert programme.
The region's biggest free entertainment series includes 24 performances from musicians as diverse as rising electronic hip-hop act Yoko-Zuna to blues legend Midge Marsden and The Flaming Mudcats. Special events include crowd favourites Rock the Park in Grey Lynn in March (acts still to be confirmed); the Huawei Summer Jam headlined by Sons of Zion at the Manukau Sports Bowl in April and, at Lloyd Elsmore Park in March, Kiwi Anthems with Annie Crummer, The Jordon Luck Band and AutoMatic 80s.
Building on the popularity of last year's first kids music event, littlies and their families now have three special Kids Music in Parks events MC-ed by our cover girl, Suzy Cato, and featuring Craig "Mr Wonkey Donkey" Smith and Chris Lam Sam.
Admit it, it's not every day you can head down to a local park and hear someone like Smith perform live the story that's made him one of 2018's biggest-selling authors in the world.
That's kind of the point, says Auckland councillor Cathy Casey, chairperson of the Community Development and Safety Committee, which oversees the whole shebang.
A dedicated fan of the summer series, Casey says it's a chance for Aucklanders to see - and hear - what's in their neighbourhood or make a day of it by or maybe go further afield to explore a new place.
"It's one of the most-loved programmes we put on but it's more important this year because Auckland is now a Unesco City of Music," she says.
That status celebrates the region's musical history, unique sound and lively musical lifestyle. The designation sees Auckland join 180 cities from 72 countries around the world covering seven creative fields, and supports growing and nurturing the music and talent in our city.
"Music in Parks does exactly that, says Casey. "It reflects the talent, creativity and vibrant musical culture that made us stand out on the world stage at the same time as showcasing our wonderful parks. It's perfect."
And many of us agree - Music in Parks attracts up to 50,000 people annually - so let's make it a Summer of Sounds.
Park life
What's it like playing in a park on a hot sunny day? We asked Music in Parks performers how they cope with family crowds.
Suzy Cato
"When you have an audience that's primarily kids under nine you need to expect the unexpected. Talking, tantrums, hungry tums and bursting bottoms, it's all going to happen. You engage as best you can and know that if only one is noticeably joining in there's another hundred joining in 'on the inside'. Bringing the community together with music is fantastic and bringing them together with a focus on kids and families is just the best. There were no technical challenges at the last Kids Music in Parks event, but I turned up to perform in a massive college hall several years ago to find the organisers had provided a boom box to play my backing tracks with. The only mic was on the lectern, on the side of the stage! A teacher with big home stereo system saved the day."
• Suzy Cato MCs three Kids Music in Parks events: Coyle Park, Pt Chev, Saturday, January 19; Birkenhead War Memorial Park, Sunday, March 3, and Henderson Park, Saturday, April 20 (followed by the movie Peter Rabbit).
Jordan Luck: "There is a grand sense of community, of occasion, at Music In Parks events. Families, friends and the widest range of ages attend. You can anticipate a selection of the audience knowing and singing along with the songs and a selection of the audience not. However, five or seven dancers soon become 35. It isn't long before folk have lost their seats and their picnic hamper. We have never lost any children. They are usually up the front taking selfies. You do get to have your photo taken a lot at Music In Parks - but there is never any guarantee your gig will be a success. It is one of the perils of being in a group, in a band. However, having adept musicians, a modicum of memorable melodies, and a soundman or soundlady from Ngāruawāhia will be useful. Your sonic engineers need not be necessarily from Ngāruawāhia although it is beneficial. We often have loads of people who may be talking and doing other things when they watch. They are usually unable to hear what they are talking about, misunderstand everything, wander aimlessly in the audience and seem generally incapable of doing anything when they watch."
• The Jordan Luck Band performs at Kiwi Anthems, Lloyd Elsmore Park, Pakuranga, Sunday, February 24.

Craig Smith:
"I get a real kick out of having a positive impact on children's lives. I love watching parents laugh along with their children. I love parks, I love the outdoors and so do children. Music and parks is double the fun. All I need to play is good sound equipment and the dial turned up to 11. A good hooky song and some funny lines is all you need, but I also use puppets and audience participation."
• Craig Smith performs at Kids Music in Parks, Henderson Park, Saturday, April 20.

Niko Ne Zna
"As we are not from Auckland, playing at Music in Parks has allowed us to go to parts of the city that we have never been to. There is always a fun and relaxed summer atmosphere. The first year we did a Music in Parks gig a handful of very passionate Macedonians came up to us after the gig and proceeded to tell us how much they enjoyed our music and how it reminded them of their homeland. They insisted that we should come over to their place and continue to party but it wasn't possible as we had to catch a flight back to Wellington. Our goal is to try and grab the audience's attention from the first note of the first song. Our music is upbeat and very danceable, so many people tend to really appreciate our music from the dance floor. Others prefer to dance while having a picnic. We cater to all tastes."
• Niko Ne Zna is part of A World Music Celebration at the Auckland Domain Band Rotunda, Sunday, January 13.

Allana Goldsmith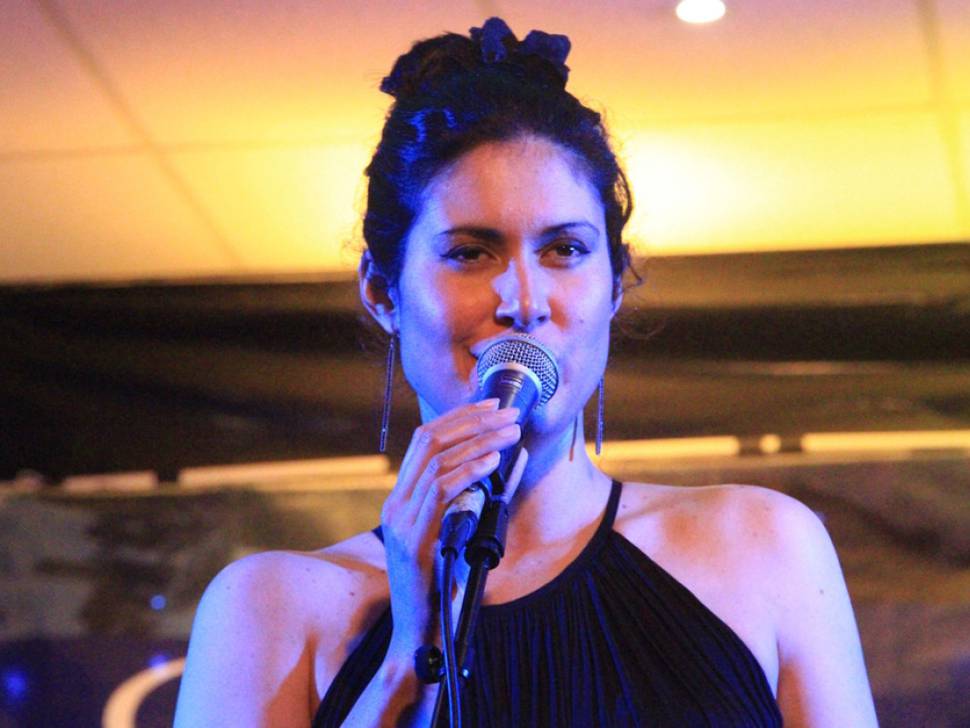 "I've played Music in Parks for about five years now and no matter what the band or what genre I'm singing, the thing I love the most is always the people dancing to the music. My daughter, Muriwai, is 10 years old now but when she was young she would love to dance right at the front of the stage. She would wear butterfly wings or a pretty dress and face the audience and dance all by herself. She often captivated audiences' attention so much so that they would clap for her. People would come up to me in the break and ask was she hired to be part of the event. I would say no, she's my daughter and just loves to dance. I especially love it when I'm playing a jazz set and the swing dancers turn up, dressed up and ready to go. Those guys are brilliant to watch. But it's not just the trained or pro- dancers that get up: sometimes we get a great bunch of people having a boogie, they lift the vibe even more. When people dance it really spurs on the band and we all have more fun."
• Allana Goldsmith joins the Auckland Jazz Orchestra at the Auckland Domain Band Rotunda, Sunday, January 20.

Yuko-Zuna:
"Music in Parks has become a staple in the NZ culture. It's great to see a variety of events, including all ages, various genres and venues, suburb-based events, and family-driven environments. It's really awesome to see and be a part of. We once performed at Music in Park in Papakura and got some very nasty rain. We all played soaked but had a great time regardless! We bring a lot of energy and vibrance to our performances. If people receive that energy, they won't be interested in doing much else."
• Yuko-Zuna join JessB and Barracuda Swim School at Summer Beats at the Beach, Manly Park, Whangaparaoa, Saturday, March 9.

1174
"This is the first time we've had the opportunity to play at Music in Parks. A bunch of my friends attended the last one and they can vouch for it, so I think we're in for a good time. Whether you're playing in front of 20 people or 20,000 people, on an outdoor stage or at a club gig, headliner or support act, your stage presence should always be the same. It's important to demand the crowd's attention: they are there to see you. Read the audience and have fun with it – if you're enjoying yourself, chances are they're having a good time too."
• 1174 perform with Raiza Biza and Villette at New, Urban and Hip-Hop at Riversdale Reserve, Avondale, Sunday, January 27.
But wait there's more ...
As well as Music in Parks, Movies in Parks also arrives. The format is simple: a free movie in a local park for the whole neighbourhood so pack a picnic, a torch and warm clothes, and watch your favourite movies under the stars. Jurassic World, The Greatest Showman, Grease and The Incredibles 2 are just a few of those screening in the 2019 series, which opens with a new release on Friday, January 25, (title to be announced early January).
Movies begin once the sun goes down, but the fun starts early with pre-movie entertainment to enjoy while you relax in the park and soak up the atmosphere of our open-air movie theatres.
What: Music in Parks
When & where: From January-April at parks all over the Auckland region.
More: musicinparks.co.nz and moviesinparks.co.nz for the lineup and programme.