Last week we were treated to streetwear couture, while this week the challenge was to create treasure from trash.
The up-and-coming Kiwi designers had to create an outfit from items they found at a computer recycling warehouse full of outdated technology.
It was the contestant's first team challenge of the series - and the first unconventional materials challenge.
"Where one member of the winning team wins and one member from the losing team, goes home," host Georgia Fowler reminded the contestants.
As you can imagine, the contestants got stuck right in to ripping and tearing their way through the tech junk to make their masterpieces.
Peni rocked some serious spectacles as he cut deep into some tough circuit boards.
Matt designed a futuristic bubble wrap panelled turtleneck, while Beau designed a see-through glitzy keyboard skirt. The judges thought it was unusual, but did not work together in unison.
Misty and Beth
This gal pal pair worked together seamlessly even though Beth admitted that she was sceptical at the beginning, saying she thought out of anyone in the group, their personalities would clash.
They both adjusted to each other's styles, Beth's undeniable 'pin-up girl' and Misty's sense of cultural femininity.
Cami and Peni
Although they both had the best intentions to make a dreamy green garment, this one just didn't quite cut the mustard. The model looked semi-dressed as she strutted down the catwalk in a nude fabric covered in clunky and itchy microchips.
The skimpy outfit looked like Tinkerbell went to Vegas and made her dress out of bread loaf tags. No thanks.
Benjamin and Caitlin
These two designers just 'get' each other. Which is lucky because we don't think Benjamin could have been paired with anyone else.
They both decided on a palate of black and white with a touch of silver to add glamour. The small white embellished bolero jacket screamed Chanel with geometric elements of Sass n Bide. Do you see it? We do.
Jess and Massey
Wow. This is very... blue.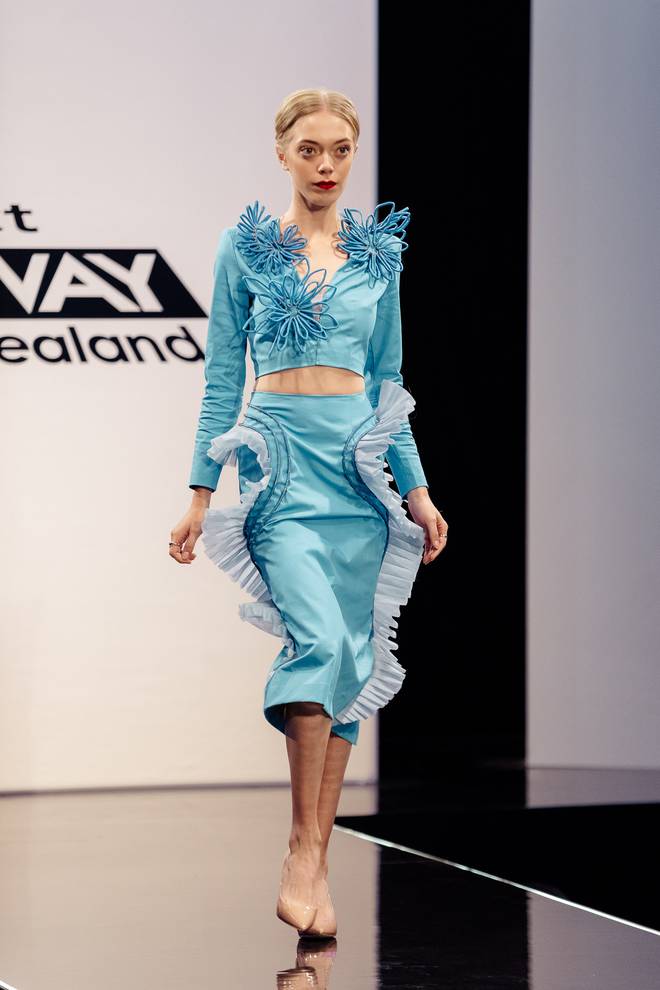 Jess and Massey's outfit would be something a mermaid (who was new to land) would wear to a corporate race day or if she wanted to be an air hostess in the 80s. The blue and the ruffles were a bold choice but the judges were more 'meh' than mad about it.
Kerry and Judy
Ah, these two sweeties worked well together. Judy's strengths shone through with her hand-stitched embellishments and Kerry's vision of an 'older gothic lady's' overcoat wowed the judges.
They all adored the heavy detailing but weren't too keen on the silver tasselled jumpsuit underneath.
WINNERS AND LOSERS
The judges decided the winning team was Kerry and Judy this week, with Kerry being the ultimate winner for his elaborate coat design.
26-year-old nursery worker Matt was turtleneckfter the judges decided his bubblewrap turtle neck design "wasn't cohesive and wasn't the strongest look on the night".
Bye Matt!
Project Runway New Zealand screens Mondays, 7:30PM on TVNZ 2. At 8:45PM Models of Project Runway will be available exclusively on TVNZ OnDemand.