Pink's husband Carey Hart has vowed never to fly United Airlines again after a terrible flight back to the United States from New Zealand.
After what he described as "an awesome 10 days in New Zealand" the motocross star was left appalled with his flight to San Francisco.
"Never again with @united," he wrote on Instagram.
"Absolutely disgusting how they treat paying customers. Thanks N. Ayala for the patronising treatment in San Francisco."
And alliance partner Air New Zealand didn't come out too well either. When a fan suggested that Hart fly our national carrier next time, Hart responded that he did, and he never would again.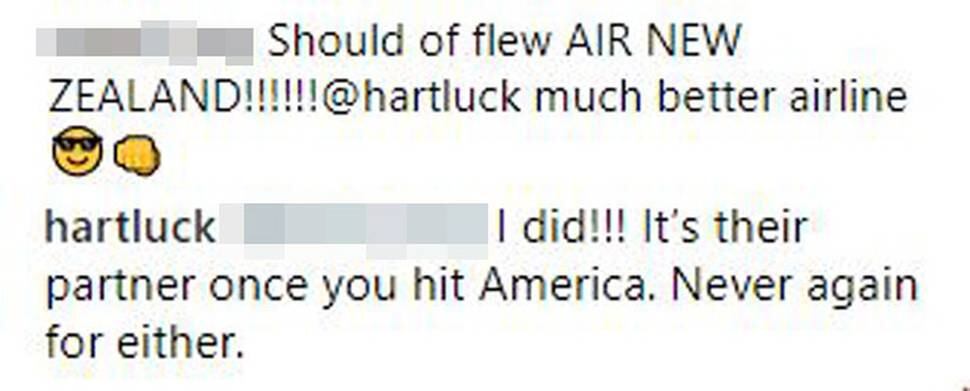 It's a bad end to what was otherwise great time in NZ for the family.
Hart was full of praise on Instagram saying "This is definitely an amazing place and I'm really looking forward to coming back in the future. Thanks for the hospitality, and I'll see you next time."
Pink, Hart and their two children Willow and Jameson certainly made the most of their time here.
In addition to Pink performing a whopping seven shows, Hart got involved in the motocross championship in Timaru, Willow showed off her skiing skills at Snowplanet, and they enjoyed a night out celebrating Pink's 39th birthday.
It wasn't all rosey however, with Pink tweeting her disappointment at Auckland bar Deadshot.

The bar is defending itself following the tweet, telling Newshub they were full and staff "didn't see Pink at all".
"Yesterday afternoon someone from the crew came back in and asked if they could book a private space for 30 people," a spokesperson for the bar said.
The manager explained they couldn't accommodate them due to the size of the venue and style of service and recommended alternative venues.
The spokesperson told Newshub that "30 people showed up at 11 anyway for 'a party for the musicians' and we couldn't let them in due to being full already."
Following the end of her final Auckland show the pop star was keen to kick up her heels and celebrate.
Despite not enjoying her experience with Deadshot she did find the "perfect" place in Ponsonby bar Revelry.