Advertising it as "the world's most expensive icecream sundae," the Three Twins Ice Cream will cost you US$60,000 ($91,000), but this is the bang you get for your buck: "Travel to the summit of Africa's highest peak, Mount Kilimanjaro, where Three Twins Ice Cream's founder will hand-churn a batch of ice cream with glacial ice from the mountain's summit. The mountain's glaciers are predicted to disappear within the next 10-15 years due to climate change - and your purchase helps raise awareness of this fact with a five-figure contribution to an African environmental non-profit. The sundae's price also includes first class airfare to Tanzania, five-star accommodations, a guided climb, as much ice cream as you can eat and a souvenir T-shirt made from organic cotton." (Source: Weird Universe)
More strange names
1. In the NZ Police there was a Constable Roger Sergeant. On promotion he was addressed by staff as Sergeant Sergeant. He was further promoted and was then Senior Sergeant Sergeant. Roger was a well respected NCO at Auckland Central.
2. My neighbour in Whangarei, Carol, married a guy called Christmas.
3. I flatted with a girl called Maureen. She was a quiet person for whom things did not seem to work out. Her surname was Happ. Miss Happ.
4. I worked with a gentleman with last name Roundtree - we called him Squarebush.
5. I flatted with a guy in Christchurch called Dave Hole who owned a landscaping business. He would tell clients that one day they would have a son who would take over his business and he would call him Doug.
Bad reviews on menu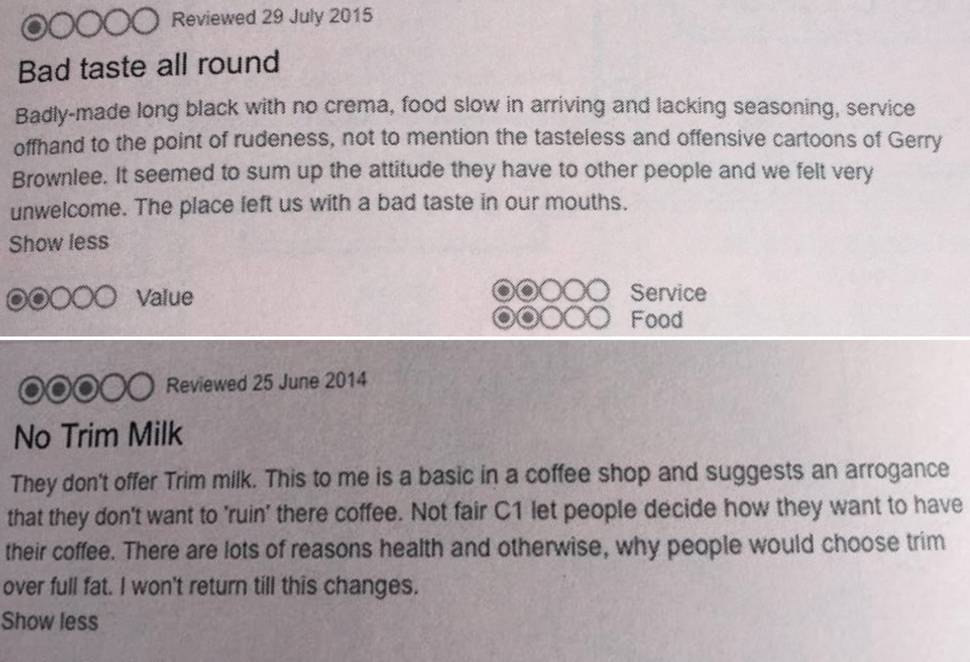 C1 Cafe in Christchurch has embraced their bad TripAdvisor reviews by printing them on their menu, including this one from a National Party voter from Hamilton and another offended by the lack of trim milk.
Mystery surrounds 'the' beginning
Language expert Max Cryer observes that there is no sure evidence why some places have "The" before them, and others don't. One feasible but imperfect explanation which has arisen is that "The" often precedes a district named for a notable geographic feature within its area: e.g. The Bay of Plenty; The Waikato (river); The Chathams (islands), The North Island, The Manawatu (river); The South Island; and at a pinch The Naki (mountain).
Quick links
1. Precision cucumber slicing.
2. Big truck meets tiny wooden bridge.
Video pick
Mammals in slow motion from BBC Earth…