Like her hit song Raise Your Glass – American superstar Pink had gig goers doing just that as she raised the roof in Dunedin's Forsyth Barr Stadium.
From the second the songstress appeared on stage, swinging off a pink chandelier singing Get the Party Started, the crowd responded accordingly.
From the opening song to the closing set the audience was in line for a visual and audio treat.
The overall production was impressive.
Three PA stacks were spaced out along the length of the stadium, the front stage runway was a travellator and the graphics, use of video content, pyrotechnics, choreography and aerial display all added to the wow factor.
There were multiple cartoon caricature costumes changes for her dance troupe. And when she started to sing Revenge – a huge blow up Eminem character, the height of the stage, was wheeled on as a nod to her collaboration with the rapper.
The popstar hinted at a technical glitch saying, "Oh my goodness, there almost wasn't an Eminem."
It was just one of the many surprises. Coming back on to stage, three songs from the end of her set, she soared over the crowd belting out So What. She flew from one end of the stadium to the other, balancing, twirling, jumping, giving high-fives to screaming fans.
The biggest cheer of the night was saved for when her daughter Willow was called out on to stage. The seven-year-old ran into her "mama's" arms equipped with bright blue noise-proof head phones.
However, despite all the bling, choreography and dazzle of a big-bucks show – it didn't take away from her unique and amazing voice.
She belted out hit after hit from her new album as well as her back catalogue and had the crowd singing along.
Pink also sang from other artist catalogues - Gwen Stefani and the entire audience rocked out to Nirvana's Smells Like Teen Spirit.
She may not have mentioned Dunedin by name but the local references got the crowd going.
She told the 37,000-odd strong crowd that she'd been to the farmers market with her kids – where she bought flowers, pies and "really good coffee".
"It has been way too long since I have been here."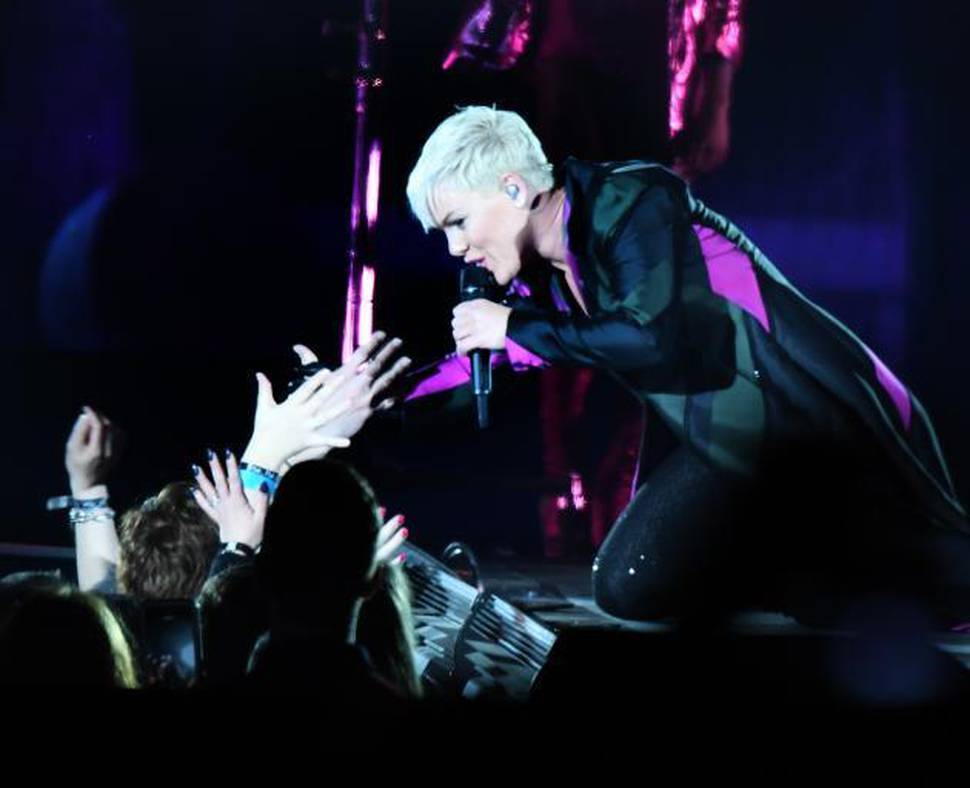 During the set as Pink pointed to the crowd and said "thank you for coming along".
Many of the audience were in no doubt thanks should also be directly at the songstress who put on a blooming great show in Dunedin.