As a new exhibition showcases the work of one of our artistic pioneers. Dionne Christian talks to contemporary admirers of the visionary driven to abstraction
Gordon Walters changed the way New Zealanders made art and looked at the world around them.
At a time when landscape painting was favoured by NZ artists — at least those of European descent — Walters had a new vision which saw him combine abstract modernism with traditional Māori motifs and symbols.
From the 1950s onwards, the Wellington-born graphic designer and artist focused on a minimalist approach combining sharply drawn and controlled forms with a limited colour palette to create his own visual language. The potential of these few geometric elements and controlled use of colour proved to be boundless.
The potency of Walters' work is highlighted in Gordon Walters: New Vision, a major retrospective now on in Auckland. The retrospective includes 130 of his works, showing the depth and breadth of his imagination, while Walters' original black and white koru paintings of the 1960s are brought back together for the first time and shown alongside never-before-seen paintings, studies and notebooks.
A partnership with the Dunedin Public Art Gallery supported by the Walters Estate, this is one exhibition you don't want to miss. Exhibition co-curator Julia Waite shares her thoughts on why Walters matters — further reinforced by the Chartwell Collection, a collection of contemporary art from New Zealand and Australia held on long term loan at Auckland Art Gallery — while designer Brett Sanders talks about Walters' enduring influence.
JULIA WAITE
Art critic David Sylvester once described the way an abstract painting by Mondrian can "move with the force of a thunderclap or the delicacy of a cat". This quote reminds me of Gordon Walters' work.
Although Walters' paintings may look austere — like one of Mondrian's compositions — the different formations of geometric shapes and colours convey tremendous feeling and evoke emotional responses. The paintings are expressive but you need to tune into them. You need to really look at them.
Walters is this country's extreme ultra-modernist. Based for most of his life in New Zealand, Walters was perhaps Mondrian's most far-flung follower and arguably his most interesting. The paintings Walters created are inspiring because of their progressive and radical nature: they have edge and can make you uncomfortable because Walters took risks.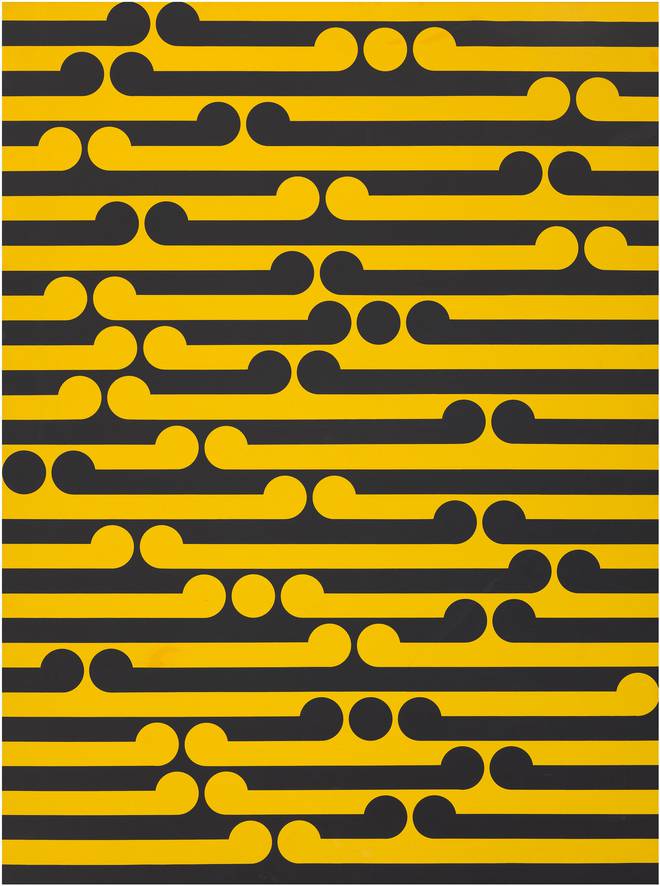 The paintings reverberate with tension, visible on their surfaces and in the critical commentary they have attracted. Now, Walters' most famous paintings — those that employ the koru motif derived from kōwhaiwhai (painted scroll patterns) — hover in an uneasy space. And this is one reason we should admire his work: it generates debate, something essential in society because debate ensures multiple perspectives are sustained.
Not content to follow conventional approaches, Walters struck out on his own, committing himself to abstraction very early on, when there were few local artists to model himself after. He met his mentors not in artists' salons or at cosmopolitan art schools, but through books and magazines. He looked offshore to the work of modern European abstractionists, including Mondrian, and set out to learn about different forms of indigenous, particularly Oceanic art.
I admire Walters' focus and the seriousness with which he pursued an independent mode of painting. Several decades before the milestone exhibition Te Maori (1984), which elevated Māori art to the status of fine art in the wider culture, Walters was exploring taonga at the Dominion Museum, Te Papa's precursor. Today Walters is acknowledged, along with Len Lye, Theo Schoon and Dennis Knight Turner, as part of an early group of Pākehā artists who looked seriously at Māori art for inspiration.
Walters looked to absorb his influences and synthesise ideas to develop a deeply personal and reflective visual language, that spoke to his immediate place in the world and the connections between artistic movements.
It is not possible for me to name a favourite Walters' work — that's not how I experience his art. Instead, I am moved by Walters' singular focus, by the collective achievement his entire oeuvre represents and by the rhythms across the different phases of the practice.
BRETT SANDERS
If imitation is the sincerest form of flattery, Gordon Walters is one of the most flattered of the heavyweight New Zealand modernist artists. His designs are ubiquitous and it's not hard to spot his influence in murals, logos, all manner of graphics in the New Zealand landscape.
As a graphic designer, I'm drawn to the works of Walters for their minimalist, modernist approach to form and colour. I always preferred a limited colour palette and his use of monochrome, two or three colours in his works, has appealed to me from way back when I studied art at college. I've always admired his talent for creating abstractions with economy of form.
His Koru pieces are, of course, the most widely recognised of his explorations but his lesser known works appeal to me just as much, if not more. I'm really looking forward to seeing a comprehensive exhibition of his work so I can explore his early influences and gain a further understanding of the development of his art forms over time. His workbooks, notes and studies will help me form a better understanding of his methodologies.
I admire his contemporisation of traditional Māori motifs and designs — and though he drew criticism at the time for appropriation of Māori culture, to Walters it was always about an exploration of form and colour. I think that in present day Aotearoa, there is an increasing willingness to combine Māori and Pacific art forms with other cultures that have fused into our way of life during time.
The world of art should never be static and Walters' career is a fitting tribute to how New Zealand has developed its own unique identity.
THE CHARTWELL COLLECTION
Gordon Walters' artworks are some of the most recognisable in New Zealand. It is little wonder that when former Prime Minister John Key invited designs for a new New Zealand flag in 2015, one graphic designer suggested Walters' work was an important visual reference. In that context, Walters' imagery helped convey the significance of our history as a nation where cultural roots lie in shared Māori and European world views.
In New Zealand, we can trace an evolving history of image making where a wide range of artworks have come to share basic forms and where their making is the expression of the innate need to create — something all humans share. Walters' work, along with contemporaries such as Colin McCahon and Theo Schoon, is part of this shared history — one where Western art was changed dramatically by colonial contacts with indigenous arts and where indigenous arts were changed through contact with Western art traditions.
Often impossible to describe in words, the history of shared image-making explores the way we see and think. This is even more relevant today when images shape how millions think and act. Artists are more aware than most of the power of images; public art galleries have a crucial role in revealing these processes. Collections such as the Chartwell Collection, a charitable trust collection, can capture this thinking, revealing and educating as wide a public as possible in shared creative visual thinking. Walters' works in the Collection reveal his deep understanding of visual thinking, reflected in his processes, his knowledgeable exploration of perception and the resulting engagement with the viewer.
Lowdown
What: Gordon Walters: New Vision
Where and when: Auckland
Art Gallery Toi o Tāmaki, until November 4