Alice Neville meets the creators who are making television magic with te reo.
If you should ever find yourself in the bush at night, or perhaps on a misty mountaintop at dusk, do keep an eye out for the patupaiarehe. According to Māori lore, these mysterious spiritual beings largely keep to themselves, but the few folk who have glimpsed them say they're human-like, with pale skin and fair hair - a strange sight indeed to pre-European Māori.
With their magical powers and hypnotic flute-playing abilities, it's no wonder that patupaiarehe, who are often described in English as woodland fairies or sprites, have captured the imagination of many over the years (a quick Google search will reward you with hours of intrigue). Nicole Hoey is one of them.
Hoey (Ngāti Kahu) is the founder of Cinco Cine Film Productions, an Auckland-based television production company with a big focus on te reo programming. An idea for a kids' show based in nature had been simmering away in her brain for some time, and - setting aside their less-cute attributes, like a penchant for abducting attractive wāhine and the foul stench some say they leave in their wake - patupaiarehe provided the perfect inspiration.
But a decade passed between that first germ of an idea and the finished product, Tākaro Tribe (tākaro means "play" in te reo Māori). "The characters were all here," says Hoey, pointing to her head, "and then it was the format that took us a while."
That format is an animated series, aimed at preschoolers, focusing on the adventures of "Ngāti Tākaro" - five adorably chubby, toddler-esque patupaiarehe siblings who look a bit like Māori versions of Gumnut Babies.
Named A, E, I, O and U, they live in the enchanted Wāo Arapū (alphabet forest) and go on learning adventures, guided by Pāpā Rākau (tree father) and Kōkā (pond mother), meeting new bird and animal friends and enjoying plenty of waiata (singing) and kanikani (dancing) along the way. The patupaiarehe are named, of course, for the five Māori vowel sounds that are so crucial to nailing pronunciation.
"It's just getting those vowel sounds into their heads, and that makes learning the language so much easier," explains Hoey, who was inspired by the catchy "a ha ka ma na" song familiar to anyone who's been to school in New Zealand in recent decades, a version of which is the show's theme tune.
Early concepts involved each of the patupaiarehe having a twin whose name would be the long vowel equivalent of theirs, which in Māori is indicated by a macron or a double letter - so A's twin would be Ā or AA, E's Ē or EE and so on.
But it soon became clear that creating so many characters would require a "Disney budget", as Hoey puts it, so the idea was put on the back burner - but she hopes that in a future episode, the five patupaiarehe will visit a parallel universe and meet their twins.
Grand initial visions of Tākaro Tribe being "the Māori Dora the Explorer" were curbed somewhat by the aforementioned budget constraints, resulting in both concepts and the animation itself being simplified from earlier versions. The show has received funding through Te Māngai Pāho, the Māori broadcast funding agency, and Cinco Cine is currently going through the application process for funding for a third series (the first series of 20 12-minute episodes was released late last year, with a second series due out soon).
Tākaro Tribe merchandise - T-shirts, hats and talking patupaiarehe toys - sold through the show's website helps pay for it to be made too, says Hoey, but it's been a conscious decision to also have resources kids can access for free, such as downloadable colouring-in pages.
"It's just trying to make the language as accessible as possible," she says.
Encouraging a respect for the environment has also been a conscious decision, which is why the toys come in reusable bags and plastic is limited as much as possible. What's more, as the characters are further developed (short YouTube clips are being made to complement the TV series), they're going to have a passion for recycling, says Hoey.
"It's been a conscious effort to get through to this generation. If you get them when they're young, it's habit-forming."
The show is scripted by Hoey and Campbell Farquhar, Cinco Cine's head of post-production, and each episode is made in a fully te reo version - with help from te reo expert Te Haumihiata Mason - as well as a bilingual one.
"It's about making it as inclusive as possible," says Hoey. "When you've got your kids in kōhanga reo there are so few things fully in te reo Māori, but we also didn't want to lock out the people who aren't ready for the 100 per cent te reo Māori version.
"We want it for all New Zealanders and all children around the world."
That's not just a throwaway phrase - the show was developed with an international strategy in mind, with the bilingual version made so it can be adapted to any two languages. Cook Island Māori and Hawaiian would be natural fits, say Hoey and Farquhar, but they're not limiting themselves to Pacific languages, with Spanish and Mandarin also in their sights.
Hoey's son Tom, now 28, was in kōhanga reo when she developed Pūkana, the award-winning kids' show that was pioneering in its use of te reo when it launched, almost 20 years ago. It's still made by Cinco Cine to this day, and screens on Māori Television.
"I created it because there was nothing," says Hoey. "The kids were all watching What Now because they wanted to win prizes, and my son said to me if it was all in te reo Māori, then they could win all the prizes.
"At that time I was making drama and television commercials but I thought that's crazy, why don't I just sit down and make it."
Farquhar has an 11-year-old daughter in bilingual schooling as well as a 4-year-old, Valentine, who acted as a sounding board when Tākaro Tribe was being developed. Cinco Cine's Grey Lynn headquarters are very much a family affair, with many of the staff working parents who often bring their kids in.
"You just have to prepare for scooters coming at you at 100 miles an hour, but we can get them to quiet down when we need to," says Hoey.
"We're also lucky that we get to take them out on shoots and make them perform for us," laughs Farquhar, referencing the short clips of real-life tamariki that intersperse each episode.
Those clips are glimpsed through a pāua portal on the trunk of Pāpā Rākau, who is voiced by Te Kāea presenter Piripi Taylor in the te reo version and Rawiri Paratene in the bilingual version.
Paratene (Ngā Puhi), who's not only one of New Zealand's most respected actors, but also akin to Kiwi kids' TV royalty thanks to his tenure on Play School, has a long history of working with Cinco Cine.
The veteran actor's deep, characterful voice is the perfect fit for the kindly grandfather-like tree who teaches the patupaiarehe important lessons about shapes, colours and letters, interspersed with catch phrases like "tau kē!" (awesome) and "āe, mārika" (for sure).
"He actually looks like Pāpā Rākau too," says Hoey. "When I first saw the drawing I went, 'that's Rawiri!'"
Paratene laughs at this suggestion. "I guess as I get older I'm looking like an old tree," he says. "I don't mind that, I like trees.
"I've got a lot of respect for Nicole," he adds. "She's a hard worker and she's good at it."
He was drawn to the project because of its reo focus, and while programmes like Tākaro Tribe are a step in the right direction towards normalising the language, Paratene thinks we still have a long way to go as a country. While he's pleased the bilingual version of the second series is screening on TVNZ2, the fact it's showing at 6.40am is "a little bit disappointing. I think the networks could give up 12 minutes of American cartoons at peak viewing time for younger ones."
For Hoey, te reo is at the forefront of what Cinco Cine does, which is why she endeavours to employ bilingual staff where possible, an asset that is reflected in their pay. "With the pay structure, it's not a lot but it's an acknowledgement," she says.
"My kid was coming out of kura kaupapa and I wanted him to know that had a value on it, and that moving forward, our kids get placed in jobs because of their reo."
Lowdown
Season 2 of Tākaro Tribe screens on TVNZ2 weekdays at 6.40am from May 28. The fully te reo version will screen on Māori Television in July. Season 1 can be seen on takarotribe.co.nz

Ones to watch
Also in kids' TV this week, we look at the new generation of talented presenters cropping up on TVNZ's new on-demand platform, Heihei.
BO LIEW-KING
Year 7, Kowhai Intermediate presents science show George & Me
Hobbies/sports:
I love to skateboard and always make time to do it above most things. I also play football and spend lots of time with friends.
Best thing about being on a TV show? I liked working with the crew because I felt well looked after and they all had a great sense of humour. We had a lot of laughs.
What do you want to do when you grow up? I have no idea yet, although I would like to be involved with art and design.
What TV shows do you like? Stranger Things hit the top of my list this year, closely followed by Lost in Space. Can't wait for the next seasons.
Is science your favourite subject at school? Actually, it's not. I'm more into maths and art, but doing the show made me look at science in a different way, which was cool.
SIENNA MACKINLAY
Year 7, Manurewa Intermediate Māia on Māia The Brave
Hobbies/sports:
I love hanging out with my friends and family and just being crazy with them. I also love my phone and watching YouTube videos. My main sport is netball, but I also enjoy volleyball and swimming.
Best thing about being on a TV show? I just like helping kids with their fears, meeting new people and seeing people react when I tell them [I'm on TV].
What do you want to do when you grow up? I either want to be a movie and TV star, or a news reporter. Or a flight attendant, because I would love to travel around the world.
What TV shows do you like? My top three are definitely: Dance Moms, Hollywood Medium with Tyler Henry and Newshub, just like my mum. I just really love drama.
Is it hard to be at school and also working on a TV show? At the time it was a little bit stressful, just because I missed out on a tonne of work and activities. But I'm lucky I didn't get a lot of homework, otherwise I would have had to do that and my lines.
BILLIE COOMBES
Year 7, Riverhead School co-presenter of cooking show Kai Five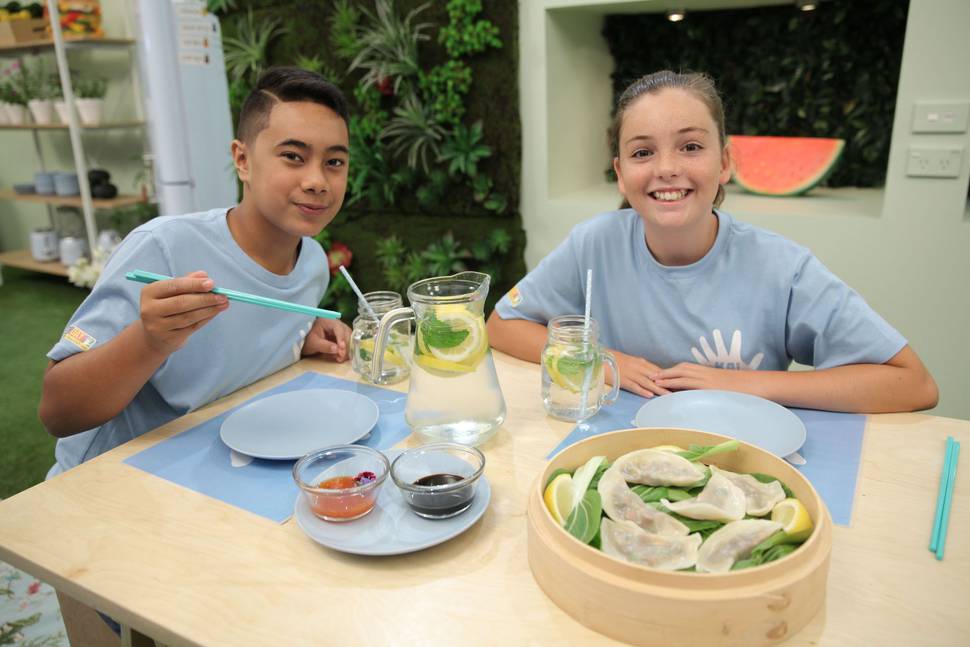 Hobbies/sports:
I love acting, cooking and baking, shopping and hanging out with my friends and my little sister.
Best thing about being on a TV show? Performing.
What do you want to do when you grow up? Acting, because I've always loved being in the spotlight.
What TV shows do you like? Modern Family, Bunk'd and Liv and Maddie.
What's your favourite food? Sushi.
What dishes do you like to make for friends and family? Cookies and scones.
KALANI TANIUEUA
Year 7, Kowhai Intermediate co-presenter of cooking show Kai Five
Hobbies/sports?
I attend SUPA (Saintz Up Performing Arts), which has helped me learn skills in guitar, hip-hop dancing, vocals, choir and drama. I also play softball, capoeira and sometimes box with my aunty.
How do you find time to do both TV and school? It is hard doing both. My school and teacher are supportive of me doing acting and my Mum helps me to keep organised. My parents told me that if I want to be great at anything I will need to work very hard.
What do you want to do when you grow up? I want to be an actor because it's a lot of fun and you get to work with heaps of interesting people.
What TV shows do you like? Shortland Street, Survivor New Zealand, The 100, The Big Bang Theory, Stranger Things, Black-ish.
What dishes do you like to make for friends and family? Bacon and egg pie that my Nan taught me how to make.
What's the best recipe you did on the show? Learning how to make mussel fritters.
• Heihei launches on May 28, available at heihei.nz or as an iOS or Android app.