Jimmy Kimmel has brought back a hilarious segment, "Mean Tweets", this time featuring a variety of famous musicians.
Artists including Pink, Fall Out Boy and Nick Jonas and many others are seen reading aloud 'Mean Tweets' sent from haters about themselves on Jimmy Kimmel Live!
The video begins with Jonas reading from his phone screen, "Nick Jonas was cute back when he was in the Jonas Brothers but now he looks like a ferrit (sic)."
Eventually, it's the Beautiful Trauma singer turn who reads, "Pink makes music for obnoxious white bridal parties that drunkingly walk into a Denny's and ruin everyone's evening," the singer read, laughing. "I would have said Waffle House, but whatever."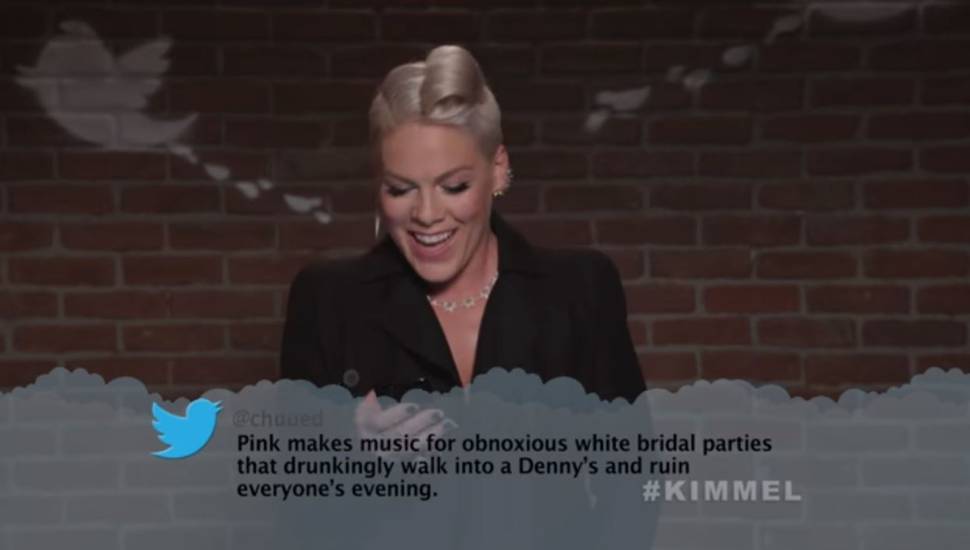 The members of Fall Out Boy gather around to read a bitter tweet saying, "Fall Out Boy is the Comic Sans MS of music. They are both entirely overused."
The clip ends with the American punk rock band Green Day, with this Twitter user not even able to consistently spell the band's name right.
"I left more talent in my toilet this morning than Greenday (sic) has ever had. Green day sucks d**k," the tweet said.
Other artists who feature in the segment are Usher, Alice Cooper, The Lumineers Common, Blink-182, Steve Aoki, TLC, Zendaya, Ludacris, Adam Levine, Niall Horan, Erykah Badu, Meghan Trainor and Depeche Mode.
Watch full video below: