A sleeping toddler sculpted by Duane Hanson is concerning New Yorkers after being displayed in an auction house's storefront window. Some passersby thought the artwork Baby in a Carriage, 1983 was a real baby who was somehow left unattended in a shop window. According to Reuters, some even entered the building to tell staff. The estimated price of the polyvinyl baby is $80,000-$120,000 - much cheaper than an actual child. Hanson, who died in 1996, was known for sculpting hyperrealistic people engaged in everyday life. This particular piece was said be sculpted after his son.Breakfast was a scream at Karen Turnbull's place the other day.
Muddled-up small talk
1. "You too" is a response I have used more than once when wished a happy birthday.
2. A colleague politely asked if she could ask a question. I muddled up "fire away" and "go ahead", telling her to "go away".
3. In a bistro in France, a friend had some lovely pea soup. With genuine enthusiasm she loudly declared, "you can really taste the pea-ness."
4. Caught sight of an ex-boss of mine from some years ago. Brain not sure whether to go for "hi" or "hello". Greeted her by shouting an enthusiastic "Ho!" across the street. I can never leave the house again.
5. I answered the phone at work and instead of saying "can I help you" or "please hold for a moment" I said "can I hold you?"
6. A man approached my brother at our father's wake, extended his hand and then said "congratulations" as he shook it.
7. Reminds me of the time I asked for £200 worth of Friss Wanks in the Post Office.
8. A friend's child said he dropped something "oopsidently". Now one of my favourite words
9. A friend of my mum's messaged her on Facebook to say that her dad had just died; somehow my mum managed to reply without words, but with a massive thumbs-up.
10. On one occasion when spelling out my surname over the phone I began with "M for millipede ..." I then proceeded to spell out "millipede".
11. Just remembered a friend who had on his CV general whorehouse "duties" instead of warehouse.
(Via @MooseAllain on Twitter)
Breakfast was a scream
I discovered the missing link
Fraser writes: "I received my monthly employer PAYE letter from IRD today and was encouraged by the tip on the back of the envelope suggesting I 'save time' and 'do it online'. Catchy. Great, I can save a trip to a post box and save money on stamps (because of course the IRD aren't going to fork out for a postage-paid envelope). So I went to the link - 'no such page'. Government efficiency at its best."
Lighten up ladies, says Frances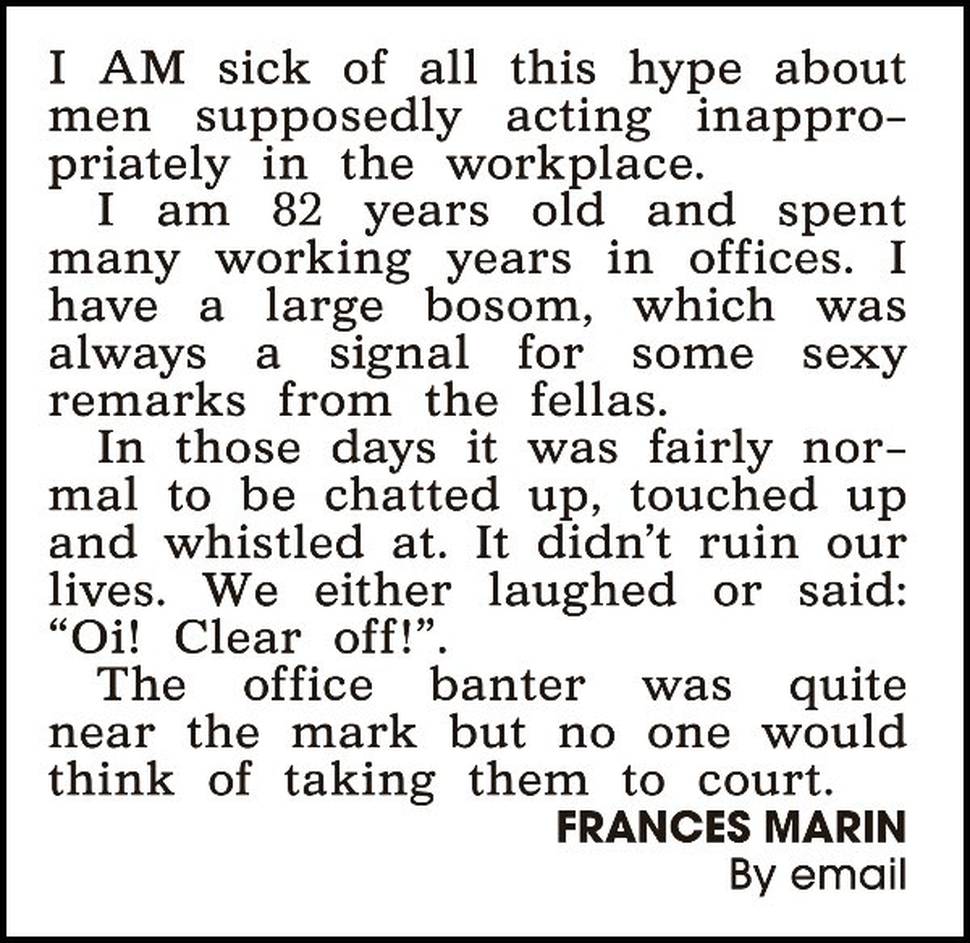 "I'm confident I can speak for every women in the past when I say NO ONE was harmed in any long term way. It's all just sexy office banter and no one raped anyone." (Via Pointless Letters)
Video pick
A friend of the bride and groom writes an deep and meaningful speech for their wedding ceremony.