YouTube crew Viva La Dirt League are scoring points with their gaming inspired comedy skits. Chris Schulz meets the crew.
Standing in front of a derelict shack near a creek, sorcerer Baradun is starting to have a bad day.
"I've got a big castle, it's pretty cool," booms Baradun, played by actor Adam King. "I've got 400 rooms. I can do magic. I'm pretty much a big deal ..."
"Pause for fluctuating light," interrupts Alan Morrison, the scene's cameraman who's dressed like an olden day greengrocer, strings of garlic dangling from his belt.
It's already King's fifth take, but the light's not the only problem: his accent's gotten wonky. "You went kind of Californian," advises Rowan Bettjeman, who, with an open shirt and ripped pants, resembles a twee village idiot.
Bettjeman's on a continuity quest. "What is it [supposed to be]? British?"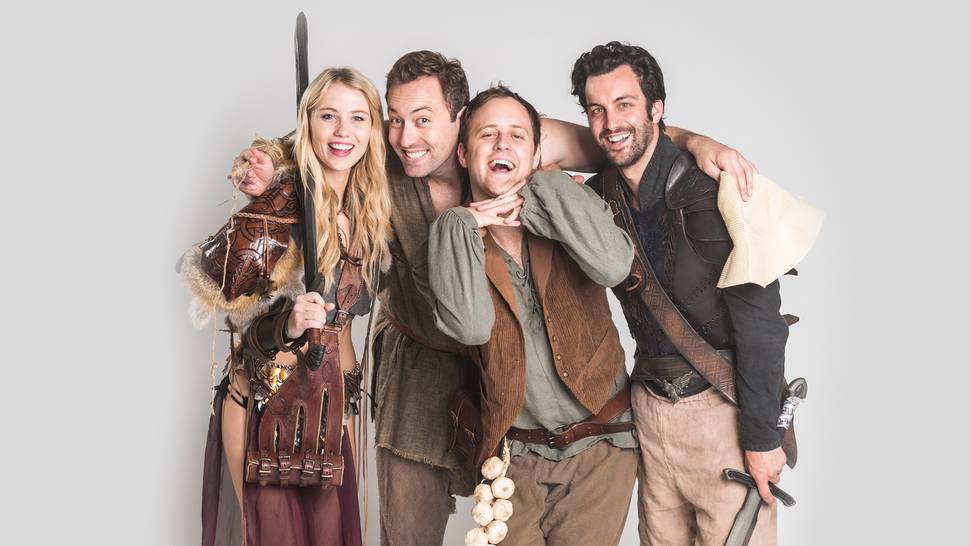 King agrees, the sun returns and the trio prepare to resume filming on their latest YouTube skit - one of six they hope to finish today - when another problem presents itself.
Visitors to their Howick Historical Village set wander slowly through the scene, confused as to whether the film crew are part of the attraction.
King, Bettjeman and Morrison wait patiently. They're not. The three friends have been filming here for years, using the site's ancient buildings and grassy scenery for their hit web series, Epic NPC Man.
Finally, around take nine, King nails the take and escapes under a tree to remove his faux armour and cool down. "I'll buy that," says Morrison.
It's a typical day filming for the YouTube troupe known as Viva La Dirt League, a group of three Auckland friends who've turned their passion for gaming into a career that is slowly but surely taking over their lives.
They've quickly established themselves among New Zealand's biggest YouTubers by posting short comedy clips weekly to YouTube, gaining hundreds of thousands of fans, millions of viewers, and an international following.
As well as Epic NPC Man, they also helm Bored and PUBG Logic, each series poking fun at plot points and cliches from their favourite video games.
Their growth over the past two years has forced Bettjeman and Morrison to quit their day jobs and go YouTube-ing full time.
"We've clocked life once we can comfortably pay our bills just doing this," quips Bettjeman, who earns a small salary but lives with his girlfriend to help cover costs.
This week sees the launch of their fourth show, a NZ on Air and YouTube-funded series called REKT, that follows a group of Kiwi gamers attempting to compete on the international e-sport circuit.
As today's antics near the creek show, the VLDL crew don't use scripts. They show up with ideas then film them on the fly, ad-libbing while taking turns acting, directing and filming.
Those that work with them says that makes their sets fun to be on.
"They're so great, so funny and it's really helped me in terms of my comedic timing," says Britt Clark, a regular on Epic NPC Man who recently starred on an Australian sitcom. "They're a good bunch."
Ellie Harwood, the star of one of VLDL's most popular clips, Gamer Girl, agrees. "They're pretty amazing but they're so easy to act with. We just adlib the whole time ... you just bounce off them. I really look up to them."
The trio recently received YouTube's Silver Play Button award for passing 100,000 subscriber numbers, but they've got bigger targets. They say they'll soon pass 200,000, and want their hands on the second trophy YouTube sends out at the 1 million mark.
There's another goal: they want to become the No. 1 YouTubers in New Zealand - but there's a long way to reach Shaaanxo, a Kiwi beauty blogger with three million subscribers.
"The annoying thing is ... everyone above us is like the All Blacks, and Lorde," says King.
Bettjeman corrects him. "No, we're beating the All Blacks now. We're bigger than the All Blacks on YouTube."
There's a stunned silence. The VLDL crew are happy to hear that news. Then the trio turn, walk back to their shack in front of a creek, and turn the camera back on.
There's filming to do. The light's come right, the set intruders have disappeared, and Baradun needs to sort out his accent.
LOWDOWN
Who: YouTube trio Viva La Dirt League
What: New web series REKT
Where and when: On YouTube, from Saturday
Also: Watch NPC Man, Wild Card, PUBG Logic and Bored on YouTube
Listen to our TimeOut Talks podcast: