Grand Designs host Chris Moller was left speechless by a family who spent months building their dream home - and didn't like the results.
In fact, Kelly and Joe Davison are so upset at the outcome they're selling their new home, and attempting to build it again.
Three's home building show returned last night to focus on the Davison family, two parents and six children who were building their dream house on a large lifestyle block overlooking the Kaipara Harbour.
With views to the horizon the house was Kelly's dream home and its design was based on an old Victorian villa in Dargaville that she had fallen in love with as a child and wanted to recreate.
The huge home included long hallways, large bathrooms and living areas, retro modern fittings and furnishings, a fireplace, a swimming pool, a "mud room" for muddy clothes and plenty of bedrooms for all their children.
To make the home, the family was forced to live in tiny makeshift quarters on the site. Nicknamed, "The Shed," four children were living in just one room.
The six month build also saw all six children pitching in to help - something they were visibly unhappy about.
At one point, they complained about being unable to go to sports games because of the build's demands.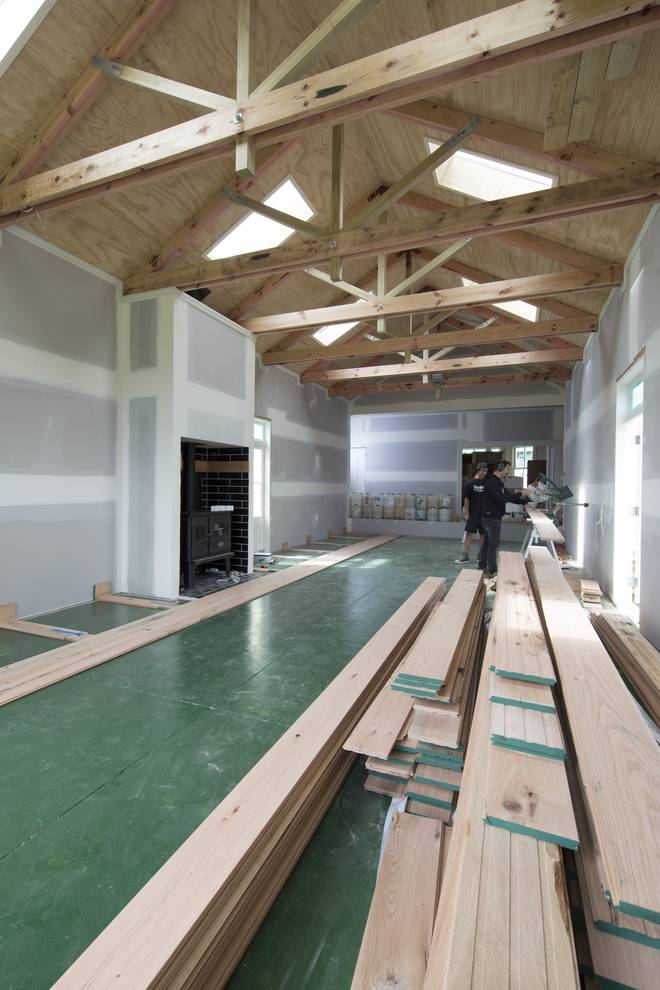 But after a tour of the beautiful finished home at the end of the show, Moller asked the Davisons if they were happy with the results.
The answer stunned him.
"I'm really proud of the house and I do think it's really beautiful, but I'm disappointed in the finer details. It's a personal thing, I feel like I let myself down," replied Kelly.
"Some little things I hoped to create but couldn't," she continued. "I couldn't have the ceilings the right height, I couldn't have old kauri floors at all, there's covenants on this land, everything has to be brand new.
"I already knew a couple of months into the build. I thought, 'Would that make a difference?' I didn't think it would but it did."
A visibly shocked Moller asked the couple what they were going to do about it.
"We're going to do it again. We're going to sell this, we think we've found the right piece of land," replied Kelly.
"We have to buy quite a big block and subdivide the main block off to get the piece of land to do this all over again."
Moller replied: "I am (speechless). I'm sitting here thinking this is the pursuit of a mad dream. Here you are, in this magnificent house you've built, that has enough (room) for all six of your kids."
On Facebook, viewers were also shocked at Kelly's disappointment about her home.
"Maybe she should change her thinking," wrote one. "She had a stunning home for her family and life is not perfect. Just enjoy what she could create."
Another wrote: "This is a beautiful home. I can't believe they are going to do it again- I fear it's chasing an impossible feeling."
The home is already listed for sale on Barfoot's website.
"With views out to the Kaipara Harbour and over the McKenzie Hills (that you just have to see for yourself) she was modelled after a gracious 1918 villa at the other end of the Kaipara Harbour," the listing states.
"She has been lovingly crafted and includes all the finishing details you could hope for. Beautiful double glazed double hung timber joinery, solid red oak flooring, corbels and finials, a wrap around rolled veranda, stained glass feature doors and windows, beautiful solid oak cabinetry, rimu fire surround with antique feature tiles and even a New Zealand made coal range.
"With the heated swimming pool and parklike surrounds, the property has been designed for kids to play and run and make huts in the bush. There's even a spot down the bottom to pitch the tents and have a campfire."
Kelly had previously said she was "mesmerised" by the Dargaville home she wanted to recreate when she first saw the villa while visiting the town to buy lollies with her Nana during a stay at her grandparents' farm near Matakohe one school holidays.
"It stuck in my memory," she said.
Decades later, in early 2016, Davison and her husband Joe were searching the Internet for inspiration for the house they planned to build on a section they'd bought in Helensville, north of Auckland, when she spotted it again.
"I told Joe 'that's the one I want, that's the one from when I was a child'."
They contacted the owner of the Dargaville house to arrange a time to have a look around and take some photos.
While walking through it, Davison said, it felt like "home", despite never having been there before.
"It's hard to explain. It feels like I've lived there but I haven't."
Grand Designs New Zealand airs 7.30pm Tuesdays on Three.