We're looking back on some of our favourite big reads from TimeOut this year. Today, we revisit Chris Schulz's interview with Khalid.
Khalid is having a year full of moments. What's the best one? There's no pause. The memory comes easily. "I practically got blessed by Elton John," says the softly spoken star.
In fact, Khalid, who is just 19, still sounds starstruck by the experience. "I met him. I signed my CD for him. He dedicated a song to me and told me I was going to be a big star."
If you're a young musician, it doesn't get better than praise from the Rocket Man. Khalid agrees. "That's probably the highlight of the year. Nothing can top that," he says.
But Khalid - it's pronounced 'Kuh-leed' and yes, it's his real name - is on his own trip to the stars right now. That's thanks to American Teen, the El Paso native's debut that channels teenage anxiety into dreamy melodramas laced with R&B cool.
Songs like Location and Young, Dumb & Broke have easily made Khalid this year's breakout star. As a result, he's getting used to living out of suitcases, staring out of hotel windows while talking to journalists in foreign countries. He knows his schedule: "I'm in Salt Lake City. I have a show tonight, then we go to Los Angeles tomorrow."
But getting a shout-out from Elton John is just one highlight from a year full of "slightly overwhelming" experiences. "Everything has been super-crazy," he declares. "So much has changed. It was overwhelming at first but I got used to it." He adds: "My mum is really proud of me."
It's no wonder. Khalid's living the dream of many a musician right now. But back at school he didn't know what he was going to do. Drifting might be a better way to put it. "I was probably always the kid who sang when he shouldn't be singing. In the middle of class, humming, tapping my foot, my pencil. I was definitely the artsy kid."
Boredom ensued. He found solace in his favourite activity - singing for the school choir. He started writing songs, many of which wound up on American Teen. "I'd hum while I was walking, that's where a lot of the creation of the songs came," he says. "I love writing in the back seats of cars ... in my room too, in my bathroom."
Those songs are intensely personal interpretations of what he and his friends were experiencing in their final school years. Love, loss, indecision, their first taste of independence. Khalid worried his songs were too personal. "I was very nervous about the reception. I'm talking about not just my life but my friends' lives as well. I had my fair share of insecurities. I was searching for love ... " He drifts off, just like he probably did during class.
Khalid had the songs, now he needed to express them properly. Enter Joel Little, the Kiwi production whizzkid. Khalid tracked him down after falling in love with Lorde's debut, Pure Heroine, crafted by Little. "We clicked off the bat," he says of their time together. "The chemistry was definitely there."
Little tells TimeOut he was instantly impressed. "He's got one of the most unique voices I've heard in a long time," he says. "It's rich and syrupy but with a little rasp to it, and somehow feels effortless but still filled with emotion." As to why Khalid's connected to fans so quickly, Little says: "He's genuine and honest and sings about his life in a very natural and relatable way."
Location
was the first single. It's had 107 million views on YouTube. The album came out in March, then
Young, Dumb and Broke
, which has 92.5 million streams on Spotify. It was quickly followed by accolades, rave reviews, then Sir Elton. How is Khalid adapting to all the fuss? "It is slightly overwhelming," he says.
He comforts himself by meeting fans his age, knowing he's helping them adapt to the same things he went through. "I like the fact when people think of my name, they think of a positive connotation. There are so many listeners who meet me and say, 'Thank you.' I say, 'Thank you for giving me the inspiration'."
His songs may be about his teenage years, but they aren't stuck in that age group. He had another moment recently at a show in Utah. "I think I had my oldest guests there, a couple of grandparents who came without their grandchildren just to see me perform and get photos. That was great ... when people listen to [my songs], they say, 'I may not be 19, but when I was 19, this is how I felt about love'."
So many moments, but it's only August, and there's still time to make plenty more. There's another one coming in November when Khalid visits New Zealand. He's already in demand: his Auckland Town Hall show had to be upgraded to Spark Arena when it sold out in just 10 minutes. Now he's playing to potentially 12,000 people - his first time headlining a stadium show.
"Crazy, huh ... that's insane. I couldn't believe it," he stammers down the phone. But Khalid is bringing something important with him, something to remind him of his school days, back when he was tapping out the blueprints for American Teen with a pencil in class, getting in trouble with teachers for daydreaming about meeting people like Elton John.
It's something, he says, that will help keep him sane amid the whirlwind constantly swirling around him. "I'm going to bring two of my best friends," he says. "I'm going to show them New Zealand. They keep me sane. Having my friends and being able to play video games on the bus and see familiar faces when I walk off the stage is definitely needed."
There's a pause. There's another reason they're there. They remind Khalid of something. "You know what?" he asks, like he's just remembered a crucial piece of the puzzle.
"They give me a sense of reality ... I'm still a 19-year-old kid with 19-year-old friends."
KHALID'S KIWI CONNECTIONS
Khalid has added another accolade to an already incredible year when he was crowned Best New Artist at MTV's Video Music Awards.
But on his way to the top, he's had a helping hand from a fair few Kiwi stars.
Most notable is Joel Little, the Kiwi producer who helped craft the second single from American Teen, Young Dumb & Broke, a smooth ballad that turns teenage rebellion into an uplifting anthem.
Little produced three of American Teen's songs, but "there's a fourth that we didn't release," teases Khalid.
That's not all: Kiwi pop star Lorde is taking Khalid with her through Europe on a 17-date tour next month.
"She's awesome, she's so nice," he declares. She was there to help him celebrate his win at the MTV Awards on Monday.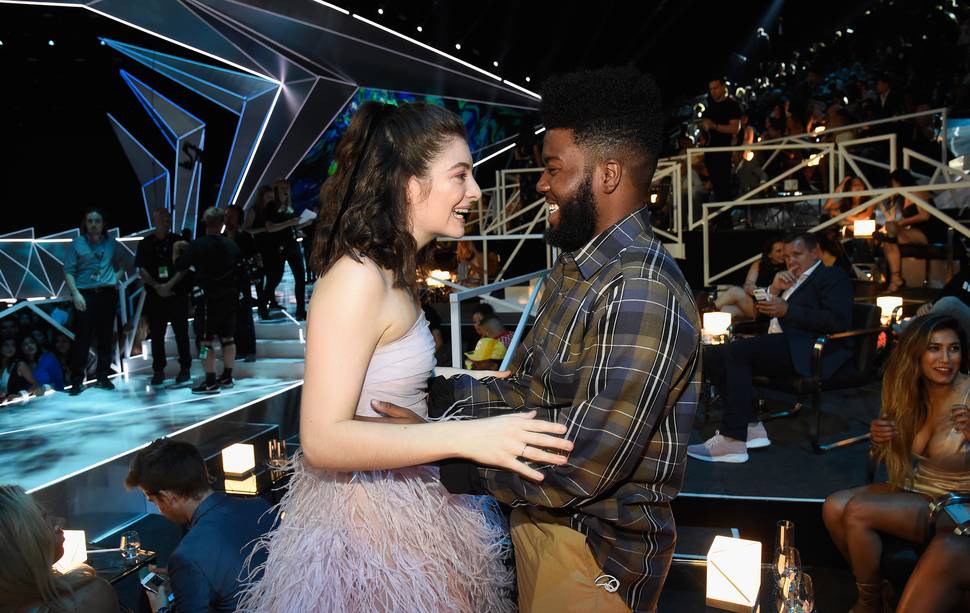 Bizarrely, after that tour finishes they'll both head to New Zealand, where they'll play separate shows on the same night in Auckland, Lorde's at the Powerstation, Khalid's at Spark Arena, "which is crazy," he declares.
That's not all: Khalid says he's best friends with Kiwi dancer-for-the-stars Parris Goebel - and she's been advising him what to do while he's in Auckland.
"She told me I'm going to have the time of my life," he says. Sounds like he's already having it.
LOWDOWN
Who: American singer-songwriter Khalid
Where and when: Performing at Spark Arena, November 12
Also: Debut album American Teen, out now