If there's one iconic pop culture figure that has suffered at the hands of modern Hollywood's affection for reboots, it's Spider-Man.
Following the farcical Spider-Man 3 (remember Tobey Maguire tap dancing?), the franchise sunk even further with the terrible reboot The Amazing Spider-Man and its 2014 sequel.
While Marvel's superheroes were storming the box office, Spidey was left hanging by a sad and desperate thread.
That is, until last year when he appeared in Marvel's box office smash Captain America: Civil War and spawned a fresh start for your friendly neighbourhood Spider-Man.
Portrayed with agile glee by young English actor Tom Holland, Spider-Man Homecoming will see a young Spidey as we've never seen him on-screen before.
"This is entirely set in high school, which hasn't been done yet," Holland tells TimeOut in Los Angeles. "It's about a kid struggling with his chemistry homework and being late for school and talking to girls and being Spider-Man. It's why I think people will love this movie. You can't relate to being frozen in ice after World War II and waking up in New York or being a billionaire who flies around in an iron suit, but you can relate to going to high school because everyone did it."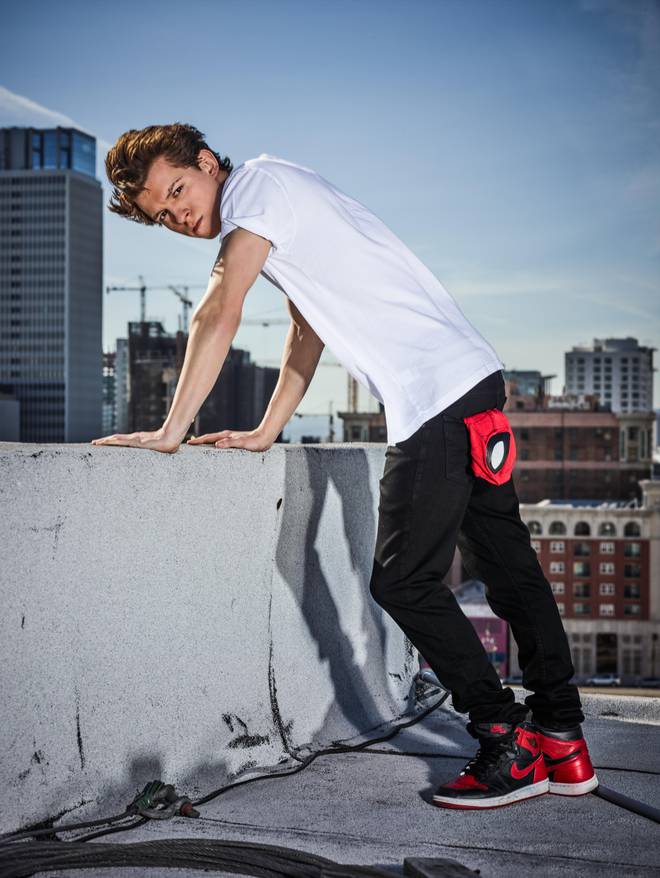 Thanks to Spider-Man: Homecoming taking place in the larger Marvel Cinematic Universe, that flying billionaire shows up in the film. Tony Stark/Iron Man (Robert Downey jnr) served as something of a mentor to young Peter Parker in Civil War, a relationship that continues into the new film, and even spilled over into real-life.
"I learned a lot from working with Robert," says Holland. "Because he's someone who I've looked up to a lot even from before Iron Man, Chaplin and all that and he's someone who's at the peak, he is the peak of this industry and he is just an average guy. He's 10 minutes early every day, he shakes everyone's hand on set, he's very professional, he works very hard and it's just an eye opener for me that it doesn't matter how famous you get, how much money you make, whether you fly to work every morning or drive, you should always be the same. And that's what Robert is and it's a really good thing to learn."
When it was announced that Marvel Studios would be introducing a new Spider-Man, it become a hotly contested role amongst wiry young male actors in Hollywood. Holland says he had to work extremely hard to get it.
"Yeah it was tough," says Holland. "The casting process was definitely a gruelling process because I felt like everything was resting on it. It was funny when I got cast I felt like the biggest weight have been lifted off my shoulders because I'd been working towards it for so long and I was like 'I got the job, thank god I can relax now' and then I was like 'Oh shit I got the job! And now I have to do it'. So it was a very strange thing for me but it was a really, really long process of auditioning and self-taping and screen testing."
Helping Holland was his dance background - he played the title role in the West End production of Billy Elliot: The Musical - which allowed him to physically embody Spider-Man's more agile qualities. The makers of Spider-Man: Homecoming have made full use of Holland's abilities.
"I made Tom do almost all of his stunts because he's so good in the suit," Homecoming director Jon Watts tells TimeOut. "You can tell that it's him when he's in the suit, he gives a completely full-body performance. So that meant I ended up just torturing him. He loved it but he was so sore. He was so game, he worked with all the stunt guys to do all this stuff."
There's a phrase that comes up a lot when talking about Spider-Man: "With great power comes great responsibility". As well as being Spidey's crime-fighting rationale, it could be said to apply to the actor playing the character. Holland seems aware of this, and says it was important for him to get his predecessor's blessing.
"I spoke to [Amazing Spider-Man star] Andrew [Garfield] at the Baftas. "We met and he's a really nice guy. I'm a huge fan of his work and I've always really looked up to him and to [original Spider-Man star] Tobey [Maguire] because they've done what I'm trying to do and he kind of passed on the torch and it was a real boost of confidence for me to realise that he was behind me and supporting me. It was a lovely experience."
Holland, who turned 21 on June 1, also knows he's getting to live out the dreams of millions of young Spider-Man fans all over the world because he is one of them.

"I had Spider-Man bed sheets and Spider-Man toys and Spider-Man costumes and I jumped off my stairs every day thinking I was Spider-Man. It was my favourite thing. I was obsessed so when they announced they were recasting Spider-Man and they were going to go a little younger I was on the phone to my agent and I was like 'just get me an audition, just let me audition for this please, it's been my dream'. And I can't believe it's come true. It doesn't feel real."
LOWDOWN:
Who: Tom Holland
What: Spider-Man: Homecoming
When: Swinging into cinemas next Thursday