When Nick Broomfield, award-winning British film-maker and co-director of Whitney: Can I Be Me, lands in Auckland for the opening of Doc Edge International Film Festival on May 24, don't ask him why he made this film.
"I can't remember" he laughs. That's what immersing yourself in production of a film for two years does to you. Particularly when it involves one of the greatest voices of all time, Bobby Brown and his groundbreaking trousers, and scandal upon scandal.
What veteran documentary maker Broomfield does know is that his impressions of Whitney Houston are very different now from when he started the biopic.
"All I knew about her was she was a really successful crossover artist who paved the way for the other singers, she died under such terrible circumstances having been such a beautiful, talented singer, and there were a lot of questions," he says.
"What I found most moving was her humour and generosity to other people. So different from the kind of Clive Davis version of Whitney Houston."
Arista Record's Clive Davis signed 19-year-old Houston in 1983, and deliberately created an artist aimed at white, pop-music loving America. Her rise was nothing less than meteoric, and she still has the record for the most consecutive number one singles in the US - beating, among many others, The Beatles.
Houston was immensely proud of her success but unable to handle the fame that came with it, which reached its peak when she co-starred with Kevin Costner in The Bodyguard.
Whitney: Can I Be Me isn't just a biopic. It focuses on the turning points in Houston's life that led to her death in 2012. There are revelations that will raise a headline or two, but the film, surprisingly for this often provocative director, is a respectful and dignified attempt to readdress our perspective of a pop icon.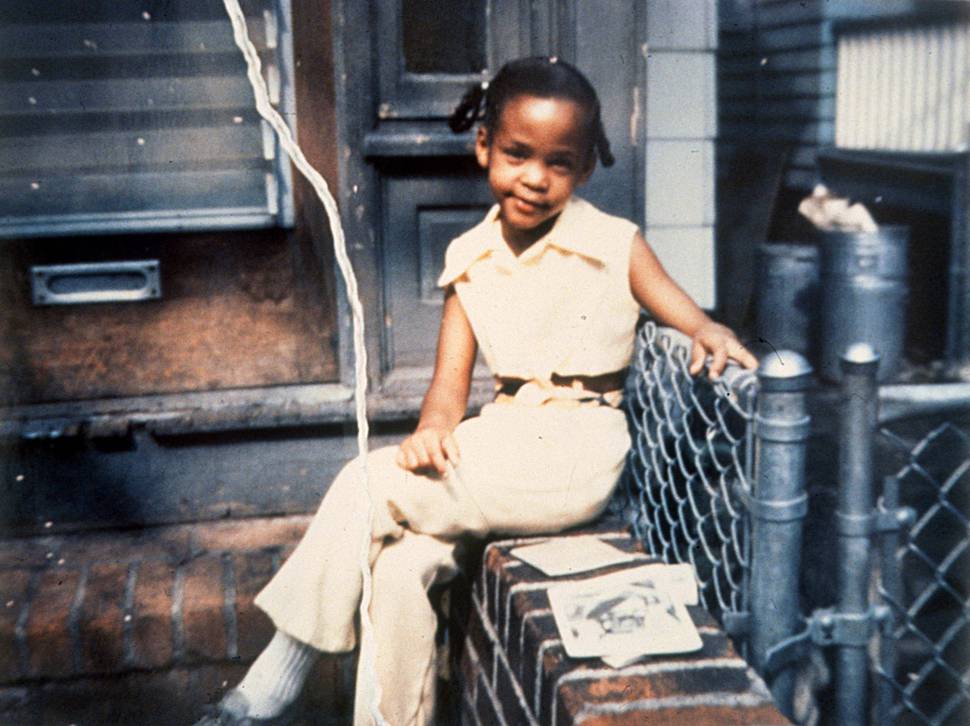 "So many of the programmes I watched on her were so judgmental and so harsh. We looked at a lot of those David Letterman talk shows, which really mocked and humiliated her, and of course we talked to a lot of her friends who said how personally she took all this," says Broomfield.
Broomfield fans will know that he often injects himself into the story on screen like he did inWhitney Houston was unable to handle the fame that came with her success (top); a young Houston in Can I Be Me and in True Hollywood Story : Whitney Houston and Bobby Brown.
Sarah Palin: You Betcha! This time he's missing.
It was the right decision. "In some of the earlier cuts there was some stuff with me in it, but this is such a strong story about a great artist with such a complicated life that we really needed all that time to concentrate on her, and the kind of normal making-of-story that I sometimes have included just didn't feel relevant in this particular situation."
The other reason Broomfield removed himself was the never-before-seen footage he secured from Austrian film-maker Rudi Dolezal, who filmed Houston's last successful European tour in 1999.
Co-director Dolezal's concert footage is fabulous and the behind-the-scenes footage gives the film its intimate tone. "I hadn't seen anything particularly revealing about her in all the footage I'd looked at, she was so tightly controlled I think, and there was nothing about, for example, her relationship with Robyn Crawford," says Broomfield.
As well as shedding light on her relationship with Crawford -- her friend, creative director and, according to those close to Whitney interviewed in the film, lover -- we see a happy Houston having fun with her husband, Bobby Brown. Often painted as the evil drug enabler, Broomfield saw something different.
"All the close friends, anyone that was around them would say that they were madly in love with each other. Maybe in a dysfunctional way, but completely in love and very similar, they shared a lot of the same humour."
It's amazing that Dolezal's footage hasn't surfaced before now, and it almost didn't get seen in this film either as Houston's Estate tried to stop the release at the Tribeca Film Festival last month. "We didn't know until two hours before the premiere that Tribeca was actually going to let the screening happen."
Now it has been released and well received, Broomfield admits he was surprised at the impact it had on him and editor Marc Hoeferlin, who both "somewhat fell in love with her in the making of this film".
The only other film he'd made, he says, that had him "so upset" was Aileen (Aileen Wuornos: The Selling of a Serial Killer). But with Whitney, it was different."We'd end up really choked up in the editing room, just looking at what happened to such a wonderful person."
Lowdown