He's been a Bad Seed for more than 30 years but, as their 'Best of' collection, Lovely Creatures, attests, Cave's alter ego always comes good.
Nick Cave is in a contemplative mood. He's nestled in the kitchen of his palatial, Georgian villa in Brighton, cradling a cold coffee cup, and reflecting upon the past 30 years of his remarkable life and uncompromising career, firstly with post-punk collective The Birthday Party, garage-rock offshoot Grinderman and, most notably, as the godfather of the Bad Seeds.
It's a beguiling saga, enshrined on Lovely Creatures - a career-spanning, 45-song compendium of the Bad Seeds' colossal 16-album back catalogue, from 1984's debut From Her to Eternity through to 2013's Push the Sky Away.
Fittingly, it features their trademark mix of poignant, bittersweet nuggets, including The Weeping Song, Henry Lee and Into My Arms, alongside more extemporaneous, discordant offerings, such as Red Right Hand, The Mercy Seat and We Call Upon the Author, which chart the Bad Seeds' eclectic, genre-defying dalliances with blues, gospel, rock and avant-garde post-punk, and highlight Cave's enduring allure and his fascination with life, death, love, religion and violence.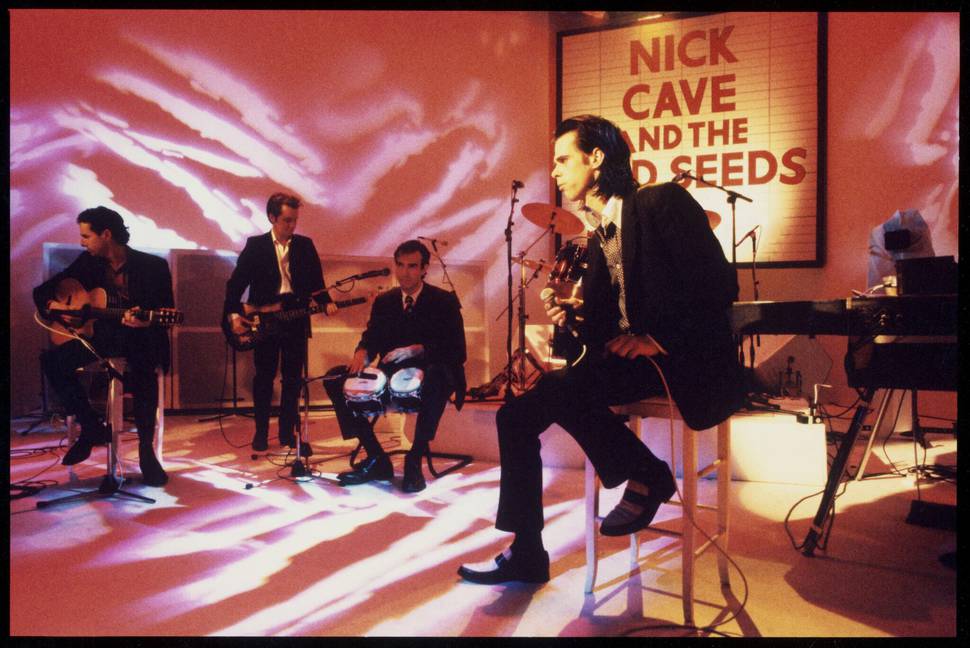 "It's been quite a journey," he acknowledges, with a mischievous glint in his eye and a sly, wry smile. "Some of it though, is far too painful to recall - especially early on. I still can't watch our performances from back then, because I was a wreck. But I think the music shines through, even if it veers wildly from album to album - or even across an album, because it's always been heartfelt, honest, pure and raw."
That brutally raw, bone-chilling candour is evident on the Bad Seeds' last two albums, Push the Sky Away and The Skeleton Tree, the latter dolefully documenting the tragedy of Cave's 15-year-old son, Arthur, who fell to his death from a bridge near their home, in 2015. The ensuing outpouring of grief, which Cave purged in the wake of his son's death, renders The Skeleton Tree a haunting, harrowing collection. Although often downbeat, it's ultimately uplifting.
"The last couple of years have been very tough for me," admits Cave, solemnly. "My son's death hit me - and the band - really hard. We were in a very fragile place when we were writing that album. But we took solace from the music and the songs that emerged from that despair.
"A lot of them are just bare, stripped-back sketches which we intended to take into the studio and polish up, like we usually do," he adds, heavy-hearted. "But when we were recording them, it was just too painful to work on them any further, so we left them as they were, raw and sparse."
Cave admits that when he and the Bad Seeds aired these new songs, alongside crowd favourites like Where the Wild Roses Grow and Deanna from Lovely Creatures, while touring New Zealand in January, he was overawed by the audiences' reverential response.
"I owe a lot to New Zealand, because those shows were magical. We were playing vast venues and I was worried that the songs would be lost in them but the audiences really embraced them and the whole performance became much more communal and rewarding. In the past, I'd batter the audience into submission but those shows were a revelation: they were a beautiful moment of shared emotion and bonding."
It's a direction Cave intends to further explore on the Bad Seeds' forthcoming album, which they're compiling at present. He's convinced it'll be a collection that's "far more rough around the edges" than previous offerings - one that's more about "feel and feeling", than polished craftsmanship.
However, he concedes that it will likely be laced with his trademark fascination for life, death, passion, pain, faith, devotion, solace and joy - themes that have consumed him since he was 19 and his world imploded when he discovered that his father had been killed in a horrific car crash.
"It made me question everything," he explains, sighing involuntarily. "From that point on I was driven to write down every thought and feeling I had, in order to make sense of my existence."
Ever since, Cave has been on a soul-finding mission to explore his innermost demons, eccentricities and passions, as Lovely Creatures epitomises.
"I've called it Lovely Creatures, not just after the song on Murder Ballads, but because that's what these songs are like, for me: each one is a lovely, little creature waiting to be discovered," he explains. "Sadly, I'm not the type of songwriter who can just bash a tune out. Instead, it's like slowly chipping away at a piece of granite, to slowly unearth them. It's hard work - it doesn't come easy - but I persevere.
"I used to have an office nearby and I'd go in there and write all day," he says. "Now I'm a bit more relaxed, and work from home. But I wait until everyone's out of the house, because it wouldn't be fair being that tortured artist, offloading all his frustrations on to everyone else. So I sit gazing out to sea for inspiration and whittle away at them, because that's what I'm compelled to do."
It's clear that how he approaches songwriting has altered over the past 30 years, but what about Cave, himself. Has he changed? Is he more mild than wild these days, as his music becomes more reflective, redemptive and mellow?
"I don't think my music has changed that much; it's still eclectic, eccentric and riddled with dark, sardonic humour. As for me mellowing with age, I definitely haven't," he says. "Mellow suggests you've given up and I haven't. I still have the same passion, ambition and determination as before. I'm definitely not ready to sit back and stagnate."
It's reassuring to hear that Cave isn't mellowing or willing to compromise his craft. It's why he's squirreled away at home, unearthing ever more "lovely creatures" for the next Bad Seeds' album, due next year. Just in the nick of time...
LOWDOWN:
Who: Nick Cave
What: Best of album Lovely Creatures
When: On sale tomorrow