Mel B isn't the first celebrity whose partner allegedly falls for the charms of the family nanny.
A number of Hollywood A-listers and celebrity superstars have allegedly fallen victim to the same fate.
ARNOLD SCHWARZNEGGER AND MARIA SHRIVER
Arnie has said the cheating scandal that ended his marriage with Maria Shriver was his "biggest failure".
The Hollywood star and former Governor of California admitted to fathering a love child Joseph Baena with nanny Mildred Baena in 2011.
The saga resulted in the breakdown of the marriage of Schwarzenegger and Shriver after 25 years.
"I had personal setbacks, but this was without any doubt the biggest setback and the biggest failure. Without any doubt," Schwarzenegger told radio host Howard Stern in 2015.
"And not only failure, but you really feel like, 'I am to blame for it. It was me that screwed up'. And you can't point the finger at anyone else. So yeah, I was disappointed, but it's always easy to be smart in hindsight. The thing was, 'How do you now make the best of that?'"
The Terminator star and Shriver underwent counselling in an attempt to save their union, but that failed, Schwarzenegger said.
The couple have four children, sons Patrick and Christopher, and daughters Katherine and Christina, and Schwarzenegger also spoke of his fifth child, Joseph.
"It is fantastic," he star said, "including my fifth child with Mildred. He's terrific and he totally understands the situation. So, it all has worked out. It's a very tough situation for him. It's a very tough situation for my kids. Very tough situation for my family. It was tough for everybody. But it has happened and now we have to figure it out, right?"
JUDE LAW AND SIENNA MILLER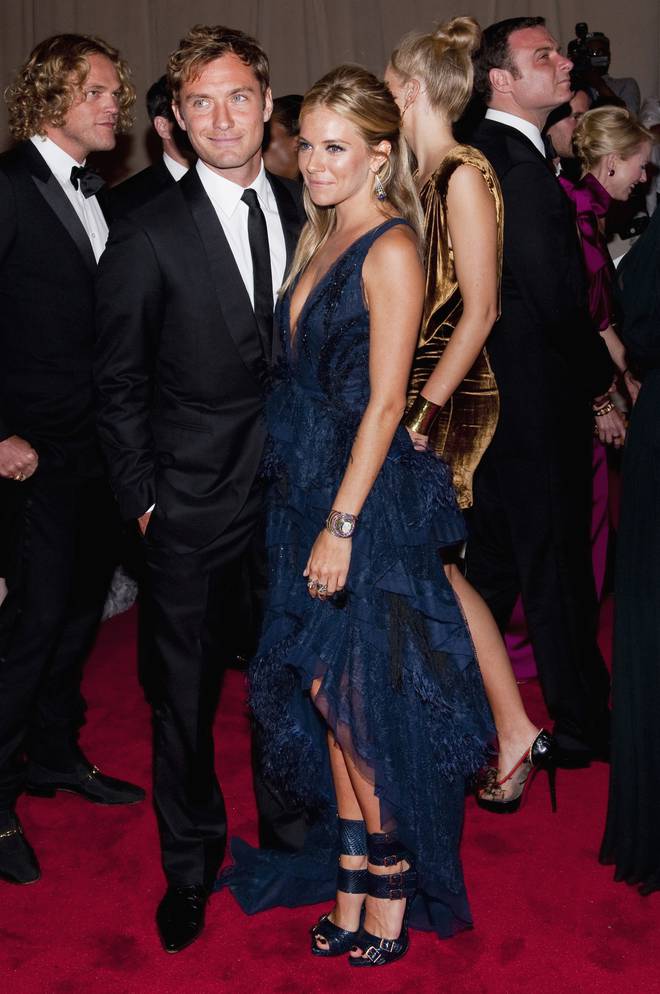 Law's marriage to Sienna Miller broke down after two years after the Alfie star admitted to cheating on his wife with his children's nanny Daisy Wright.
In 2005 Law released a statement apologising for his philandering.
"I want to publicly apologise to Sienna and our respective families for the pain that I have caused. There is no defence for my actions which I sincerely regret and I ask that you respect our privacy at this very difficult time."
According to reports at the time, one of Law's children with his ex-wife Sadie Frost discovered their father in bed with the nanny.
The couple split at the end of 2006. They rekindled their relationship in 2009, only to bust up again in 2011.
BEN AFFLECK AND JENNIFER GARNER
Allegations of an affair between Affleck and Ouzounian surfaced in 2015 and were rumoured to have ended his marriage with Jennifer Garner.
At the time a representative for Affleck told E news the rumours were "not true" and said the Good Will Hunting star was considering legal action.
Ouzounian was soon dismissed as the couple's nanny and the pair were divorced soon after. However Garner told Vanity Fair last year their marriage had fallen apart before the allegations of 'Nannygate'.
"Let me just tell you something. We had been separated for months before I ever heard about the nanny. She had nothing to do with our decision to divorce. She was not a part of the equation," Garner told the publication.
The couple are said to still be friends but Garner said they were still dealing with the fallout of the alleged affair.
"I have had to have conversations about the meaning of 'scandal," she said.
ETHAN HAWKE AND UMA THURMAN
Hawke allegedly cheated on his wife Uma Thurman in 2004 with Shawhughes. Hawke denied the claims but he married the nanny in 2008.
In 2013, Hawke gave an interview with Mr Porter that appeared to defend extramarital affairs.
"Sexual fidelity can't be the whole thing you hang your relationship on," he told the publication. People have such a childish view of monogamy and fidelity.
"To act all indignant, that your world has been rocked because your lover wasn't faithful to you, is a little bit like acting rocked that your hair went grey."
GAVIN ROSSDALE AND GWEN STEFANI
Gwen Stefani's husband Gavin Rossdale is alleged to have had a three-year affair with their Australian nanny Mindy Mann.
Stefani and Rossdale divorced in 2015 amid the allegations.
Stefani filed for divorce from her husband citing "irreconcilable differences" as the cause, according to The Sun.
Mindy was once an important part of the family's lives, who looked after their children Zuma, Apollo and Kingston.
Neither Stefani or Rossdale have spoken of the alleged cheating. The No Doubt star has only talked about the pain of the end of her marriage.
In 2015 they released a joint statement: "While the two of us have come to the mutual decision that we will no longer be partners in marriage, we remain partners in parenthood and are committed to jointly raising our three sons in a happy and healthy environment."
DAVID AND VICTORIA BECKHAM
The football star allegedly cheated on wife Victoria with their assistant Rebecca Loos.
In 2004 when the alleged scandal broke, Loos claimed her and Beckham exchanged as many as 30 texts a day when he was playing with Real Madrid and had text sex "two times a week".
At the time the Beckhams described the allegations as "absurd" in a statement released by their lawyers.
In a TV interview in 2004, Loos said she wasn't ashamed of the alleged affair.
"I was wrong to do it but it did happen. I didn't want to live a lie," she said.
She said their relationship allegedly became just about sex: "It was clothes off, get the action done and out. I felt like a whore, I felt really cheap, used," she said.
In a 2013 TV interview, Loos said she didn't regret the alleged affair but "would have done things differently".